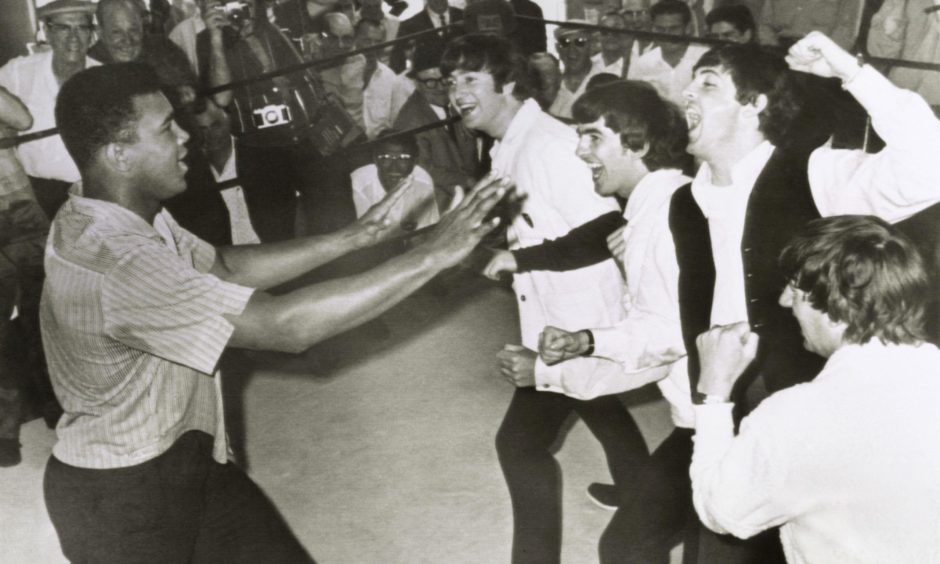 Boxing legend Muhammad Ali's induction to the nation of Islam in the early 1960s is the centrepiece of a new book by Perth-raised broadcaster Stuart Cosgrove. Michael Alexander spoke to Stuart about his fascination with that period of history.
When award-winning Perth-raised writer, broadcaster and BBC Off the Ball host Stuart Cosgrove released the third part of his trilogy of books on soul music in 2018, he started looking for something else to write about which, as well as being about great music, would immerse him back into a satisfying research project.
The result is the recently released book Cassius X: A Legend in the Making – the equivalent to a biopic which portrays the fast moving 1960s social, political and cultural scene, especially the music – and gives a fascinating insight into a lesser-known part of the legendary world heavyweight boxing champion's life.
The book focuses on a number of months in 1963 when Cassius Clay was known as Cassius X before his induction to the Nation of Islam and his transformation into Muhammad Ali.
However, beyond that, it also tells the story in the context of a time when the American civil rights movement was gaining momentum – turbulent issues which, in the era of Black Lives Matter, seem more relevant than ever today.
"I was quite keen to write something that would almost be a prequel to the trilogy – something on the early days of soul music," explains Stuart in an interview with The Courier.
"I'd always had an interest in the days before Muhammad Ali became Muhammad Ali – because there's a tendency to assume he came from Cassius Clay to Muhammad Ali in one single jump.
"But in fact for a year he was living in this kind of a period where he was joining the Nation of Islam and going through his kind of induction if you like.
"One of the expectations was that you drop your slave name – in his case Clay – to the denunciatory X. So he was Cassius X for as long as 18 months."
Three-time world heavyweight boxing champion Muhammad Ali, who died in 2016 aged 74, was regarded as one of the most charismatic and controversial sports figures of the 20th century.
Born and raised in Louisville, Kentucky, at 18 he won a gold medal in the light heavyweight division at the 1960 Summer Olympics.
Turning professional a year later, he won the heavyweight championship from Sonny Liston in a major upset at the age of 22 in 1964.
It's the 12 months prior to this title fight, when Ali converted to Islam, however, that is the focus of Stuart's book.
At the time he was a schoolboy growing up in Letham, perhaps the biggest local hero was Dundee's Dick McTaggart who had become an amateur boxing legend on Tayside.
However, Stuart remembers Ali being an "unbelievable force", not just in boxing, but as a character.
"I vividly remember watching the Harry Carpenter live talks and Trans-Atlantic interviews," says Stuart.
"Today we take global communication for granted, but the curious thing about it now when you look back to that era is that Telstar the satellite was one of the big talking points.
"The idea of doing a live link up between the UK and the US as Carpenter did interviewing the then Cassius Clay, was broadcasting history in a way.
"I remember watching those and thinking 'wow this guy's weird, this guy's strange, this guy's larger than life'. I vividly remember as a kid watching those things.
"But I also remember when he goes to New York to record his album 'I am the Greatest'."
Clay recorded the album in partnership with legendary soul singer Sam Cooke.
Stuart remembers watching a moment of "great golden television" when Harry Carpenter is doing an interview with Clay, and in walks Cooke to sing a little song together as a "ditty" for the audience back home in the UK.
"I remember that as a kid sitting at home in Letham not really knowing a lot about the African-American experience, but seeing this guy and being wowed by his kind of personality," smiles Stuart.
"The oddest thing of all about that clip is what they are actually singing is what becomes known in Scotland as 'the Celtic song' as in 'Hail hail the Celts are here'.
"It's actually from the Pirates of Penzance. Their words, Cassius' words are 'Hail, Hail The Gang's All Here', and that's what they sang on the BBC. It's just extraordinary.
"Even when I watch it now there's a side of me that says 'what a moment of history' – we have a partnership of such a dynamic singer and you could watch it in your home in Perth where probably at the time there would only be two channels. Incredible!"
Stuart admits that as a youngster watching these images, his knowledge and understanding of the civil rights movement in America was like many people "quite superficial".
He found Martin Luther King's "peaceful and turning the other cheek" approach to civil rights much easier to understand than the massively more complex Nation of Islam movement.
He found it "quite odd" when Cassius tried to get into his more segregationist attitudes.
"He did an interview on one of the talk shows with Parkinson or someone when he says 'blackbirds fly with blackbirds and birds fly with birds'," he recalls.
"What he was actually saying is the Nation of Islam believes in separatism. That was such a radical thought when compared with the more mainstream civil rights movement of Dr King. I had a very very superficial understanding of that."
Thinking back, however, Stuart remains ever grateful to his old Perth Academy Modern Studies teacher Miss Lorna Campbell – a Dundonian who helped him get a grounding in these issues and who stood him in good stead later in life through his career.
"This woman – she was a young single woman – she actually sat me down and said 'you seem to be interested in the civil rights movement and the anti-apartheid movement in South Africa – maybe that's a project you could work on?'"
"She literally encouraged me to go away and research all of this stuff at the library as a young boy – I'd be 16/17 at the time. Way ahead of being a professional in media, a writer etc.
"I left school, went to university – you don't really know how important things are until you reflect back on them.
"I've long since lost touched with that woman – I've no idea if she's still alive – but she had a huge huge influence on my life."
Stuart still keeps a fond tab on the Modern Studies curriculum through social media and notes that Black Lives Matter is a common debate amongst teenagers today.
Taking the view that America never really reconciled the role of slavery within its economic history, he takes the view that just about all the BLM cases today combine the consequences of poorer communities with a profound failure of policing, a profound misunderstanding of the motivations of the victims and the consequences of an endemic gun culture.
Hoodie-wearing Trayvon Martin was shot in Florida in 2012, for example while coming home from the shops with iced tea and candy.
Breonna Taylor was shot by police in Louisville, Kentucky, ironically, in a house not far from where Cassius was born.
She was killed in part because her former partner had been implicated in some kind of drug deal that had nothing to do with her.
It's a community Cassius would have known well growing up alongside his old school friend Jimmy Ellis, who also features in the book.
But if there's one thing that Stuart really learned about Cassius Clay during his research, it was his ability to manipulate his image through the media.
"The one thing that screams at me now – and I hadn't really seen it before – was that he surrounded himself with photographers," says Stuart.
"He had a phenomenal ability to understand the media.
Here's a young guy, 19 years old, African American, no great exposure to the media, but began to learn that he needed the media to build his career.
"What he did – and it's a fascinating part of the book – he befriended a lot of photographers.
"There's a story of his meeting a Miami photographer – a young guy called Flip Schulke – he had this conversation. 'How do you get a cover photo? What makes an editor want to put your face on the cover?'
"This guy says I've only ever had one cover – he'd photographed Jacques Cousteau, and that was only because he'd filmed him underwater. And Muhammad Ali says, 'I train underwater. Why don't you come with your scuba and take photographs of me underwater?'
"Now Cassius couldn't swim, he'd never trained underwater in his life. He used a swimming pool in a hotel in Miami, and they did this amazing photoshoot which is just extraordinary when you look at it.
"It came from this idea that he was pursuing covers. He did Sports Illustrated, Life, Time mag – he became a cover star in all of them.
"That's something he was pursuing by 18/19. It's extraordinary!"
*Cassius X: A Legend in the Making, is out now published by Birlinn.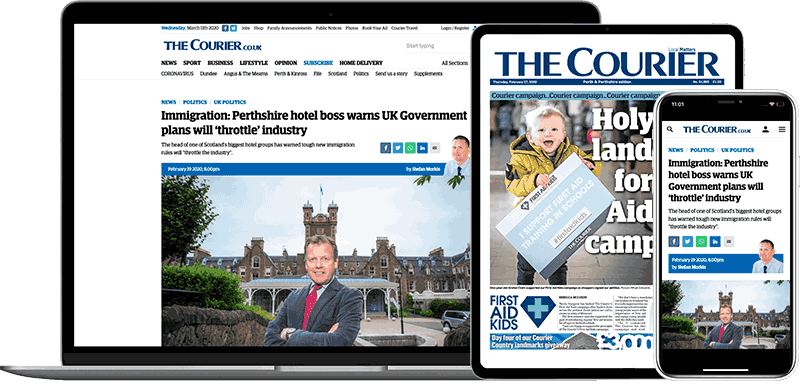 Help support quality local journalism … become a digital subscriber to The Courier
For as little as £5.99 a month you can access all of our content, including Premium articles.
Subscribe