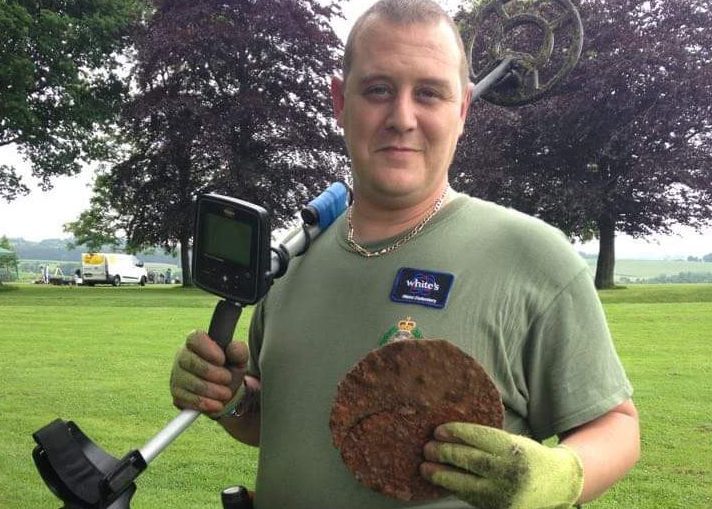 A Dundee metal detectorist has dug up an artefact he believes could be evidence that Robert the Bruce camped at Bannockburn in 1314.
Danny Clifford, 38, was over the moon when he found the rusty iron cooking pan during a dig at the site of the Battle of Bannockburn on June 19.
The dig, organised by the National Trust for Scotland, aimed to find
evidence of Bruce and his army – and Danny is praying experts will confirm his exciting find is the real deal.
"I need to find out its exact age but I think the cooking plate dates from around 1300AD," he said.
"I'm hoping it's the genuine article and that it was dropped by Bruce's army when they camped here on the night before the battle in 1314. I need an expert to confirm this as some people have suggested it could be from the 1700s."
Sarah Cuthbert-Kerr of the NTS said while experts can't yet confirm the pan's identity, it is an exciting find.
"Signs from the battle are rare and there's very little evidence, so any finds are potentially very significant," she said.
"Lots of pottery and other bits and pieces were found during the dig on June 19 and while some items seem very exciting, they require further investigation to date them and see if they are connected to the battle.
"We can't really confirm how likely it is that Danny's cooking pan dates that far back yet and it will be a few weeks before we can determine this."
Danny, a former Royal Engineer who used detectors to track down mines and explosives, has been a hobby detectorist since he left the army in 1999.
He travels across Scotland in his mission to find old and unusual coins and artefacts.
"It's exciting when you see things coming out of the ground," he said. "The oldest coin I've dug up was a 1242 King Alexander III I found in Oban.
"I also found a blood-letting fleam (a handheld instrument used for taking blood) from the 1700s in Trottick.
"The strangest thing I've found was a Dutch 1923 coin with the queen's head cut out."
Danny is looking forward to returning to Bannockburn in autumn for a
proposed underwater dig by the NTS.
"I've got all the diving gear and the underwater detector, so I'll probably be the only one in the river," he laughed.
His club, Dun-Deigh Relic Hunters, works to find Scotland's lost relics – and lost jewellery, keys and other metal.
"Loads of people ask for help finding things – usually keys and sometimes
jewellery. I don't charge but I do ask for a donation for fuel."