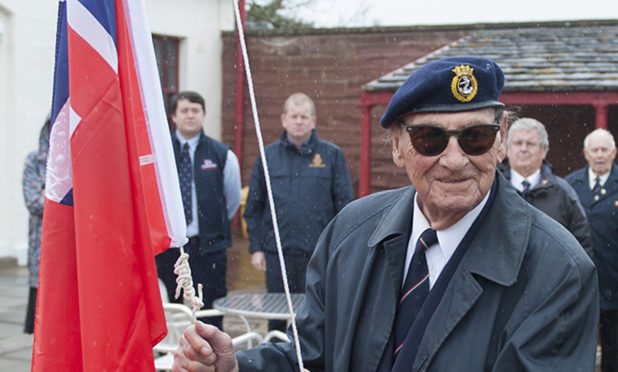 Former Merchant Navy Captain and World War II veteran Captain William Alexander 'Sandy' Davidson from Arbroath has died, aged 94.
A native of Kirkton of Glenisla, Sandy attended the village school and then Webster's Seminary (now High School) in Kirriemuir, cycling the 13 miles down the glen to lodge near the school for the week.
In September 1939, aged 13, he recalled going to the grouse driving, only to be told war had been declared.
Walking back home over the hills, he saw a convoy of buses coming up the glen, bringing dozens of evacuees from Dundee.
From an early age, Sandy wanted to go to sea but as a country boy with no connections this was an almost impossible dream. However the local teacher, Annie Galloway, had a brother in the Merchant Navy who agreed to sponsor Sandy to the naval college in Dundee.
In 1943 he joined his first ship, the MV Larchbank, which went in convoy to the US then back across the Atlantic en route from Baltimore to Calcutta.
On the evening of September 9, in the South Indian Ocean, the Larchbank was struck by a Japanese torpedo, sinking in fewer than three minutes.
46 crew perished, while the 22 survivors endured 20 days in an open lifeboat before striking the shore in Sri Lanka.
Undeterred, Sandy pursued his career at sea, achieving a Master Mariners certificate and taking his first command, aged 36.
In a 40-year career he travelled most parts of the globe and in 1956 his ship was trapped for months in the Great Bitter Lake – part of the Suez Canal – during the Suez crisis when Egypt nationalised the canal, and shells were flying overhead.
He commanded two vessels on their maiden voyages and by the 1970s was master of ACT1 – one of the first container ships, which revolutionised the industry and curtailed extended stays in port.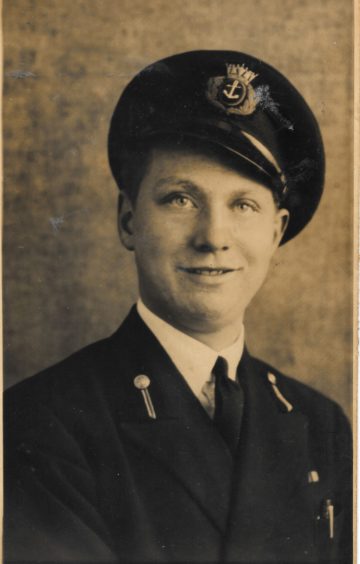 By then, he had married Nora Hendry, from Inverkeilor, and had two children Gail and Neil at school in Arbroath. On occasion they joined him for voyages on board.
He sat on the school board at Timmergreens Primary and in retiral was launch secretary of the Arbroath Lifeboat.
Sandy began to lose his sight through macular degeneration in 2009 and Nora died in 2011.
In 2013 he returned to Sri Lanka with his son to revisit the beach where he had landed – exactly 70 years before.
In 2014 he moved into a new home in Clyde Court, and despite his poor vision Sandy maintained an active social life, still visiting friends and family, and he could still be seen around Arbroath visiting pubs and cafes. He also became an active member of Scottish War Blinded.
Pre-lockdown he would still take the train unaccompanied to visit his children in Edinburgh and Aberdeen and in June he moved to a care home in Aberdeen to be closer to Gail.
He celebrated his 94th birthday on June 29 with his grandchildren there. He passed away suddenly but peacefully on July 12, still relishing life to the end.
He is survived by his children Gail and Neil and grandchildren Alex, Eilidh and Peadar.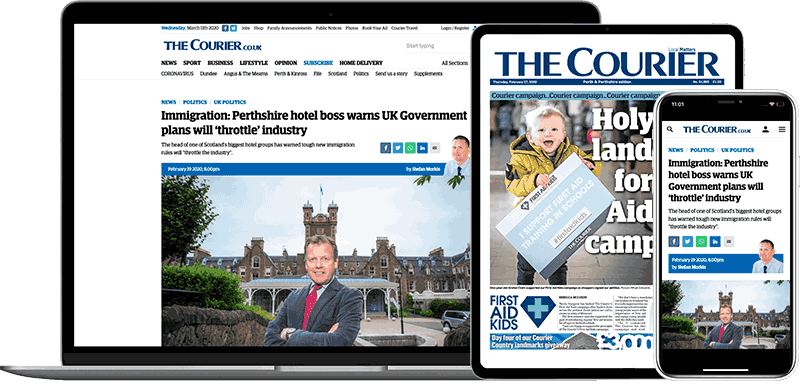 Help support quality local journalism … become a digital subscriber to The Courier
For as little as £5.99 a month you can access all of our content, including Premium articles.
Subscribe