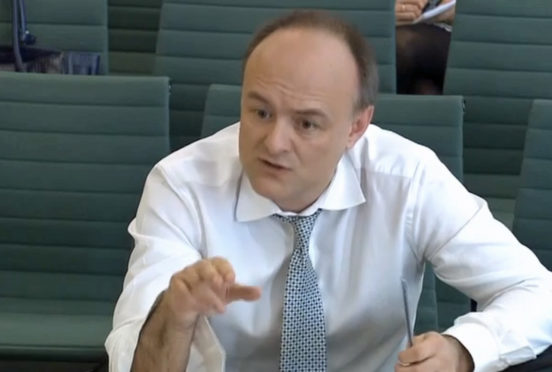 It was a grimmer Tuesday night than normal in the Morkis household this week as my chickenpox-infected son endured a restless night.
This meant a sleepless night for me, who spent the night trying looking after him, too. Around 4am, one of us – pretty sure it was him – wet the bed.
After changing the sheets and lathering on enough calamine lotion to float a ship, my son finally drifted off.
There, lying in the dark, with urine-soaked sheets on the floor and the rasping of a sickly child keeping me awake, I was left alone with my thoughts which, perhaps inevitably, turned to the darkest of places: One Dominic Cummings.
Because while Cummings, Boris Johnson's consigliere-puppetmaster, is in many ways an absurd figure he is also a terrifying one, a man with a seemingly limitless belief in his own brilliance.
While Cummings no doubt sees himself as a master strategist, he actually just lacks the humility to understand he doesn't know everything.
Cummings probably sees himself as a revolutionary, a man who tears up rules rather than follow them. In actual fact, he comes across like a sneering bully.
Knee-capping former chancellor Sajid Javid by demanding he fire all his advisers was not the first example of his thuggery.
The previous week, ahead of the cabinet reshuffle, he told special advisors that he would only be seeing half of them the following week. Because, in the mind of someone like Cummings, sacking people is funny.
Then there was the appointment of Andrew Sabisky as an adviser. Like Cummings, Sabisky is the sort of man who believes a willingness to express strong opinions is more important than thinking them through.
Sabisky has argued in favour of eugenics, that black Americans have lower IQs than their white counterparts and that there should be compulsory sterilisation of the poor.
These are infantile notions that would shame a university debating society. That he managed to inveigle his way to the heart of government speaks to a moral void in Downing Street.
This week the government also unveiled its proposed points-based immigration system, which was immediately condemned by almost everyone, including business groups one would normally imagine to be sympathetic to the Conservatives.
Cummings has railed against reporters in the past, urging them to get out of London and speak to real people.
Whoever came up with the immigration proposals has, apparently, never left their house to buy a coffee, eaten a strawberry, visited a hospital, or opened their eyes to how a steady supply of labour from abroad drives the British economy.
And you can tell that nobody who helped draft the proposals actually understands how averages work, given the £26,500 salary they want people to earn before granting them leave to enter the UK. Confusing being low paid for being low-skilled demonstrates how out-of-touch these proposals are.
In Tayside and Fife, farmers and hoteliers must be wondering why this government wants to sacrifice their businesses for such a self-defeating scheme.
It is incompetent, incorrigible nonsense delivered by an incompetent, incorrigible government.
First Minister Nicola Sturgeon's proposals for a Scottish visa initially looked like grandstanding. Now they seem like the sensible act of a politician who has seen the chaos ahead.
My son's chickenpox has now almost cleared. He may be left with a few tiny scars but there will be no lasting harm.
Cummings and his ilk, on the other hand, seem bent on inflicting permanent damage on this country.
Comics, everyone
In Scotland, it's not the monsters you have to worry about. See Kelpie in action in "The Union" #1, out in May. #MarvelComics pic.twitter.com/q2jBcdWL9O

— Marvel Entertainment (@Marvel) February 19, 2020
Marvel Comics, the home of Spider-Man and The Avengers, is launching a new series about a British superhero team called, perhaps amusingly, The Union.
The token Scottish character is a green-eyed woman called Kelpie which is, I suppose, marginally better the new Welsh superhero also drawn from the big book of stereotypes, The Choir.
It does appear to have got one thing right though: Writer Paul Grist promises the team is "falling apart before it has even begun".
Don't call us
Ricky Ross, the Dundonian lead singer of Deacon Blue, took umbrage at power company SSE this week for using his band's 1987 hit Dignity as hold music.
The company attempted to engage the singer in some witty social media banter, punning on various Deacon Blue song titles, only to be sniffily told by the singer he would rather they just answered calls from customers rather than subjecting them to a tinny rendition of a song about a dinghy or any other of his songs.
Mr Ross may just have a point.