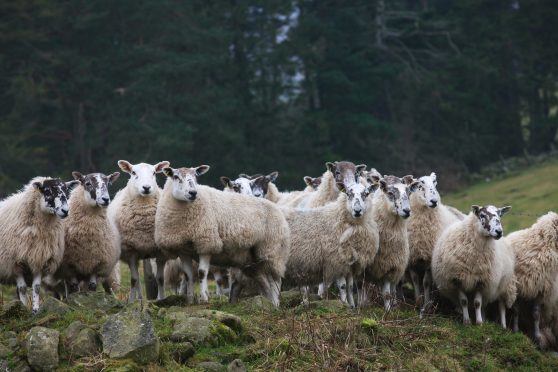 Sir, – In a landmark legal case, a Scottish sheep farmer has pled guilty to cruelty to animals after a PETA exposé revealed him punching and kicking sheep in the face.
However, while the legal case was unprecedented, the cruelty certainly wasn't.
Such abuse is rampant in the wool industry.
Video exposés of 116 wool-industry facilities on four continents have all revealed horrific cruelty. Because shearers are usually paid by volume, not by the hour, they work at breakneck speed – and as a result, they often handle the sheep roughly and recklessly, throwing them around and kicking them during shearing.
Workers have been seen stamping and standing on sheep's necks and stomachs, punching them in the face, and beating them with electric clippers.
Sheep are intelligent, gentle animals who form meaningful bonds with other animals – they can recognise dozens of individuals from photos, and seeing a photo of a friend calms them in a nerve-racking situation.
But in the wool industry they're treated as nothing more than commodities.
As neither the industry nor the justice system will stop this cruelty, it's up to consumers to make a difference.
We can do this by refusing to buy wool and instead opting for animal-free fabrics such as organic cotton, bamboo, hemp and recycled polyester, all of which are widely available on the market today.
The best way to stop the abuse is to wear vegan.
Sascha Camilli.
PETA Foundation.
Good service from care home
Sir, – In light of your report (Home under fire for care failings, Courier, March 4), regarding Craigieknowes Care Home.
I would like to comment on what I know first-hand with having a family member that lives at the home.
Our family member has been in Craigieknowes Care Home for just over three years.
Going in to care is a tough decision for families to make for a loved one and it is certainly one that is not taken lightly.
We as a family have had nothing but support from the staff regarding our family member's care and wellbeing from day one.
All the staff that we deal with always put the resident first, going the extra mile for them all.
The home is not one-to-one member of staff per person, and if it was it could cost triple the price.
Regarding the mention of a resident not getting out for a smoke, our family member does smoke, she may be asked to wait but is always taken out, rain or sun.
This is upsetting for the residents, family members and staff.
Jackie Christie.
10 Goshen Road,
Scone.
Empty soap dispensers
Sir, – Now that we are all being urged to wash our hands frequently due to the coronavirus scare, it would be helpful if stores that provide public toilets could encourage this.
In the ladies loo in the Perth branch of TescoExtra this week five of the soap dispensers were empty.
Frances Gillespie.
Old Manse Steadings,
Fortingall.
Fight seat after party switch
Sir, – It is about time there was a change in the law concerning MPs who change parties.
The current Kirkcaldy and Cowdenbeath MP, Neale Hanvey, was elected standing as an independent having been suspended from the SNP following anti-Semitic comments.
On the ballot paper he was still down as SNP as his suspension came too late to change the ballot paper.
This should never have been allowed.
The law should state if you jump ship from one party, or move from being an independent to representing another party, you must resign the seat that you fought under and refight it under the banner of the party you now represent and joined.
John G Phimister.
63 St Clair Street,
Kirkcaldy.
Not just a rich man's pastime
Sir, – In the US Democratic Party primaries, Mike Bloomberg has withdrawn.
All believers in democracy will be pleased, as he spent an estimated 500 million dollars trying to buy the nomination.
Democracy must never become a rich man's pastime.
William Ballantine.
47 The Quarryknowes,
Dean Road, Bo'ness.
Questioning the climate science
Sir, – Recent weeks have seen headlines about high Antarctic temperatures or melting.
However, the research suggests something different.
For example, Barbara Stenni was lead author of 18 scientists in a 2017 study which mentions "the absence of significant Continental-scale warming of Antarctica over the last 100 years". They say the same for Africa.
The Climategate emails, where climate scientists wrongly believed they were communicating privately, contain hints on how some climate science is conducted.
In an email dated 11 Oct 2004, meteorologist Matthew Lazzara complains about the selection of various Antarctic weather stations as part of a long-term study of global temperatures, writing "some of the sites suffer from snow accumulation, altering the height of the sensors above the surface…we have not been able to service/visit all of these sites over the last several years.
Conversely he questions why some stations were excluded.
Geoff Moore.
Alness, Highland.
Climate is a taxing situation
Sir, – Warwick Council plans to increase council tax bills by 34% in order to raise £3 million to tackle climate change.
They will hold a referendum but will immediately increase the council tax bills with the promise to reduce if their plan is refused.
Every Tom, Dick, Harry and, to be politically correct, Jean employed by the council will climb on the climate emergency gravy train where salaries will be increased for alleged climate change responsibilities.
The UK is responsible for 1.13% of global emissions – Warwick a tiny proportion of that.
How long before Scottish councils jump on this idea and protest they are only doing it to save the planet?
Clark Cross.
138 Springfield Road,
Linlithgow.