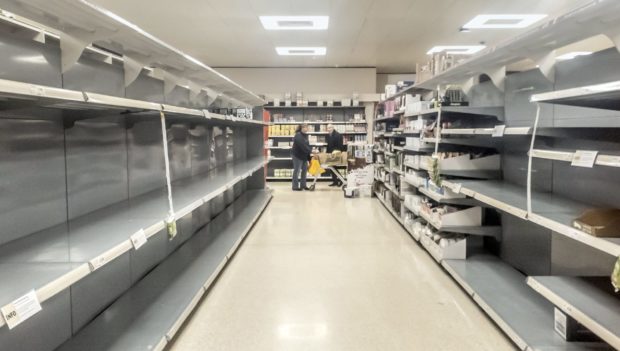 Sir, – At this moment in time we see the very best of people, making big sacrifices to safe guard us all.
Communities coming together, forming groups to help the vulnerable and the elderly, doing their best to keep spirits up.
But we also see greedy and selfish behaviour in panic-buying, stripping everything edible away leaving nothing for others.
The worst however was some misfits wrecking the car of a doctor in Dundee, and wrecking the car of an emergency response team from the Outer Hebrides, leaving them with only one response-car left.
What kind of people are these monsters to do this?
They'll have the biggest mouths and the severest complaints if they don't get help.
These brainless misfits do not seem to understand that, due to their callous actions, they put other people as well as themselves in utter danger.
I hope the police find them so they can be put to justice!
Mrs Maaike Cook.
Cash Feus,
Strathmiglo,
Fife.
Scotland would afford the fight
Sir, – I must respond to Derek Farmer's (No money to fight Covid-19 in indy Scotland, Courier, March 26).
He asks a valid question, but then descends into a usual blinkered diatribe. He should be asking that question of Westminster.
Where are they getting the money from, after all these years of claiming there is no money to spare?
The answer is where they have always got it – by borrowing from the financial sector.
Currently Holyrood does not have those powers, but if independent it would.
The policy of importing cheap foreign labour was promoted and encouraged by long standing Westminster based financial policies that sought to undercut our own labour market by allowing low wages to take precedence over the local population.
That is much in the same way we exported our manufacturing base overseas for cheap labour and indeed exporting tax-payers cash to pay for things imported instead of circulating that money back round the economy – ship building for example.
Many of the answers to his questions can be found by reference to Gordon MacIntyre-Kemp's booklet Scotland the Brief and proposals and feasibility for an independent Scotland set out in Scotland's Future from 2014.
But then because they don't support his views I suspect they will be ignored! Why have we not seen similar publications from the Unionists?
Nick Cole.
Balmacron Farmhouse,
Meigle.
Volunteering for virus fight
Sir, – I just registered for the NHS Corona volunteering system.
It is currently only set up in England but it has accepted me so I will wait to see what happens.
People can volunteer for delivering essential supplies and shopping to households, patient transport, "check in and chat" and helping NHS transportation.
How about getting a NHS Scotland page on it rather than reinventing the wheel?
Allan Sutherland.
1 Willow Row,
Stonehaven.
Repercussions still to happen
Sir, – We have yet to see what repercussions the trial of Alex Salmond will bring for the SNP.
Many predict civil war in the party – some say it has already begun.
What is clear is that the internal enmities that were kept under a tight lid for so long, but have been bubbling to the surface recently, are now in the open.
Now, there is talk of a conspiracy within the party to prevent Mr Salmond from returning to front-line politics, which appears to be his aim.
Pro-union people can stand back and wonder at all of this: the whole package adds up to a series of self-inflicted wounds by the SNP.
And that is all before the corona virus and its effects demonstrate the virtues of Scotland remaining in the UK. .
Jill Stephenson.
Glenlockhart Valley,
Edinburgh.
Small comfort in smallest room!
Sir, – I am fairly elderly but still keen to do everything possible to recycle as much as possible.
I can still remember life before plastic wrapping and before central heating was the norm.
Bottles and jars were returned for the deposit that was paid on them, and almost anything else was burnt on the fire to produce hot water.
Rubbish bins were only filled with tin cans and ashes. A small amount of newspapers were used to start the fire in the morning, and the rest of them were torn into squares for essential use in the smallest room.
Today, mindful of the amount of trees used to produce paper it is helpful to use the available technology and get the digital edition of your local paper.
It works well.
You can even use your tablet to use for the traditional reading of it in the smallest room, if that is your wish.
Unfortunately, along comes coronavirus, and panic buying, particularly of toilet rolls.
And when you're elderly and unable to get to the shops early enough to get a pack of them, and you are there, trying to stretch the few remaining squares far enough, the digital edition is of little use.
Aye, the best laid plans gang aft agley right enough.
Ian Macdonald.
23 Primrose Terrace,
Perth.