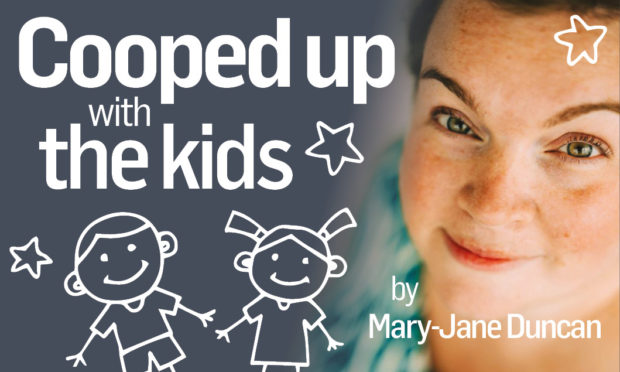 How can you lose the smallest bairn at home in lockdown? It's a question Mary-Jane Duncan found herself asking.
It's taken 20 minutes to locate the smallest bairn. We do not live in a mansion or even what I'd consider a 'big' house.  It's a 2.5 bed semidetached cottage with an additional bedroom made from what was supposed to be my office/study under the stairs.
The study which can only fit a single bed and wardrobe, currently houses middle kid and MY long coveted Orla Kiely wallpaper.  A treat to myself which is neither admired nor adored by said squatter who moved into MY office to get away from sharing with her sister.  I refuse to redecorate, counting down the minutes till the eldest moves out and I can reclaim my beautifully decorated wee box.
Anyway – the smallest one.  Where in this small haven we call home is she?  What did I even need her for, why did I start looking for her in the first place?  Panic hasn't yet set in.  She can't have gone far.  The options are: upstairs, downstairs or the garden, again, not sprawling.  Maybe she's fallen down a rabbit hole to wonderland?
Under the sodding dining table. Of course she is.  Silly me.  Complete with pillow and duvet, headphones on watching her beloved Brooklyn Nine-Nine for the 800th time.
She has her own room.   She is indeed the proud owner of the 0.5.  The other tiny room upstairs (as opposed to under them) and it's all hers.  It includes all home comforts even the Wifi signal reaches her tiny abode.  Welcome to the 21st Century kids.  My kids – who don't believe there used to be a number to call just so someone could tell you the time – don't know how good they've got it.
Her being under the dining table probably stems from my great idea to redecorate the living room.  I decided while I still love the wallpaper, I hate the colour of the two 'bare' walls.  A silent wail roars from the mister but, happy to keep the peace, he reluctantly agrees.  Knowing full well he'll do the majority of the actual painting while I supervise in a 'cup of tea making' capacity and throw in an occasional tut to prove I'm paying attention to his herculean efforts.
The colour is chosen and I embark on the usual need to gut and clean the entire room before painting commences.  This involves directing the children to become pack horses to remove things from the living room.  Including my extensive, bordering on embarrassing, collection of cook books.
The mister suggests it might be time to whittle it down.  He's feeling brave, the kids know better.  They exchange worried looks not because it's about to kick off between Mum and Dad, but because they're not daft.  They KNOWI  am more likely to cull one of them than one of my precious cookbooks.
A collection starting over 20yrs ago,  Nigella and Mary got me through the good times, Nigel and old blue eyes Michel held me through the bad times.
Toss a coin kids, who's moving out to make space for my new library?  They back away slowly from the conversation, knowing it's never going to fall in favour of them or the big man.
So, the reason for littlest kid being under the dining table is now apparent.  She's either hiding from
A. Covid 19
B. Me swearing at the TV because of Boris' overuse of the word 'unprecedented'.
C. The fun of decorating……..
I coax her out by sending in the dogs.  She doesn't stand a chance against two hairy halfwits who will demand attention giving her absolutely no peace.
I also need the space under there to store stuff out the way whilst the two day worth of painting is undertaken.  Who knew two walls needed TWO WHOLE DAYS?!  Apparently not everything I decide will take two minutes actually does.
All that remains of the living room is the mister's prized television, perched protected by a giant John Lewis bag, we're nothing if not classy, and the couches in a U shape surrounding it.
Biggest kid reminds me I hate the furniture ALL facing the TV.  Apparently my inner Hyacinth Bucket felt the need to assure visitors that we were capable of conversation or even reading a book.
I've changed my mind and am enjoying this cosy cocoon.  I might leave it as is.  I hate having a messy house – not enough to actually clean it, but at least now I can give it a really disgusted stare from my new 'couchnest' while admiring my two newly painted walls…….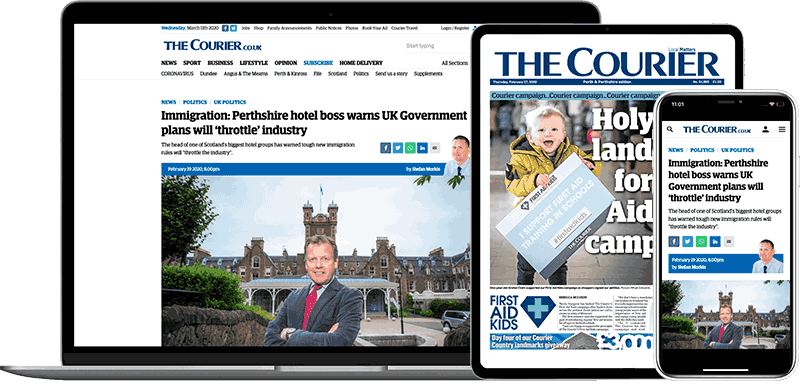 Help support quality local journalism … become a digital subscriber to The Courier
For as little as £5.99 a month you can access all of our content, including Premium articles.
Subscribe