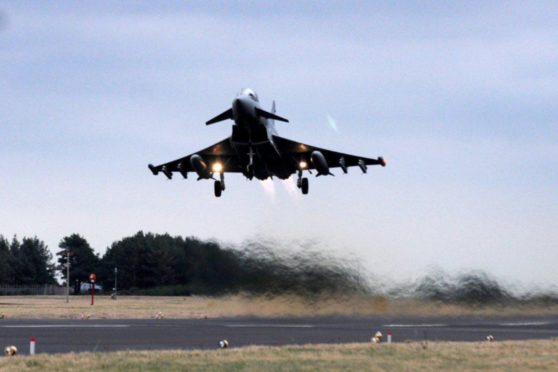 Sir, – Typhoon fighter jets will be returning to Leuchars while they resurface the runway at Lossiemouth.
But. wait a minute, the runway at Leuchars was resurfaced and reinforced twice to accommodate the Typhoon.
Where does the UK Government find all the money to spend on this, when there is a perfectly good runway at Leuchars already in place?
It surely would be much more cost effective and practical to relocate the Army and return the jets back to Leuchars on a permanent basis.
I shouldn't really be surprised at the potential waste of good money on something that is unnecessary, given that the UK Government granted a ferry company thousands of pounds for ferry transport due to Brexit, but the company didn't even have a boat.
Let common sense prevail and bring the jets – along with the much loved and missed airshows – home to Leuchars full time, and save a fortune.
William Jarrett.
Alexandra Cottage,
Carnoustie.
Happy to host virus test station
Sir, – I see we have another pointless and distracting argument in the middle of a public health emergency in Scotland (Political row over mobile testing at Pitlochry as concerns raised over lack of communication, Courier, May 16).
We all know the military are helping with testing efforts in Scotland, and that will be appreciated by many people in need and indeed by all our NHS staff who will be happy to see their capacity increased.
The whole point of these pop-up assessment centres is that they can move around and deploy quickly to different areas, most notably to the sad outbreak on Skye.
It may well be that in some areas their presence may turn out not to be necessary, but they can move on.
In the current situation, they have to deploy at short notice, but it was obvious from the press this week when they were coming to Pitlochry and who was allowed to get tested.
If you want to set up any structure in Perth and Kinross, it is not the permission ofJohn Swinney or Pete Wishart you need but the local authority, who it appears are the very people who suggested the Pitlochry site was a suitable place to go.
It is they who will be most aware of what might be suitable and what the local demand might be.
Levels of testing in Scotland are really poor. It is the job of our local representatives to increase the capacity for doing this, not to be undermining efforts.
I think most people in Highland Perthshire will be happy to see them here and that those people who need to get tested can go and use them.
Victor Clements.
Mamie's Cottage,
Aberfeldy.
Second career for flight crews
Sir, – Cabin crews around the world will soon become redundant.
They have significant knowledge of first aid, the ability to be calm in a crisis, have good interpersonal skills are organised and are used to disturbed sleeping and eating patterns.
They are also familiar with other nationalities, customs and perhaps even some of their languages and are trustworthy and dependable. What better attributes for becoming valued members of the nursing and caring professions?
Let's get them fast-tracked through appropriate and subsidised training such that, when our current "troops" are burned out they can competently fill their shoes?
Secondly, during wartime, church, village and public halls were utilised as schools.
These still exist, as well as function rooms in closed hotels, sporting clubrooms and leisure centres. How better to separate pupils from each other?
Primary classes could more easily operate this system, then their normal classrooms could be taken over for secondary classes.
Sandra Affleck.
7 Lord Lyell Drive,
Kirriemuir.
Don't bury your head in the sand
Sir, – In southern Africa they say that if you meet a Black Mamba, don't try to double guess it. If you get it wrong. it will bite you.
You will die. So we avoid Black Mambas.
Covid-19 is a very effective killer.
However unlike venomous snakes, we don't know much about it. So surely, if we must go out, wear a mask.
It won't protect us, but it would stop us infecting others.
Boris Johnson is saying all things to all people and failing dismally.
In Scotland, we should take more positive action, the first minister should give a strong lead.
We respect dangerous animals. Let's respect and fear Covid-19.
I don't know anyone who has been bitten by a deadly snake. However, sadly some of my old pals have gone already.
I beg everyone to be a hero, not an ostrich.
Bill Ledger.
43 Dreelside,
Anstruther.
National Debt is here to stay
Sir, – Commentators and politicians talk about the cost of lockdown, with £300 billion mentioned.
But this sum is merely another destined to swell the National Debt, already standing at £2000bn.
So the only real cost will be paying the interest on that addition.
The National Debt costs us £2bn a week in interest, so that would rise some 6.6% to £2.132bn a week.
To actually recoup that £300bn would be unachievable at a cost of £4,500 a person.
Just as unachievable as repaying the National Debt in fact.
Money is computer generated numbers, created at will by the bank, and for as long as the interest can be paid, there is no problem.
Malcolm Parkin.
Gamekeepers Road,
Kinnesswood, Kinross.
Keeping OAPs from the course
Sir, – Nicola Sturgeon placed shielding "front and centre" with pensioners and any considered "vulnerable".
This is presumably why our golf courses are the only ones in Europe still on lockdown: through the week only pensioners play.
Now one of our leading public health experts has said "shielding only works in models, not in real life, where healthy and vulnerable are integrated in households and communities".
No Asian nations which have effectively tackled the disease have used shielding as a policy." But I must warn Edinburgh University's Professor Sridhar that we are obsessed with computer models, whether in climate change or medical outcomes.
Rev Dr John Cameron.
10 Howard Place,
St Andrews.
Scythe will be needed soon
Sir, – Can Dundee City Council please let us know when the grass cutting programme is to get going again?
Angus and Fife started a few weeks ago.
The grass in the Craigiebank sheltered housing and all over is nearly knee high.
The cemetery and the horseshoe area on Arbroath Road are a disgrace.
It would only take one person on the cutting machine to complete these tasks, so social distancing should not be a problem.
If it is much longer it might need a scythe to get some of it done.
Also needing looked at is some of the garden areas in the sheltered housing where the council decided to take out the shrubbery to cut cost on maintenance.
Margaret Heenan.
Arbroath Road,
Dundee.