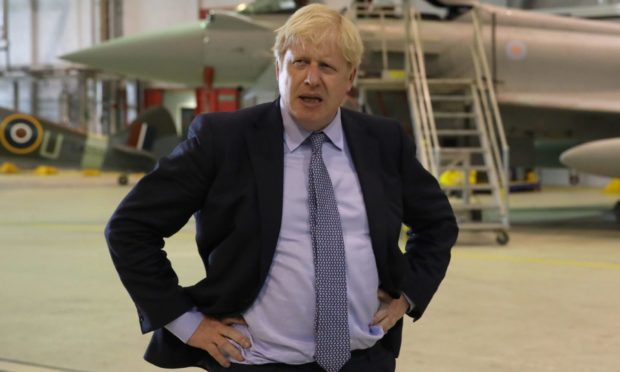 Sir, – A letter from Jane Lax (PM's trip gives lie to 'welcoming country' tag, Courier, August 25) is rather behind the times and extremely ill-informed.
Firstly, the cottage was apparently only booked for three days, and when the time was up the prime minister left.
Secondly, the location was outed by the Daily Mail, that paragon of pro-union propaganda.
Thirdly, there were no reports of problems, riots or any activity requiring police involvement.
Fourthly, the prime minister is surrounded by armed police at all times. And, finally, there were no hordes of disgruntled locals, other than a farmer who objected to a tent being pitched in a field without permission.
The prime minister is a contentious public figure and therefore people will take an interest, especially those who are not of his ilk.
One person who many find objectionable is not evidence of being unwelcoming in general.
Far from it, as the lack of displays of anger towards his presence demonstrated indifference, probably far more remarkable considering his inept handling of just about everything.
Nick Cole.
Balmacron Farmhouse,
Meigle.
'Evil' beasties take their toll
Sir, – I write to express my total agreement with Jane Lax (Letters, August 25).
A weary traveller and his family, and dog, trying to escape the rat race, pitch their tent in a farmer's field, in a remote part of Scotland, presumably hoping to have a bit of peace and quiet, and some quality family time.
Yet they are immediately, and totally without provocation, attacked by a mob of evil beasties, presumably violent, separatist midgies, and are forced to flee to whence they came, amidst concern about deadly sniping clegs, possibly even an army of fanatical, militarised ants. Unconfirmed reports locally suggest that a sheep might also have been involved, worrying the poor dog.
What kind of country have we become when innocent visitors, hoping to enjoy a back to nature break under canvas in the balmy west Highlands, unaware of the dangers of scotgnats, should be subjected to such violent and inhumane treatment.
First Minister Sturgeon has been uncharacteristically quiet on this matter, and I call on her to issue an unconditional apology to this unfortunate family, and indeed to the people of England, for this outrage perpetrated by her anti-English supporters.
Les Mackay.
Carmichael Gardens,
Dundee.
No tolerance in Hate Crime Bill
Sir, – I am grateful to Ian Stewart, convener of Atheist Scotland, for his enlightening letter (Watching out for religious hatred, Courier, August 25) .
It illustrates perfectly why Humza Yousaf's new blasphemy law (otherwise known as the Hate Crime Bill) should not be passed.
Mr Stewart informs us he and his movement "fully intend to monitor all Holy Books, sermons in places of worship and the social media accounts of the various religions and report any hatred to Police Scotland for criminal investigation".
There are two problems with this – firstly Mr Stewart regards any disagreements with any of his fundamental beliefs as self-evident 'hate' and we must be dealt with.
He is, in effect, saying that we should all be closed down unless we accept his authoritarian morality.
Secondly, I regard his letter as full of hate speech and therefore under the new criteria Mr Stewart should hand himself in to the police and confess his crime.
But tolerance and logic are not what this new blasphemy bill is about.
Rather it is intended to reinforce the self-appointed thought police of the Brave New World the Scottish Government is seeking to build.
David Robertson.
Former minister, St Peter's Free Church,
Dundee.
Galloway's not better together
Sir, – George Galloway has joined the new better together to presumably assist Gove, Lord McConnell and Danny Alexander.
This trio plus Galloway and sundry others will attempt to persuade the electorate that staying with the union is in their best interests when day by day events prove the opposite.
By recruiting Galloway to their cause the unionists clearly hope those of a left wing persuasion will be gullible enough to give credence to his anti-independence views.
Galloway has lost the last three elections he stood in. By joining the unionists it is not only votes he has lost, it was his marbles.
James Smith.
Brownhill Place,
Dundee.
Travel could be bargaining chip
Sir, – Given the UK's appalling debt-to-GDP ratio, now exceeding 100%, the government is no doubt happy that not many Brits have been spending Euros this year, thus shoring up the Pound.
European tourism forms a sizable part of UK imports, with Spain in particular dependent on British visitors. So we might find that even next year quarantining is re-imposed for dubious reasons, with staycations helping our own tourist industry.
Lowering the cases-per-thousand threshold would be a simple way to do that. In any event it could be used as a bargaining chip in the trade talks with the EU.
George Morton.
Hudson Road,
Rosyth.
A life of tailoring to perfection
Sir, – I was sad to see the death in yesterday's Courier of Doug Sherriff, former manager of Millars, Broughty Ferry.
Dougie was a legend in the tailor business.
I met him in the mid '60s as a 15-year-old Saturday boy in Jackson the Tailor, Murraygate, where he was the floor manager for made to measure suits.
He taught me the trade and I worked full-time for a period under his wing.
He taught me how to be honest with customers, never lie so if a customer did not look good in a ready to wear jacket, tell them!
Jacksons sponsored both Dundee football clubs and Arbroath during my time in there, so all of the players would come in to be measured up for their suits.
Two players from Arbroath turned up a touch intoxicated. Dougie was not best pleased as he could not measure them properly.
He advised the shop manager Charlie Robertson who phoned the club.
The following day both players returned and apologised to all staff.
Dougie had the foresight to realise the press would publish photographs of players wearing their suits.
As the teams had the jacket inner linings to match the colours of their strip, he ordered extra dark blue, tangerine and maroon inner linings for the expected customers.
The fans duly arrived and the shop did a roaring trade in identical made to measure cloths for each team.
Millars were aware of Dougie's talents so he was offered the position of manager and buyer which he accepted from the late '60s to his retiral.
All of his customers knew they could trust Dougie to make them look good.
His talent was appreciated by generations of customers.
I never ever forgot the advice he gave to me when dealing with people when I moved on to another career.
A great loss.
Ian Wallace.
Chapman Drive,
Carnoustie.