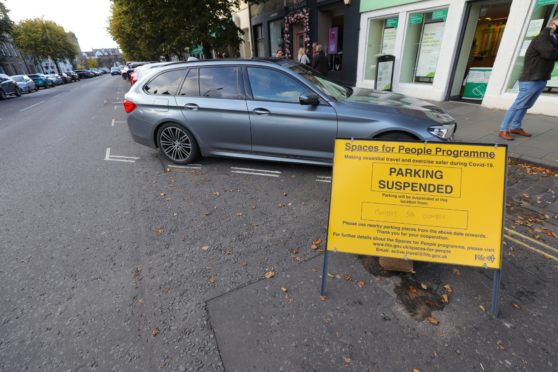 Sir, – Spaces for People gave Fife Council £2.4 million of "free money" to spend on making walking and cycling safer during the Covid crisis.
By removing parking by shops, the schemes we see in places like St Andrews and Crail are being used as cover for an anti-car policy which aims to force drivers out of our towns and villages.
Such a policy not only goes against the expressed wish of the majority of residents, it is also anti-business.
Pedestrianisation destroys local economies as the unhappy schemes in Leven and Kirkcaldy town centres show.
Where is the evidence that people weren't social distancing due to lack of space – St Andrews has some very wide pavements – and that existing arrangements are unsafe?
There is also the irony that these measures are coming in far too late.
The visitors have gone home, the St Andrews and East Neuk streets are not crowded as they were in July and August.
Above all, people are much less anxious and fraught about social distancing as they learn to live with the virus.
Fife Council has missed the boat in terms of securing public acceptance for this damaging and wasteful experiment.
Linda Holt
Councillor for East Neuk and Landward,
Dreel House,
Pittenweem.
Selfish drivers are a community blight
Sir, – I was wondering if one of the undiagnosed symptoms of coronavirus was an inability by drivers to adhere to 30mph speed limits when instructed to do so by glaringly obvious signage.
It seems every community covered by The Courier is affected by selfish drivers, creating risk to other road users and pedestrians, while increasing noise and pollution.
In Perth and Kinross we were promised all villages would see a reduced limit of 20mph.
That has not happened and seems pointless given speeding motorists can't even obey 30mph, something I'm sure every one of them did when sitting their driving test?
In Gilmerton we also have national speed limit signs placed directly within the village allowing drivers to accelerate to 60mph before they exit the village heading east on the A85 trunk road, something BEAR Scotland has been advised upon, but seem reluctant to change or willing to ignore.
Andrew Brock.
Maxtone Terrace, Gilmerton.
Ferrier's Covid trip an excuse for indy?
Sir, – However high the fiscal deficit, however numerous the billions from UK Government for the furlough and business support schemes, the SNP can turn any event into a justification for independence. It is quite likely therefore that one of the troops, or perhaps even mission control, will point that if only we had been independent poor Margaret Ferrier wouldn't have needed to go to Westminster and the health risk would have been avoided.
Denis Munro.
Saint John's Place, Perth.
Call to arms in war for humanity
Sir, – Mankind has triggered a recondite response to rampant consumerism.
Some words of Thomas Sancton are pertinent: "Let there be no illusion, taking effective action to halt massive injury to the Earth's environment will require a mobilisation of political will, international co-operation and sacrifice unknown except in wartime: humanity is in a war right now and it is not too draconian to call it a war for survival. It is a war in which all nations must be allies.
Unfortunately, this does not appear to be the view of some business leaders, politicians and technocrats who dominate world affairs.
Kenneth Miln.
Union Street, Monifieth.
Golden oldies would be a cinematic treat
Sir, – No good films becoming available! How about a season of great oldies?
Old Bond movies; Hitchcock; Doctor Zhivago; Lawrence of Arabia; Pink Panther.
The choice is endless and how marvellous to see oldies on the big screen.
Barbara Sturrock.
Invergowrie Drive, Dundee.