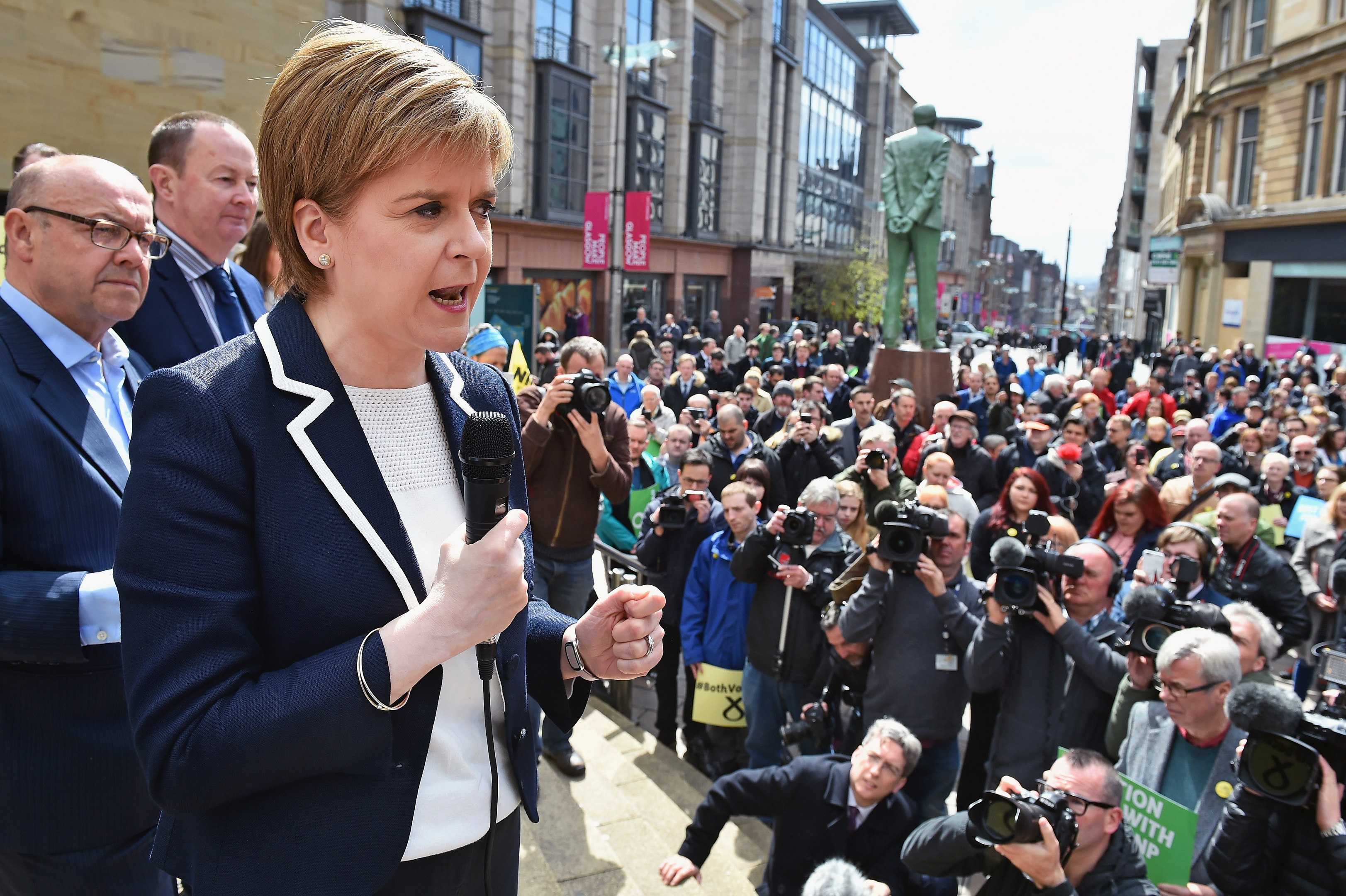 Beneath Glasgow's perpetually dreich sky, Nicola Sturgeon issued a passionate rallying cry to her troops.
Not that many people were paying attention. In a funny way, the First Minister's final battle call summed up this entire election campaign.
Underwhelming.
A couple of hundred people assembled around the Buchanan Street steps.
MPs and would-be MSPs nearly equalled number to activists. Their shadows stretched to almost reach the statue which commemorates Donald Dewar, Scotland's first First Minister.
Such symbolism is not insignificant. It has been almost 16 years since the "Father of the nation" died.
The new "Queen of the country" stood behind his bronze legacy, ready to once again dominate his brick and mortar legacy, the Scottish Parliament.
It was all very nice, if a bit low key for a revolution. A little boy with curly golden locks, wearing a replica Scotland football shirt of course, looked on with wide eyed wonder.
There was less subtlety up the back as a Saltire emerged and was swished around the gathered crowd.
It was temporarily overshadowed by a Union flag until a man who reckons Jews might not have been gassed by the Nazis was despatched with as much good grace as is possible.
Sturgeon's message was simple, as it has been all campaign.
It was incredibly personal, all about giving her a mandate to be First Minister. Don't worry about the party, folks, the President has things covered.
Perhaps that's wise.
When one of your next great hopes, Europe and International Development Minister Humza Yousaf, gets his Star Wars mixed up with his Star Trek he's either too excitable or needs beamed up.
A small boo could be heard from somewhere on the street as the excitable Humzah introduced Sturgeon but it quickly disappeared.
On the fringes, three Green activists looked on in a forlorn manner.
The repetition of the "both votes SNP" message must have rung like tinnitus in their ears but they remained in any case.
Not flashy, nowhere near the same excitement as similar events over the past couple of years, likely to be incredibly effective.
Yes, Nicola Sturgeon encapsulated the past six weeks perfectly in less than 60 minutes.
But it is unlikely things will be as dull as the west coast weather, or this election battle, as the country's fifth First Minister seeks to secure her own legacy over the next five years.