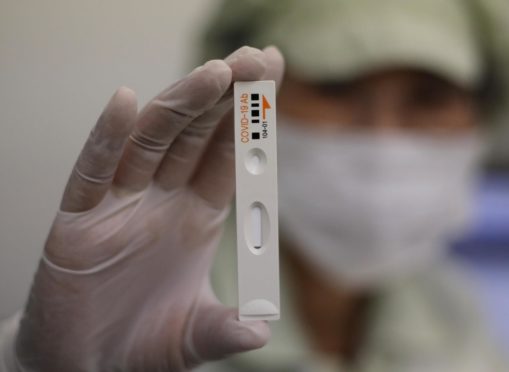 Sir, – With increased restrictions to be implemented in England due to a rise in coronavirus infections , it is time to reflect on what could have been.
With the best will in the world the government in London has made a complete mess of coronavirus from day one, and continues to do so.
South Korea was ahead of the UK in coronavirus cases by several weeks at an early stage and the UK thus had the chance to see how this was being managed here.
It was a course of action they chose not to adopt.
UK is now number nine in the world with 1,011,660 Covid cases and 46,555 deaths, and that number is rising fast.
South Korea is number 90 in the world with 26,500 cases and 464 deaths, with coronavirus well under control.
South Korea has about 80% of the UK population, so is not small.
In South Korea we have had border testing of arrivals into the country since April,
In the UK there is no testing of incomers and this is at the root of all its problems.
By allowing unrestricted cases into the country and spreading throughout the community you really have a big problem on your hands in the UK.
As you can guess I am in South Korea and it is indeed impressive how the health department has handled this, with very limited restrictions and no loss of freedom of movement.
John McKay.
Namgu,
Busan, South Korea.
Less lecturing and more action needed
Sir, – One of the most constant themes from the SNP is that Scottish Tories talk down Scotland, yet the daily edition of "Bute House Blues" is surely more damaging both to our national image and to the mental health of our citizens.
The first minister berates the nation for beating children; force feeding them junk food; boozing; not obeying orders; and now, committing thought crimes.
Her justice minister, Humza Yousaf, plays to those with a permanent grievance such as woke students and misanthropic greens.
Mass unemployment looms yet all the SNP can think of is an idiosyncratic form of lockdown.
We need a more nuanced plan to enable us to manage this situation but the chance of us getting it is remote.
Rev Dr John Cameron.
Howard Place, St Andrews.
'Aberdeen nine' an example to others
Sir, – Reading that the Labour 'Aberdeen nine' remain suspended is absolutely bonkers.
In my opinion this group is an example of how political opponents can work together to serve the public.
In Holyrood they should take a slice of this!
It is superb they have put their differences aside and are working together.
They are a positive example, they show the whole political arena how to work properly. This should be encouraged, not punished.
Maaike Cook.
Cash Feus, Strathmiglo.
Positive impacts of managed shoots
Sir, – Mr Broomfield's Nature Watch article in The Courier on Saturday past does not tell the full story.
Yes the curlew is in decline and of course there are many reasons for this.
What Mr Broomfield does not mention is that on managed grouse moors, they actually are likely to do very well and prosper.
I know this because I happened to have a brief conversation with a young gamekeeper from Glen Ogil in May of this year.
I recall specifically asking him how curlews were doing, to my joy he told me of countless successful nests, and even showed me a photo of a young curlew clutched in his hand.
We might not all approve of driven grouse shooting, but there is no doubt that that style of management of our uplands allows birds like curlews, golden plover and many others to flourish in a managed environment.
Mr Broomfield should not have neglected to mention these positives. Certainly for me it was hugely reassuring.
Tim Hardie.
East Newton,
Perthshire.