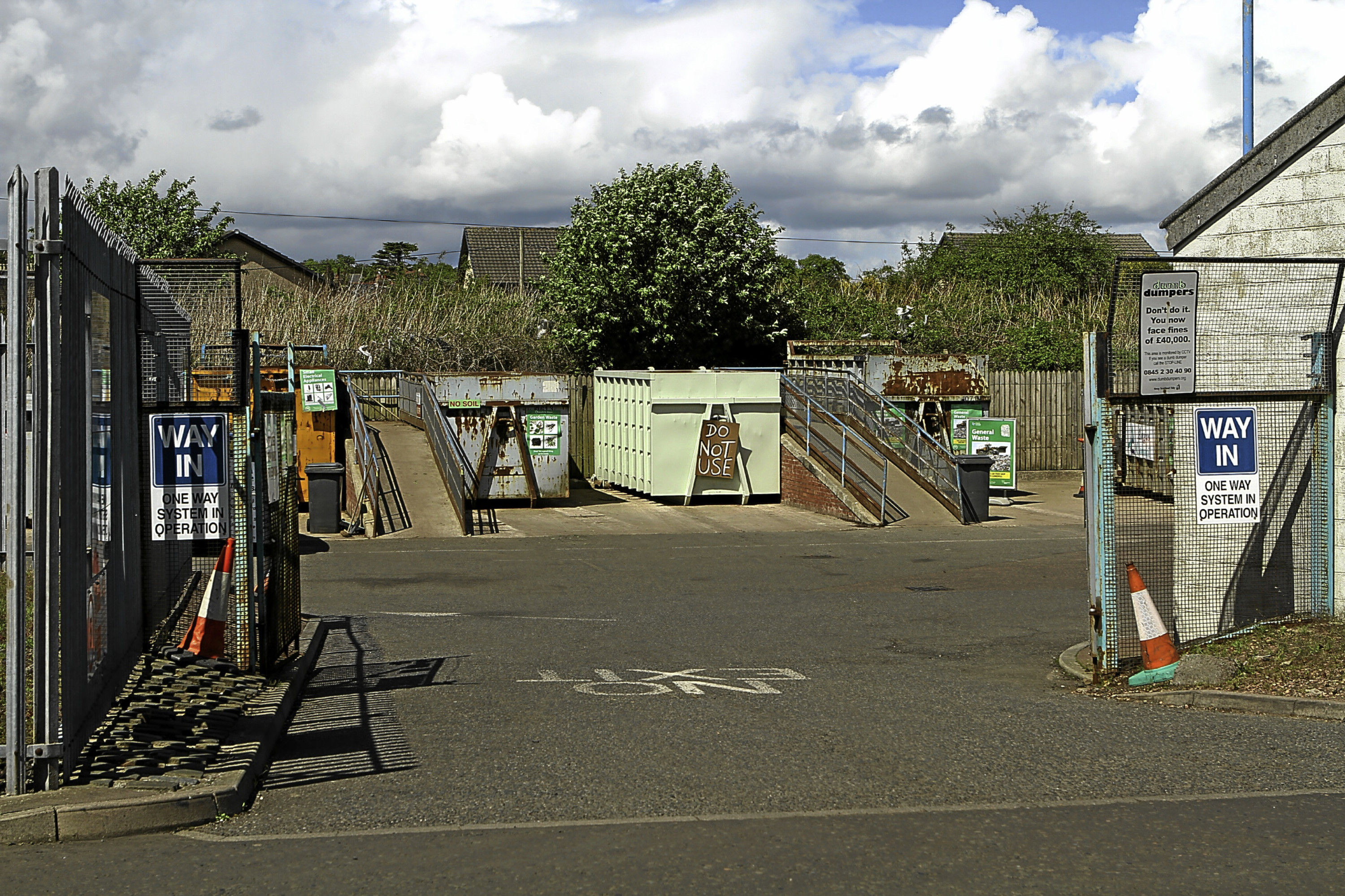 Sir,– Let me say how disgusted I am with Angus Council for their intention to close the recycling centre in Monifieth.
This will only encourage fly-tipping, or residents will simply fill up their bins with stuff that could have gone to the skip.
The Monifieth skip is well used, and this morning when I was there, the number of cars using the facility suggested that this site should remain.
It has been reported that the MoD charge £30,000 a year to allow bin lorries through the Barry Range as they cannot get under the railway line at Monifieth.
Perhaps this was a factor in their decision.
In return Angus Council should charge the MoD £30,000 for road maintenance for allowing multi-tracked vehicles on local roads and see how they like that.
Another alternative is to cut out one of the many high salaried employees, thus probably saving more than the £30,000.
Once again Angus Council have ignored the wishes of Monifieth residents, who were mostly in favour of keeping the recycling centre in Monifieth.
The council should remember they are elected by the people, and could easily be sent packing at the next election.
Al Buntin.
7 Provosts Walk,
Monifieth.
Hang heads in shame, SNP
Sir,– Mr Donald Morrison, the SNP convener of the recycling committee, acted in an arrogant and ignorant manner, totally ignoring a proposed amendment by Craig Forthingham which asked for officers to bring back a further proposal to safeguard all recycling centres, including Monifieth, within the budget available.
The amendment was approved perfectly legal by the law and administration department as competent.
Mr Donaldson acted beyond his remit by declaring it incompetent.
Is he above the law, has he more professional knowledge and experience than the whole of the law and administration of Angus Council?
All the seven members of the SNP who were in attendance at the recycling council meeting did not object.
They all agreed with his action.
Dictatorship that has no place in Scottish politics.
According to the SNP, you will do what we say and act accordingly.
No common sense at the closure will mean more expense cleaning up the countryside from waste dumped, and more carbon gasses from pollutant cars travelling extra miles to recycling centres.
Angus Council had to pay £28,000 to the MoD to allow the waste lorries to gain access to the Monifieth recycling site.
Why was there no meeting with the MoD to discuss further and reach a compromise?
The are hoping to come to a conclusion, allowing Monifieth and nearby residents to use the sites in Dundee.
At what price?
Angus Council SNP members should hang their heads in shame, going in total opposition to the policy of green environmental projects of the national government.
Stewart Ellis.
3 Manse Place,
Monifieth.
Vote Leave need to explain
Sir,– I am rather concerned over the EU myth buster on the latest addressed paraphernalia from Vote Leave.
The quote made by Stephen Gethins MP (about the European fishing policy and the Common Fisheries Policies failings) has been conveniently chosen for mischief making, and the mention of further negotiation to improve the situation within an EU context has been deliberately left out.
Along with that, Vote Leave persistants have not had the guts to put when the quote was made alongside the statement…
If we choose to leave the EU, all of the UK's fishing industry will be in tatters, as the rest of the EU's fishing fleets will help themselves to the North Sea riches, while we have the only protection of a couple of Fishery protection vessels.
The best thing is for Scotland to become independent in its own right and not be under the rule of Westminster (and not accepting the watered down version of what Westminster wants first from Europe).
It's unfortunate the unionist government at Westminster is instrumental in Scotland not becoming a full representative of that European body.
Dirty tricks still abound, I'm afraid.
And the trouble comes from on our own shores, and that's for both sides of the border.
Bob Harper.
Pittenweem Road,
Anstruther.
Time to leave bad company
Sir,– I will vote Leave because I do not like being dictated to by a bunch of unelected, corrupt, educated idiots in Brussels.
"You can tell a man by the company he keeps."
Gerry McGuigan.
Arthurstone Terrace,
Dundee.
Kinnoull lights a threat to wildlife
Sir,– Perth and Kinross Council's latest gimmick involving floodlighting Kinnoull Hill must be included among its frequent silly ideas.
Do they not realise the detrimental effect it will have on the wildlife?
Wildlife needs periods of night-time darkness otherwise the biological clocks of the many birds and mammals which inhabit that area will get very confused.
Nature has made Kinnoull Hill attractive as it is, so why spoil its beauty by bathing it in unnatural man-made light? Has any thought been given to the possible distraction it will be for drivers on the Perth to Dundee road and on the M90?
There are enough dangers on our roads without adding to them with what I can only describe as a pointless, hair-brained idea.
John D Ridley.
Spoutwells Drive,
Scone.
Rates must drop to save centre
Sir,– I totally agree with John Bullough (May 25). Rates charged on retail premises in Perth city centre must be drastically reduced and parking should be made easier, especially for access to St John Street.
Out of town outlets, eg Inveralmond, should charge for parking.
Councillors should reduce rates instead of spending our money on daft schemes, eg fancy new offices and a crazy over-the-top theatre refurbishment.
John Bullough has, over the past few years, tried everything to save McEwens.
It reminds me of the story of killing the goose that laid the golden egg!
Isabel Wardrop.
Viewlands Road West,
Perth.
Give it up on independence
Sir,– Like Ian Lakin (May 25), I cannot see why the SNP thinks it will convince many people to change their stance on independence.
No new reasons have been shown.
The Orwellian assumption seems to be that if the same arguments are repeated often enough they will eventually be believed.
Nicola Sturgeon and her followers, like Margaret Thatcher and hers, are 100% sure she/they are right.
Other views are seen as ill-informed and irrational.
The idea that sensible intelligent people could reject its ideas is incomprehensible for the SNP.
Almost all decisions are based on emotions.
One can no more decide objectively to support "independence" or to remain in the EU than one choose whether to support Dundee or Dundee United.
SNP support is driven by emotion and it is only by appealing to such that it can be increased.
This needs using people with charisma.
Who in the SNP has enough to change many minds?
It is surely wrong MPs and MSPs of any party, whose first duty is to their constituents and are paid public money, who do this to spend their expensive time trying to convert others to their views.
That should be left to others, and the SNP has plenty of zealous members who are happy to do this for free.
The DUP does not try to get Irish nationalists to embrace unionism.
Neither should the SNP seek to convert others to Scottish nationalism.
Malcolm Burley.
Main Street,
Newtonmore.