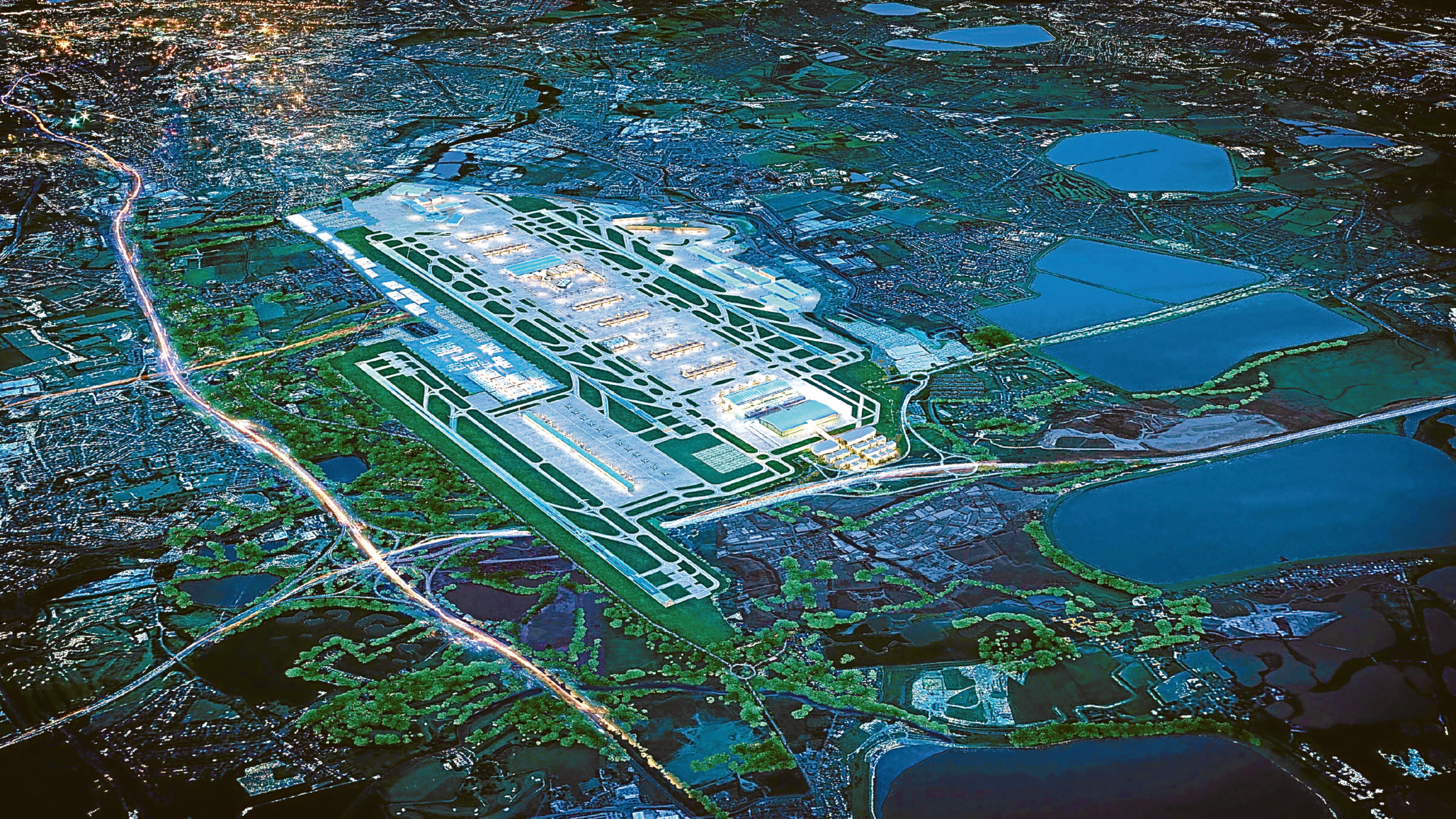 Sir, – You reported (July 1) that Liz Cameron, chief executive of Scottish Chambers of Commerce, described the further delay to a decision on additional runway capacity in the south-east of England as "economic illiteracy".
This seems a very strange and questionable description.
I used to live near London and flew regularly on international flights from Heathrow.
I moved to Scotland in the late 1990s to run the international division of a plc and had to make flights overseas almost every week and almost always went through Heathrow.
This was because the four-engined aircraft then used for international flights could not use Glasgow or Edinburgh airports.
Ms Cameron appears not to have woken up to the fact that it is now much more convenient to access foreign markets by the new international flights from Edinburgh and Glasgow airports which use quiet and economical twin-engined planes like the Dreamliner.
What is the point of flying from Scotland to Heathrow and then flying back over Scotland again on the way to or from USA and Canada?
Going to the Middle East, Far East, or Africa is easier via the Gulf hubs. We travel to Singapore and Australia every year through Doha which is fast, comfortable, reliable, and extremely good value.
Our return fare to Singapore from Edinburgh is £435 and the trip takes only 17 hours.
Expansion of Heathrow would cause a congestion nightmare to the west of London and lead to many more flights passing over a densely-populated area
There can be no rational argument for increasing either ground or air traffic in that already saturated area.
Ms Cameron would do much better to promote the excellent airports we have in Scotland than to try to induce Scots travelling overseas to route through London's Heathrow.
Robin Lawson.
59 Argyle Street,
St Andrews.
Poor driving on Fife roads
Sir, – As a regular user of roads in Fife, it hasn't surprised me that there appears to be an increase in road traffic incidents across the county; particularly vehicles leaving the road and colliding with buildings.
How long before an innocent road user is killed?
In addition, driving standards on the dualled sections of the A92 can be frightening.
There have been many instances when I have moved into the outside lane in good time to overtake a vehicle only to be passed by a car on the inside and then had to brake when the driver swerved out to overtake the vehicle ahead.
Speeding is also a very regular occurrence; sit at 70mph and I can guarantee you'll be overtaken by lorries, three-axle coaches, vans and cars by the dozen.
In many instances collisions are only avoided by the reaction of sensible drivers taking action.
Another regular danger is vehicles joining the A92 from slip roads and failing to adjust their speed to merge with traffic on the dual carriageway.
Some drivers seem to expect other drivers on the carriageway to slow, brake or move to the outside lane, assuming it is available and safe to do so.
If you stay within the 20mph or 30mph limits in a built-up area, it will not be long until you have a taxi or a hot-hatch sitting aggressively on your tail flashing their headlights and sounding their horn.
There appears to be a reduction in marked police cars patrolling roads in Fife.
I am not blaming the police, only the idiots who in the absence of police patrols on our roads endanger themselves and others.
Colin Topping.
Crathes Close,
Glenrothes.
Scots must take control
Sir, – It is sad to see in your letters pages that so many Scots lack the courage to manage their own affairs.
They continue to accept being lied to by Westminster and continue to accept the non-relevance of their votes as they are drowned by the overwhelming majority of the rest of the UK.
English nationalists had the courage of their convictions to vote to take back their country and have succeeded in pulling us out of the EU. The forceful dominate and the meek continue to be subjugated.
What is astonishing is that unionists continue to suggest that Scots who want to take responsibility for their own affairs should give up that quest because they lost one vote, the 2014 referendum.
Presumably, following that logic, those unionists also believe that there should never be another general election?
I am sure Winston Churchill would not have expected people to give up once they had lost one battle.
It is sad, frankly dreadful, that so many Scots accept that they do not have the capability to follow a path of their own choosing, that they accept they are ruled as a province and cannot follow self-determined paths. The lack of courage and confidence, the lack of will to take responsibility for your own affairs and to continue to hide behind England, does not augur well for Scotland's future.
If Scots do not have the courage or confidence to take responsibility for their own affairs they should stop pretending to be a country. Anything else is self-delusion.
Iain Grogan.
6 Platt Meadow,
Guildford.
EU exit cannot be justified
Sir, – We are told that the Scottish people overwhelmingly voted to remain in the EU and this is given as the main reason why Scotland must retain its EU membership, regardless of the majority vote of the UK to exit.
Did Scotland really vote so overwhelmingly to Remain? A study of the results indicates that the majority of people in Scotland who had a vote, either voted to Leave or did not exercise their right to vote.
Remain votes were 1,661,000. Leave votes were 1,018,000 and people with a vote who did not use it numbered 1,307,000. The Leave and non-voters total was 2,326,000.
On the basis of the total electorate, Remain's vote was just under 42% and the rest amounted to just over 58%. No mandate there then.
Of course, some of the absent votes would have gone to Remain but the point is, they did not vote, for whatever reason.
The above, coupled with the fact that Scotland's exports to the rest of the UK are four times its exports to the EU, leads one to think that any proposal for another independence referendum cannot be justified on economic or democratic grounds.
RER Falconer.
Higham House,
by Newburgh.
I no longer support SNP
Sir, – As a lifelong SNP supporter I am disappointed, dismayed and, to be honest, embarrassed by the party's current policy towards our independence as a nation.
The thought of becoming independent of Westminster and trading that for being subject to the legislation, rules and the policies of free movement of EU nationals dictated to us by an undemocratic European Union somewhat baffles me.
I voted for independence at the last referendum and also voted against the Common Market back in the 1970s.
As a former managing director and employer within the fishing industry, I have seen the damage that some of the EU's historical policies have wreaked.
It is with a heavy heart that I feel that I cannot offer my support to the SNP should there be another referendum on Scottish independence based on remaining a member of the European Union.
Gordon Murray.
The End House,
10c Gibson Place,
St Andrews.
Breakthrough for socialism
Sir, – Both Theresa May and George Osborne have stated that a Tory government will no longer pursue the aim of a surplus or balance in the UK's current account and that austerity is not an economic necessity.
This change in national policy is an expression of our liberation from the EU's fiscal compact and the first sign of progressive advance following massive working-class support for the successful exit vote in the referendum. An irreversible sea-change has occurred in British politics despite the hand-wringing of the Jonahs in the trade union and Labour movement.
Left-wing political, economic and social advance is now a real possibility and a Jeremy Corbyn-led Labour Party has merely to reach out its hand to seize the power rumbling away in our forgotten, left-behind and written-off communities to lead our class to a left-wing government and on to socialism.
Raymond Mennie.
49 Ashbank Road,
Dundee.