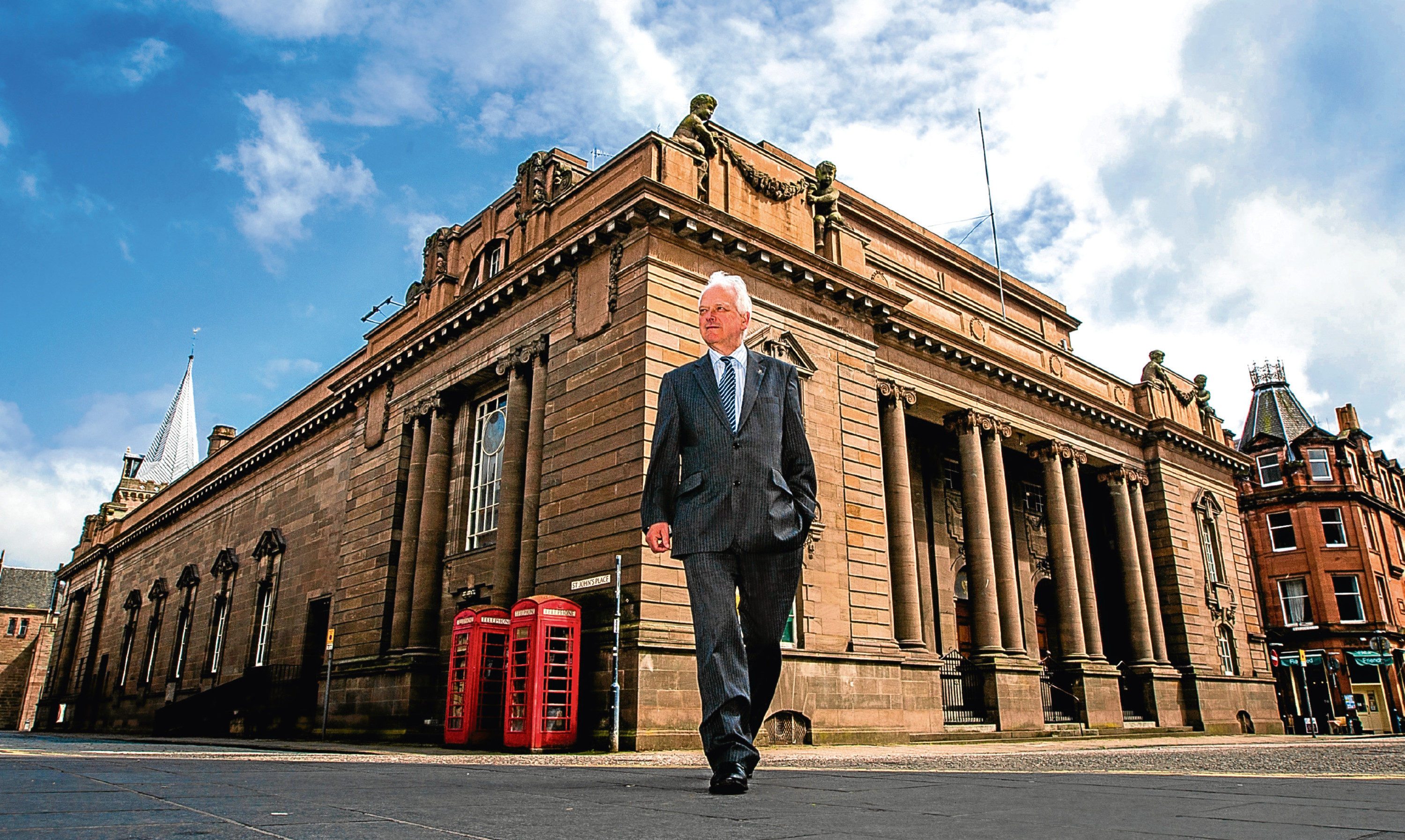 Sir, – As someone who has always maintained there could be a future use for the City Hall, I am delighted to read of the change of heart of both Pete Wishart and Councillor Ian Miller.
My regret is that this has taken so long and that this heart of the centre of Perth has suffered from a decade of neglect.
It is to be hoped that this overwhelming vote by councillors to implement Perth City Plan, and to proceed with a visual arts centre, will now be supported by all councillors.
I never thought I would say this, but I wholeheartedly agree with Councillor Miller that Perth has a huge potential for growth in the cultural tourism market.
It is just a pity that when a home was being sought for the Great Tapestry of Scotland that this philosophy was not current. The recently introduced short-term free parking is also a step in the right direction.
Irrespective of whether Perth's bid for the Stone of Destiny is successful or not, the proposal to use the space of the City Hall imaginatively is to be applauded.
Many years ago and many letters ago, I floated the idea of having a two-storey space.
There appears to be a large sum of money available for the regeneration of the city of Perth.
Let us spend it wisely.
To impress tourists and visitors and to give the citizens of Perth pride in their city, Perth urgently needs to address the appearance of the place.
We do have some very dilapidated buildings and areas: we have buildings with paint and harling peeling off, and some festooned with shrub and tree seedlings.
Before spending money on lighting and a tourist culture centre, we need to tidy up big time.
Surely owners of these eyesores can be called to account and given deadlines to improve or demolish and sell the space to developers?
I am one of the people who John Bullough says is a "moaner" but those of us who have moaned did so because for more than 10 years we were in despair at the appearance of parts of our city and the council's inertia over the City Hall.
Valerie MacLean.
25 Victoria Road,
Scone.
Making my opinion count
Sir, – I refer to your recent articles about the complainers and moaners who constantly criticise Perth and Kinross Council.
Clearly I fall into that category as I have had several letters published about the state of Perth and some of the less than sensible and unnecessarily extravagant ideas put forward by the council.
I have no desire to see Perth fail. All I want is to see some common sense and pragmatism being applied.
John Bullough criticises those like me for not becoming part of the rejuvenation process.
Well I do not belong to the Chamber of Commerce, the City Traders Association or the various development board sub-committees so how can I become involved?
I am not eligible to join any of those organisations and there has never been an invitation from anyone in the council seeking my participation even though my address is known and is certainly in the electoral roll.
What other way can I make my views known other than by letter writing and using my vote in local elections?
John D. Ridley.
Spoutwells Drive,
Scone.
Iraq War not all fault of Blair
Sir, – Congratulations to Bob Taylor for his fair and balanced assessment of the Chilcot report.
As a former Fife councillor he has a better understanding of the pressures on political leaders than most of Mr Blair's critics.
I would add that most commentators have given too little regard to what would have happened if Saddam had been left in power.
Politics is very often a choice between evils.
Saddam was a extraordinarily cruel and powerful ruler who had already massacred thousands of his own people and invaded his neighbours.
If he had remained, he would almost certainly have become more powerful, probably building the WMDs he was believed to have had, and threatened the peace of the Middle East and indeed the world.
Mr Blair's critics seem to believe that he instigated and led the invasion. He might indeed be guilty of excessive loyalty to the Atlantic relationship but it was the US Republican Government who led, ignoring Blair's reservations and failing to ensure sensible post-invasion planning.
It is easy to be wise after the event, and find reservations expressed beforehand, but the two main UK parties supported the invasion despite knowing as much as the Prime Minister did.
Anthony Garrett.
1 Royal Terrace,
Falkland.
MPs should be held to account
Sir, – Now that Chilcot has, quite rightly, excoriated Tony Blair for his actions in leading the country into the disastrous war in Iraq, I think that we should also be looking at the responsibility of the 412 MPs who voted to support his plans.
Many of these people are still MPs today and some in high positions in their respective parties, including one who will be our next Prime Minister.
The Chilcot Report has established that the grounds for war were deficient and that parliamentary scrutiny was inadequate, with a few honourable exceptions.
The decision to take your country to war is one which should not be taken without overwhelming evidence of its justification, and only after the most rigorous critical examination, particularly when there is huge public opposition, as there was in this case.
Should these MPs, particularly those who are in positions where they may be called upon to make similarly grave judgments in the future, not also be held accountable?
Les Mackay.
5 Carmichael Gardens,
Dundee.
Sturgeon right to speak up
Sir, – Martin Redfern, your regular correspondent from Edinburgh, is consistent in his obvious hatred of the Scottish Government.
With the rhetoric of some of the extremist Brexiteers having so recently polluted our senses, it was quite right and proper for the First Minister of Scotland to make it clear that the Scottish Government is (in contrast to the UK Prime Minister-elect) wholly against any deportations of hard-working EU nationals from our country.
It is predictable that some, like Mr Redfern seem so mean spirited, they cannot accept that the warm-hearted reassurance was not offered solely out of political convenience.
The people of Scotland keep on giving the SNP almost twice as strong a mandate as the UK gives the Conservative Party, and Nicola Sturgeon has not just a right as First Minister, but a duty to speak out on issues that affect all the people living here.
K. Heath.
Cortachy,
Kirriemuir.
Scotland has to act quickly
Sir, – With Westminster in turmoil, it is vital that if the Scottish Government wants to protect its place in the EU or single market it acts quickly.
Theresa May has said that she won't trigger Article 50 until the end of the year, but once she is in place as the new Prime Minister and the Brexit unit sets out proposals for the talks, Scotland needs to have its proposals ready.
If the EU and UK then agree that Scotland can stay in the EU or single market, then Scotland would not only shelter itself from the worst impacts of Brexit, but also start to take advantage of the considerable economic benefits that would accrue to a Scotland which is still part of the EU.
If such an option is dismissed by the EU and/or UK Governments (which has been the position of the latter to date), then the only option available is that of independence.
Time is limited for the holding of any such referendum on this issue, with the UK out of the EU potentially by January 2019.
Talks on the UK's future relationship with the EU would still be ongoing after we have left, and may take some time, so Scotland would be left out in the cold.
That is unless we act quickly, and that means an independence referendum by the middle of next year, which would mean that the UK would be leaving the EU with Scotland potentially still within as the successor state.
To delay holding an independence referendum is not an option
Alex Orr.
77 Leamington Terrace,
Edinburgh.