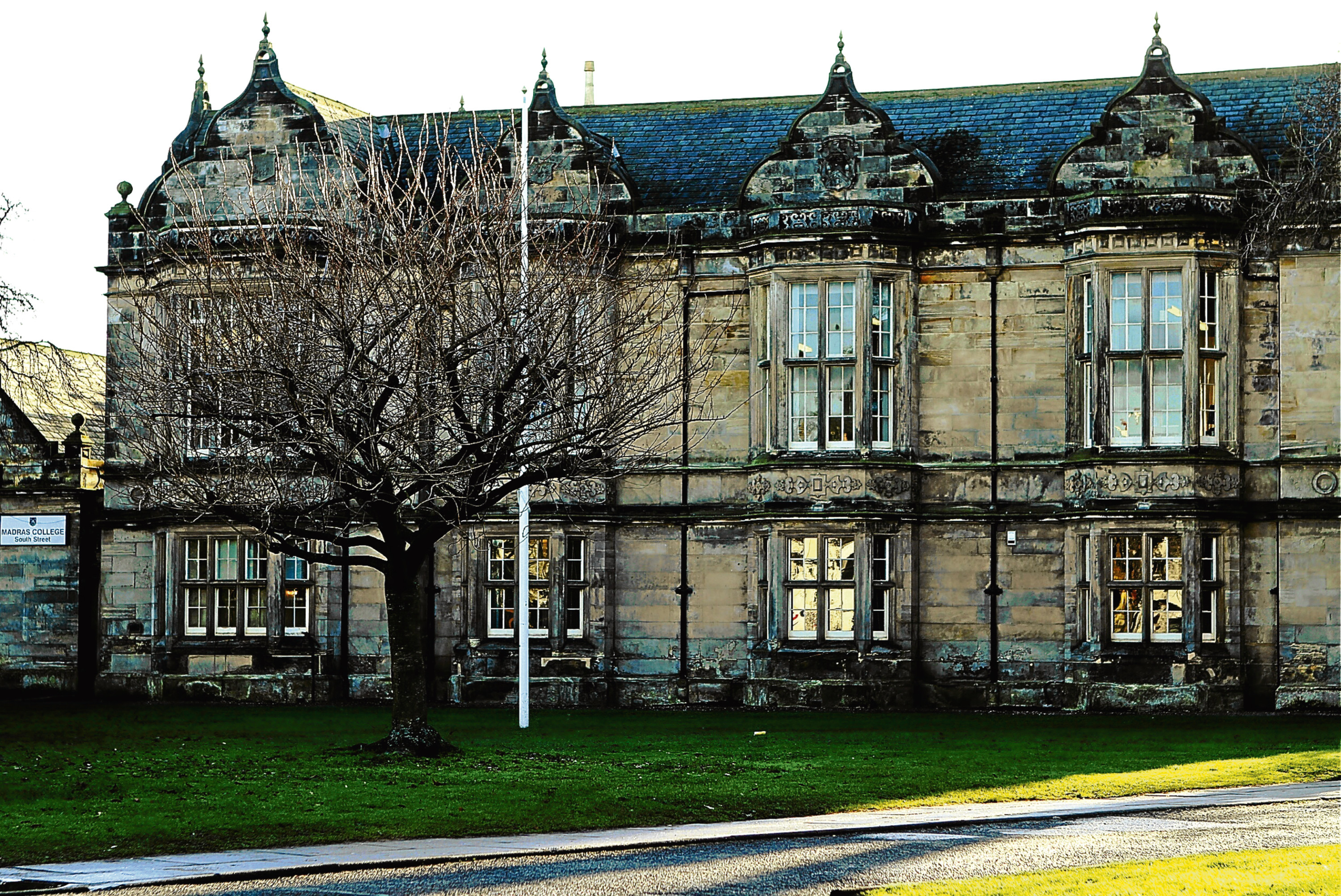 Sir, – The anguish, debate and delay, tainted with uncertainty about Madras in St Andrews rumbles on.
There has been blood, sweat, tears and copious amounts of newspaper print expounding views upon solutions to the unresolved problem in hand.
Much has been spent on administrative, architectural and legal fees without a clear pathway emerging.
The nub of the problem stems from the difficulty of finding a site for new schools.
Let us consider a new solution: no new sites are required at all. In the short term, all remedial work must be carried out at Madras and Kilrymont.
Fife Council and Madras College should form an ad hoc committee that will engage with the Royal Incorporation of Architects in Scotland (RIAS) and organise a competition to determine an architect deemed capable of submitting the best plans to use both sites appropriately.
Established rules for such competitions do exist.
The winner would be awarded the job, with the two runners-up receiving a small cash sum.
The rector, a small number of staff and some pupils should prepare a brief detailing the extra accommodation needed and encourage dialogue with the architects.
As there would be no requirement to purchase sites, a budget of £40 million could hopefully be agreed.
In no circumstance should PFIs be considered as a quick fix to aid funding – some Edinburgh schools having ended up as a heap of bricks.
In the case of Madras, the major challenge would be architectural plans to extend the school in a sympathetic style to original designer William Burn's, using similar building materials.
Temporary accommodation could be sited in the grounds to the north, facing the street.
The project should have appeal to conservation architects.
Upgrading and extending Kilrymont School might be less straightforward – much depends on whether the current building contains asbestos.
The most radical solution may be to demolish it, building on the grounds and using the area where the existing building once stood as playgrounds.
Building replacement schools in this way has precedent in Edinburgh and Glenrothes.
The prospect of the monumental scale of work and disruption would be immense – forward planning being essential during the examination times.
However, once work starts, pupils, staff and parents might begin to feel better about the situation.
Sheila M Walker.
Tom Morris House,
St Andrews.
Elected mayors can heal divide
Sir, – In Scotland the political parties have tended to shy away from the idea of elected mayors for our cities.
They should still note with interest the nomination of shadow home secretary Andy Burnham to contest that role in Greater Manchester for Labour(August 10).
Should he be successful he will almost certainly play a key role in trying to bridge the north-south divide south of the border.
Theresa May offered some fine words outside 10 Downing Street the day she assumed office.
She promised to stand up for all those struggling to make ends meet, and who felt isolated from mainstream politics.
She went straight in and named a Cabinet whose senior members were made up of MPs from the Home Counties and London.
Under her predecessor at least George Osborne represented a seat in the north and could claim some credibility for trying to establish a powerhouse there.
He has now gone and the new premier will have her work cut out trying to convince people she takes what happens north of the Watford junction seriously.
Mr Burnham can play an important part in helping her to do that.
Healthy and prosperous Scottish and English cities are essential if devolution of power is to be taken seriously in these islands.
It would be tragic if the new premier was to leave a legacy of serious division between the nations and regions she claims to want to unite.
Bob Taylor.
24 Shiel Court,
Glenrothes.
Let down by pharmacists
Sir – I really feel there is a desperate need for greater transparency within the pharmaceutical industry and there needs to be much more competition so patients are not disadvantaged.
Having been on a certain brand of medication for several months I went to renew my prescription only to be told the pharmacists could not get the brand from the wholesaler.
Having checked with the manufacturer they informed me there was no problem with production, yet every chemist in my area told me the same story.
It appears wholesalers and pharmacists are putting cost ahead of patients, for some people changing brands can exacerbate pre-existing conditions.
As a consumer I feel very frustrated and let down by an industry where it seems whole-salers and pharmacists can hold customers to ransom without them being able to do anything at all. That is a very bitter pill to swallow, and I know I am not alone in this issue. Things need to change urgently.
Gordon Kennedy.
117 Simpson Square,
Perth.
Arrogance of Ahmed support
Sir, – The people who travelled to support Tanveer Ahmed as he was being sentenced for the barbaric murder of Glasgow shopkeeper Asad Shah should have been arrested and charged.
Their arrogance outside court, as they maintained the sentence wasn't justifiable, only highlights there remains in this country a hard-line Muslim prescence intent on imposing themselves as the law here, and shaming all other Muslims wanting to make their home here peacefully.
Eric Travers.
Gellatly Road,
Dunfermline.
Criticism is of SNP's failures
Sir, – The increasing negativity that R Clark refers to, (Letters, August 10) is not against Scots or Scotland or our ability to get on in the world, but to the SNP Scottish Government.
The reason for this is that we are seeing a wide range of devolved functions struggling in Scotland at present, and people are correctly putting the blame at the door of those responsible for administering these.
Widespread and growing criticism may be a new thing for the SNP but this is what happens when any government starts to lose control of the remit it has been given and tries to deflect attention by threatening to play the constitutional card again.
What we are seeing today in Scotland is that when things start to get difficult Nicola Sturgeon and her apologists don't have any answer other than to take offence at any criticism of them and try to suggest the country as a whole should be offended.
Victor Clements.
Mamies's Cottage,
Taybridge Terrace,
Aberfeldy.
And the point of FM's Berlin trip?
Sir, – Am I alone in wondering what on earth was the point of Nicola Sturgeon's trip to Berlin this week?
Alastair L Stewart.
86 Albany Road,
Broughty Ferry.