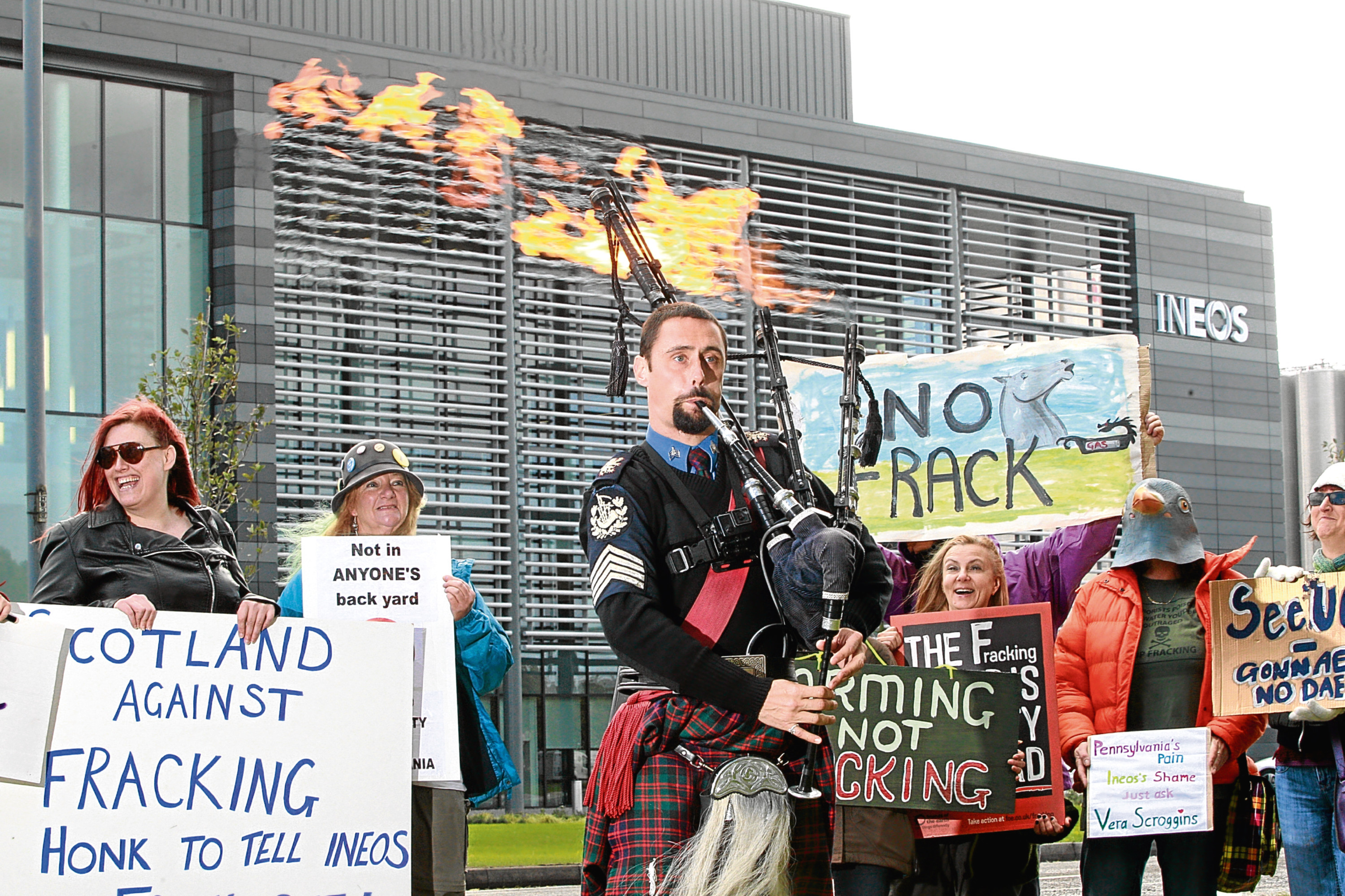 Sir,- The Scottish Government has again invoked the "precautionary principle" in its decision to place a moratorium on fracking, and also ban genetically-modified crops and underground coal gasification.
The precautionary principle is analogous to such commonplace aphorisms such as "look before you leap" or "better safe than sorry".
This may seem a sensible approach: however, a rigid application of this principle also has drawbacks.
Too rigid an adherence to the principle may ban a technology bringing enormous advantages that outweigh the risks of not employing the proposed activity.
For example, the motor car could have been banned from exceeding 20mph out of concern that it might kill 2,000 people on our roads annually or that the mobile phone should not have been permitted until it was proved it does not cause cancer.
Every aspect of human activity carries an element of risk and every advance in technology has required an element of calculated risk to develop the benefits mankind has enjoyed.
The Scottish Government seems very selective in its hostile attitude to fossil fuel, happy to suck as much oil out of the North Sea as possible to build a case for independence and content to see fracked gas being transported at enormous environmental cost across the Atlantic while loudly proclaiming the dangers of climate change.
Ms Sturgeon's erratic approach to advances in science and technology is not only counterproductive but also unattractive for industry and business that might have considered investing in Scotland to provide thousands of jobs and economic security for decades.
It would be tragic if Scotland, renowned in the past for its incredible contribution to science and technology, should now be seen as a nation of lacklustre Luddites intent on being a nation at the trailing edge of technology.
Iain G Richmond.
Guildy House,
Monikie.
Farron should beware the SNP
Sir,- Liberal Democrat leader Tim Farron no doubt means well with his talk of a second EU referendum on the terms of Brexit, but I suspect he really thinks he can somehow turn the clock back – and in that he will be destined to fail.
Worse still, as he turns to the SNP for support he shows a lack of appropriate scepticism about their underlying motives on Brexit.
The SNP leadership talks a good game on looking at all the options for Brexit but any looking at the range of their pronouncements on the subject cannot have failed to pick up an underlying determination to further their separatist ambitions.
They do not need any encouragement in that from other parties, inadvertent or otherwise.
Keith Howell.
White Moss,
West Linton.
Sturgeon's book of grievance
Sir,- Theresa May and her ministers pledged to make it harder for businesses to import cheap foreign labour and encourage them to train more British people.
The Home Secretary Amber Rudd will consult on plans to compel businesses to reveal the proportion of their staff recruited from abroad as happens in the US.
Up jumps Nicola Sturgeon with her grievance book and says she will stand "full square behind" any Scots company that ignores these rules.
A little simple arithmetic.
The UK unemployment level is 1.65 million and Scotland has 143,000.
The majority of unemployed will be in receipt of welfare and housing benefits.
Foreign workers are cheaper to employ and their low wages entitle them to top-up benefits and housing benefits.
By employing foreign workers we are in effect paying for two lots of welfare and housing benefits instead of one.
Clark Cross.
138 Springfield Road,
Linlithgow.
Wishing for a blue passport
Sir,- Now that everyone has experienced the minor economic and political upheaval caused by Brexit, perhaps it is time for a second referendum.
Remainers could win my vote this time were they only prepared to offer minor concessions like blue passports, the right to sell petrol by the gallon and a return to weather forecasts in comprehensible units.
As far as immigration is concerned, I doubt many Brexiteers would object to daily plane loads of cheap foreign labour as long as they could be paid in pounds, shillings and pence.
John Eoin Douglas.
7 Spey Terrace,
Edinburgh.
No place for xenophobia
Sir,- Our fellow EU citizens are described as immigrants.
Are UK citizens to be listed as immigrants too if they are Scots in England or English in Scotland?
After all, the reasoning is the same whether you are an EU citizen or a UK one. Now Amber Rudd wants companies to publish how many foreigners they employ.
The Foreign Office wants no non-UK advisors among the Brexit negotiators.
What's next? Where is this government going?
Will we all soon be wearing armbands with a symbol to denote how unacceptable we are to this tumid Tory xenophobic tyranny?
Never mind the horses: they're certainly frightening me.
Brian Rattray.
124/2 Gylemuir Road,
Edinburgh.
Brexit damage is clear to see
Sir,- While we are still to actually exit Europe, no one who has travelled abroad recently will have missed how economically damaged we have been by the catastrophic vote in June.
We lack the basic trade agreements to operate outside the EU and not only will these not fall into our lap, they will take a lot longer than two years to negotiate.
Meanwhile, we are methodically trashing the brand that made us an attractive place to invest or live by threatening to turn away the brightest and best of our new citizens.
Foreign-born doctors and students are no longer wanted here and global companies will be named and shamed for the crime of drawing on an international pool of talent.
Returning home the other day I was struck by how irrational and ugly the debate had become and how Donald Trump clones seem to be sailing our ship of state on to the rocks.
Rev Dr John Cameron.
10 Howard Place,
St Andrews.
A new crash is round the corner
Sir,- Sterling dropped by more than 6% in just two minutes on the back of reports the UK would undertake a hard Brexit, rather than a limited withdrawal that retained access to the single market.
Phillip Hammond issued a statement in Washington, seeking to calm markets.
Speaking to journalists, he denied the government had decided to pursue a hard Brexit strategy.
Mr Hammond's remarks will hardly bring calm over the longer term.
The key question is whether, while formally leaving the EU, the UK remains part of the European customs union.
If the UK made a complete break, trade relations with the EU would be conducted under World Trade Organisation rules, rather than EU market arrangements – a situation that would impact adversely on British companies.
Business leaders are concerned the government could be moving toward a hard Brexit.
The decisions the government is pursuing were heavily influenced by David Davis, who last month attended a seminar at Oxford University in which he presented a scenario for a hard Brexit.
Sterling stability is vital to the British economy.
It depends on an inflow of foreign funds to finance its current account deficit, which runs at 6% of its gross domestic product.
If financial markets fear a further major sterling devaluation, those funds could dry up
The Brexit crisis is part of the conditions that are being created for another meltdown on an even larger scale than that of 2008, amid rising geopolitical and economic tensions
This is the implication of three reports issued by the International Monetary Fund in preparation for its annual meeting, which begins in Washington today.
The World Economic Outlook reported lower growth in all advanced economies, underscoring the lack of a genuine recovery in the global economy, while two financial reports pointed to mounting instability resulting from the injection by central banks of trillions of dollars into the world financial system.
Alan Hinnrichs.
2 Gillespie Terrace,
Dundee.