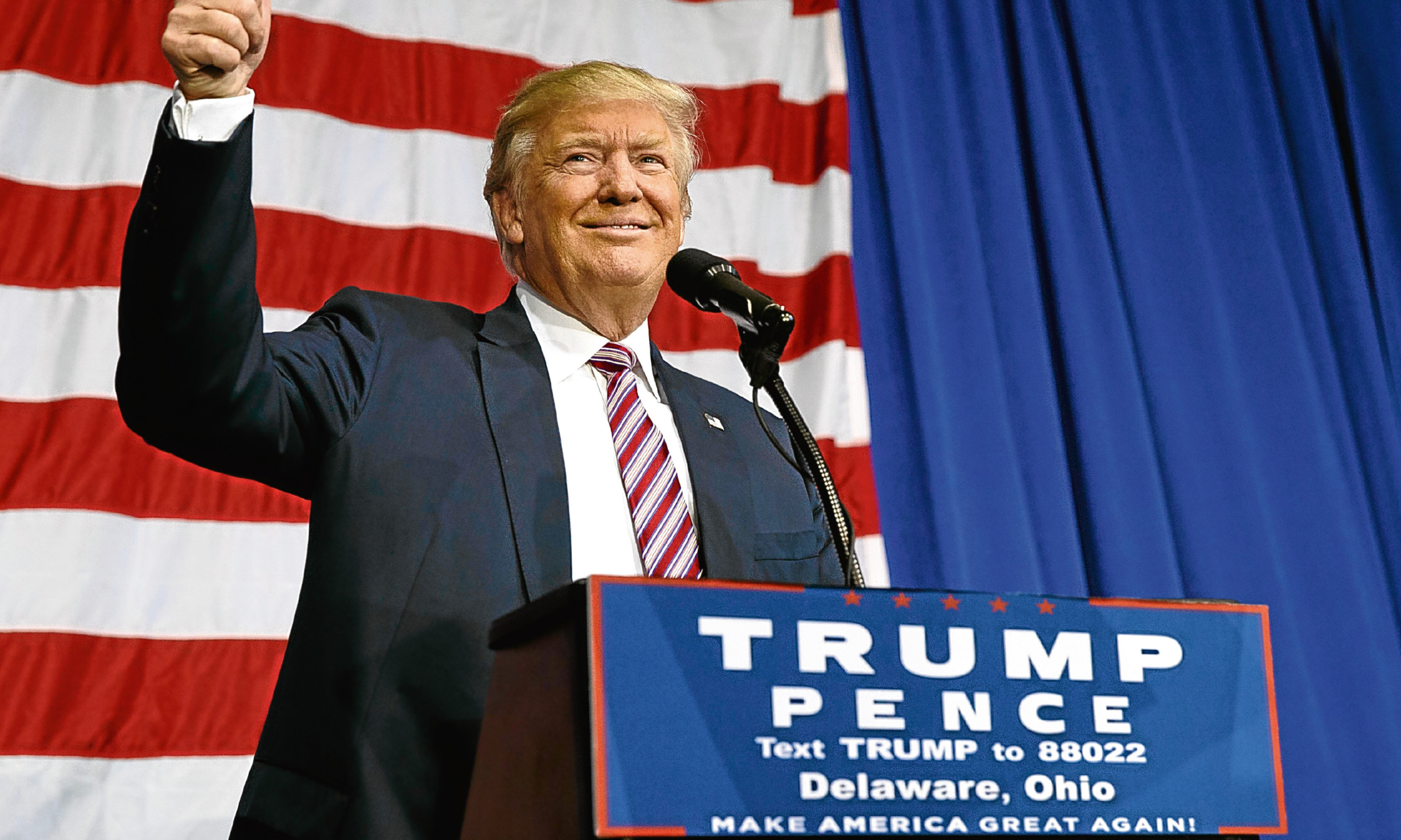 Sir, – Donald Trump claims that he may not accept the democratic result of the November election for the US presidency.
This statement has been lambasted by Americans of all political persuasions and is said to be a severe breach of American democracy. This has never been threatened by any previous candidate.
Mr Trump, as a peevish individual, may or may not succeed in such a move but it is far more dangerous when an elected government acts in such an arrogant way to overthrow a nation's democratic decision.
Scotland voted to stay within the United Kingdom in 2014.
Now, in 2016, not just one candidate but the whole Scottish Government is attempting to defy a democratic decision by the Scottish people.
The SNP claims to be a responsible government working for the good of Scotland, however, a truly democratic government would work to satisfy the nation and not just a minority of Scots. Its actions cannot be defended.
The circumstances or result of that 2014 referendum vote have not changed.
The SNP attempts to have a second referendum imposed against the stated will of the Scottish people.
This is not democracy but a serious threat of a dictatorship and must be strongly opposed.
Angus Brown.
The Orchard,
Longforgan.
Contempt for electorate
Sir, – I sat and watched the television re-run of the Donald Trump and Hillary Clinton presidential debate.
The media made much of Mr Trump's refusal to accept the presidential election result if it goes against him.
So Mr Trump appears to have learnt from the SNP and its attitude to the contents of the ballot box.
If the electoral result is not what you want, just ignore it.
Colin Cookson.
Hatton Green,
Stenton.
Glenrothes.
Childish antics across Atlantic
Sir, – The current presidential election in the United States brings to mind a sketch in the Rowan and Martin's Laugh-In more than 40 years ago, at a time when Spiro Agnew was vice-president.
A child asked its mother if it was true that any boy or girl could grow up to be vice-president and received the answer, yes. The child replied: "Well, how come no one did this time?"
WM Young.
4 Elgin Gardens,
Dundee.
Road dangers in St Andrews
Sir, – I am afraid Bill Sangster's explanation of the road changes in St Andrews (October 20) is of little help.
To quote his own distillation, pedestrians should only cross the road when it is safe to do so, and drivers, when they notice pedestrians crossing the road, should take care.
Primary schools have been teaching the one, and driving schools the other, for generations.
My own experience in Market Street is that these crossing points are all too often obstructed by service or delivery vehicles, and, as a wheelchair user, this can mean an extra 50 yards or even more, to find an accessible crossing point, or, having crossed, one has to go a similar distance, in heavy traffic on a very uncomfortable road, to regain the safety of the pavement.
This is something traffic wardens should be targeting and these crossings should have the same total prohibition zig-zags as any other crossing.
Laurie Richards.
100 Crail Road,
Cellardyke.
Trouble in store for Fife libraries
Sir, – In a timely soundbite on the end of statutory library services at Abbeyview in Dunfermline and Glenwood in Glenrothes, Councillor Julie Ford says that "first it is foodbanks, now it is bookbanks" (October 19).
It is a serious point. These facilities exist in the midst of two communities in Fife which do not have their problems to seek.
It has been a disgrace that Fife Council and Fife Cultural Trust between them could not find the money to keep the libraries going as a professional service.
Let's make no mistake, the voluntary effort to be set up to replace them can never be an adequate substitute for dedicated staff who know how to provide and improve a much-valued public service.
The people who will suffer are the job seekers, the researchers, the elderly clientele who want to read their favourite authors' books almost as soon as they come out, the avid newspaper readers, and the people who simply want the reassurance that local, national and international information will be on hand when they want it.
The situation in Glenwood is a particular worry since the facility is located in an area which is already run down and sometimes crime-ridden.
If Fife Council simply abandons its responsibilities to volunteers, social problems, like security of the building and the helpers, might get worse.
Volunteers do come and go and it may be difficult to ensure effective management in the long run.
The local authority may yet come to realise that the supposed savings in the closure of the existing libraries was a false economy, and that closing schools and libraries so close to one another is simply asking for the contempt of the community.
Bob Taylor.
24 Shiel Court,
Glenrothes.
Diversification of income
Sir, – In response to the letter, SNP Government has the wrong priorities, (October 14), it should be noted that Scotland's Rural College secured research income of £14.9 million in 2015-16.
This came from UK and international sources including the Scottish and UK Governments, the EU, research councils, industry, charities and levy bodies.
The world-leading research, education and consultancy SRUC delivers in Scotland to help farmers and rural businesses operate profitably and sustainably will continue.
However, much of the work we do nationally is transferable on a global scale and there is a growing expectation for us to increase our role in tackling the pressing international challenges of securing food, nutrition and environmental security.
The reality is that the research funding landscape has changed and while public funding will remain a major source of income for SRUC and other research providers, we will also need to diversify income streams and work more closely with industry to meet the national and global challenges facing our shared planet.
Professor Wayne Powell.
SRUC Principal and Chief Executive,
Kings Buildings,
West Mains Road,
Edinburgh.
Will students shun Scotland?
Sir, – You reported (October 18) that Brexit will enable the Scottish Government to raise funds from EU students who will no longer qualify for free education.
How do they know that these students will still find Scotland so attractive when they have to pay their fees?
AA Bullions.
6 Glencairn Crescent,
Leven.