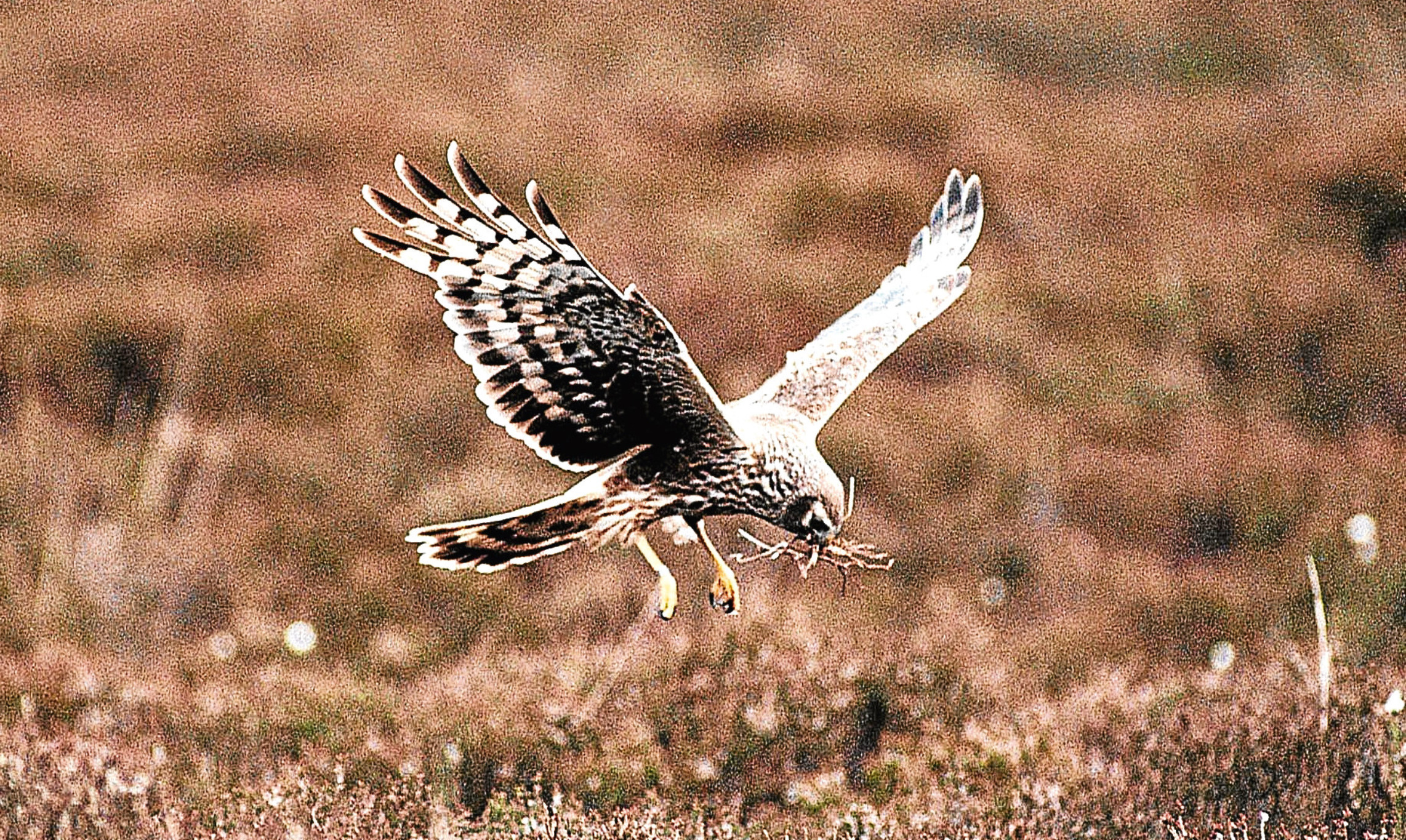 Sir, – A recent article by a game-keeping lobbyist painted a picture that all was well on our uplands and that birds of prey were thriving, especially on the Angus hills.
As a way of confirming this, keepers have been counting the number of flying raptors as a measure of this success.
Surely successful breeding birds of prey would be a better benchmark of their status?
I once had an osprey fly over my house but it does not nest in my garden.
Indeed, if it flies over some of the intensely keepered estates, especially on the eastern side of the Angus hills, they will have to keep flying.
Come April and May, the uplands here are host to numerous scarecrows, explosive gas guns, bird-scaring bangers and inflating figures attached to sirens.
Why?
Well, if you were a ground-nesting bird of prey like a hen harrier, all this racket would put you off breeding on the Angus hills; and they haven't for 10 years.
Ironically, with the cacophony of noise ringing out night and day, you will see precious little else as curlew and golden plover, like the raptors, are forced to move on.
Recent truly scientific papers show that golden eagles, hen harriers and other raptors in the north-east Highlands are largely absent from these managed estates.
Indeed, hen harriers have suffered a catastrophic decline.
So concerned is the Scottish Government that Roseanna Cunningham, Cabinet Secretary for the environment, climate change and land reform, has commissioned a review regarding this.
The RSPB has derided this latest press release attempt at fooling the public as propaganda and make-believe.
The gamekeeping fraternity's scientific report flies in the face of peer-reviewed scientific reports from Scottish National Heritage, the RSPB and others.
Perhaps not surprisingly, their scientific report is not in the public domain and so their outlandish claims cannot be verified.
David Mitchell.
6 Henry Street,
Kirriemuir.
Close down Guantanamo
Sir, – As chairman of the All Party Parliamentary Group for Guantanamo Bay, I have written an open letter to President Obama urging him to fulfil his pledge to close Guantanamo Bay before the end of his presidency.
As he is aware, all the detainees have
suffered a complete denial of their human rights and years of abuse and torture.
Many are old and in need of long-term medical care.
Most have been in Guantanamo since it opened nearly 15 years ago, in violation of international humanitarian law.
The overwhelming majority of these detainees are in legal limbo – they face no criminal charges, yet they also have no idea if they will ever be released.
Many have been cleared for release years ago.
The election of Donald Trump as the next US President is
terrible news for the 60 detainees still unlawfully incarcerated in Guantanamo Bay.
In the election  campaign, Mr Trump said he would reverse
any plan to shut down Guantanamo.
Given the warming relationship between America and Cuba,
this would be the ideal opportunity and time to cement relations between both.
While I understand, under the current administration, there are now
significantly fewer
people detained in
Guantanamo, it is time this gross injustice comes to an end.
In the final days of his presidency I would urge Mr Obama to take all steps within his power to close Guantanamo Bay.
Chris Law MP.
House of Commons,
London.
Protecting a native species
Sir, – After the good news that beavers are to be listed as native and protected in Scotland, unsurprisingly there have been a number of negative views expressed about beavers in recent letters to The Courier.
The return of a native species long missing from our countryside is bound to raise some
concerns and people are entitled to their opinions.
But we would like to set some facts straight.
The Scottish Wild Beaver Group has been a registered charity since October 2011, 10 years after the first escaped beavers were seen in the Tay catchment.
It was formed to
channel the enthusiasm of many local naturalists and others who wished
to help the public to understand the ways of beavers.
Its stated aims are to promote, for the benefit of the public, the study, conservation and protection of wild Eurasian beavers and their natural habitats in Scotland.
It has been working to meet these aims over the last five years through education and information, including running a successful conference in 2015, and through practical mitigation.
We are happy to be contacted at www.scottishwildbeavers.org.uk and attend requests for assistance with wire wrapping trees and dam/ burrow management as well as organising educational events about beavers.
Kirsten Brewster.
Scottish Wild Beaver Group (SCIO),
scottishwildbeavers.org.uk.
Where are our play parks?
Sir, – I write in reference to the news about a £400,000 upgrading of parks around Dundee (December 7).
The SNP council has sold most of the available land in the Sherbrook area of Downfield.
There were more than 100 children here in the 2011 census, but we have no playpark, swings or football pitches (at least none that the children don't have to pay to use).
It feels like the council is robbing the people in this area to pay for benefits to other areas of the city.
All children in this area need somewhere to play, for free.
Our land is either being sold for housing or is stuck behind seven foot-high fences.
Peggy George.
18 Sherbrook Street,
Dundee.
An appropriate Christmas card
Sir, – Nicola Sturgeon's Christmas card is extremely appropriate.
The cartoon of Oor Wullie incredulously shouting "Help
ma Boab" can only mean that he, too, has finally tumbled to the fact that 10 years of SNP government under Ms Sturgeon and Alex Salmond has left
Scotland in a far worse place than it was in 2007.
Local government, police, the health service, the oil industry, the
SNP's refusal to accept the independence referendum result and the latest dismal
outlook for Scotland's education system, (to name but a few) makes it fairly certain that for a fair time yet, Oor Wullie will continue to be shocked at the
lame performance of Ms Sturgeon and her woefully incompetent cohorts.
Jim Shaw.
Hill Street,
Dundee.
Learn to respect democracy
Sir, – I am not a QC or a learned man, but my understanding of a
referendum is such that the majority rules.
I am growing tired of the Remoaners trying to reverse the democratic vote which meant we should withdraw from the EU.
People throughout the UK had a free vote and various parties, such as the SNP are attempting to make this a breaking point in UK politics.
Anyone who goes along with them does not know the meaning of democracy or is attempting to make another argument for their own political advantage.
This is a poor attempt at statesmanship.
Willie Robertson.
Grianan,
Lynton,
Stanley.