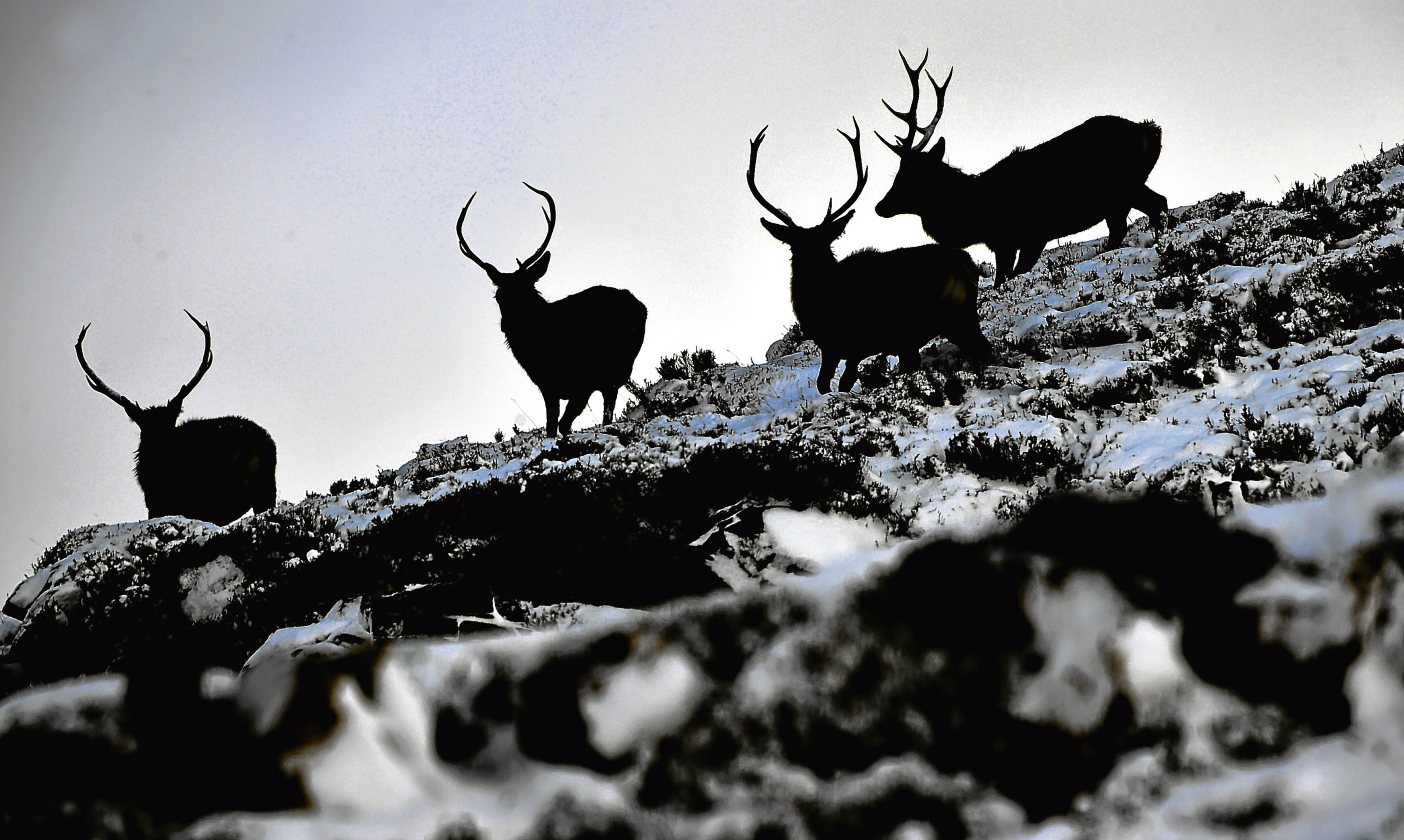 Peace. It's surely the most beautiful word on earth. Peace on Earth, goodwill to all men (and by implication if not biblical text, to all people). Peace on Earth and mercy mild.
There was a time when that essential message seemed to be the point of this week but over the years, something seems to have got lost in translation and Christmas grows downright unholy.
Silent night? Fat chance.
It bothers me the extent to which the peaceful season has become the festive season, the essential message of which is neatly encapsulated by Black Friday: buy stuff.
I'm not urging you to stop buying presents. But December has become the third month of the hard Christmas sell and every year the clamour gets louder and gaudier and it becomes harder to give peace a chance. I'm just saying I was thinking about it.
So, on the second-shortest day of the year with only a couple of hundred yards of visibility at my disposal, here were five red deer hinds and three calves emerging from scree and boulders 100ft below me, out into what on a better day you might call "the open".
I hadn't seen them coming but there again, I hadn't seen anything very much all day and besides, unplanned encounters like this one were very much part of the plan. Sometimes, just being there is all that matters and you let the day take care of itself.
It was clear they were as unaware of me as I had been of them moments ago but now they were movement and I was stillness, so for the moment I had an edge. With luck and if the wind held its habit of the last few days, things might stay that way for a while.
They walked in single file, a trail-breaking matriarch with three younger animals behind her and a grey-faced old veteran at the back.
The snow was old and wet and I had stumbled knee-deep on my way up but I noticed the deer had chosen a contour where the snow was no more than three or four inches deep.
I tell myself I know a kind of intimacy with this particular mountainside but then there is the intimacy a mature red deer hind brings to bear on every living, breathing moment.
So it extends to the way the snow lies on any particular slope, the ledges where it deepens beyond what is comfortable and the flat-topped bluffs and buttresses where the work of a particular wind from a particular airt over a particular number of days thins the snow to a workable shallowness.
She reads and understands her mountain the way you or I might read and understand these words. She is fluent in its language.
She angled up the near flank of a buttress directly below me but where I had expected to see her struggle in deep drifts, she found a runnel of water that oozed from the base of the buttress and she stepped elegantly up there on almost bare rock.
The younger hinds had stopped at the base and watched her for a few seconds. If I was inclined towards anthropomorphism, I would say that when they followed they did so with admiration and gratitude – but I don't care much for anthropomorphism, so I will concede that the gratitude and admiration were all mine.
On the top of the buttress she began pawing the snow until she bared a few square inches of mountain grasses, mosses and lichens, then she lowered her head to eat. The others went to work after the same fashion. The snow there was no more than two inches deep.
But where was the old one?
She had not climbed the flank of the buttress. I took a long look at what I could see of their tracks back to the boulder field and of the wide slope below.
So I was not looking at the deer at the precise moment when her grey head would have appeared from below and beyond the far side of the buttress.
When I did look back at the deer she was already there, pawing the snow and feeding with the rest.
Later, once they had taken all that they could from the meagre offerings of the buttress-top and moved on, I dropped below it to look at the old one's tracks. They were not hard to find.
She had passed beneath the buttress and contoured 50 yards beyond it, to where a stalker's path zigged and zagged easier gradients into the slope and where days-old boot prints had stamped the snow into a red deer walkway as firm as bare rock.
Intimacy. That's what it looks like through her eyes.
I wish you peace on your own portion of the Earth this Christmas.