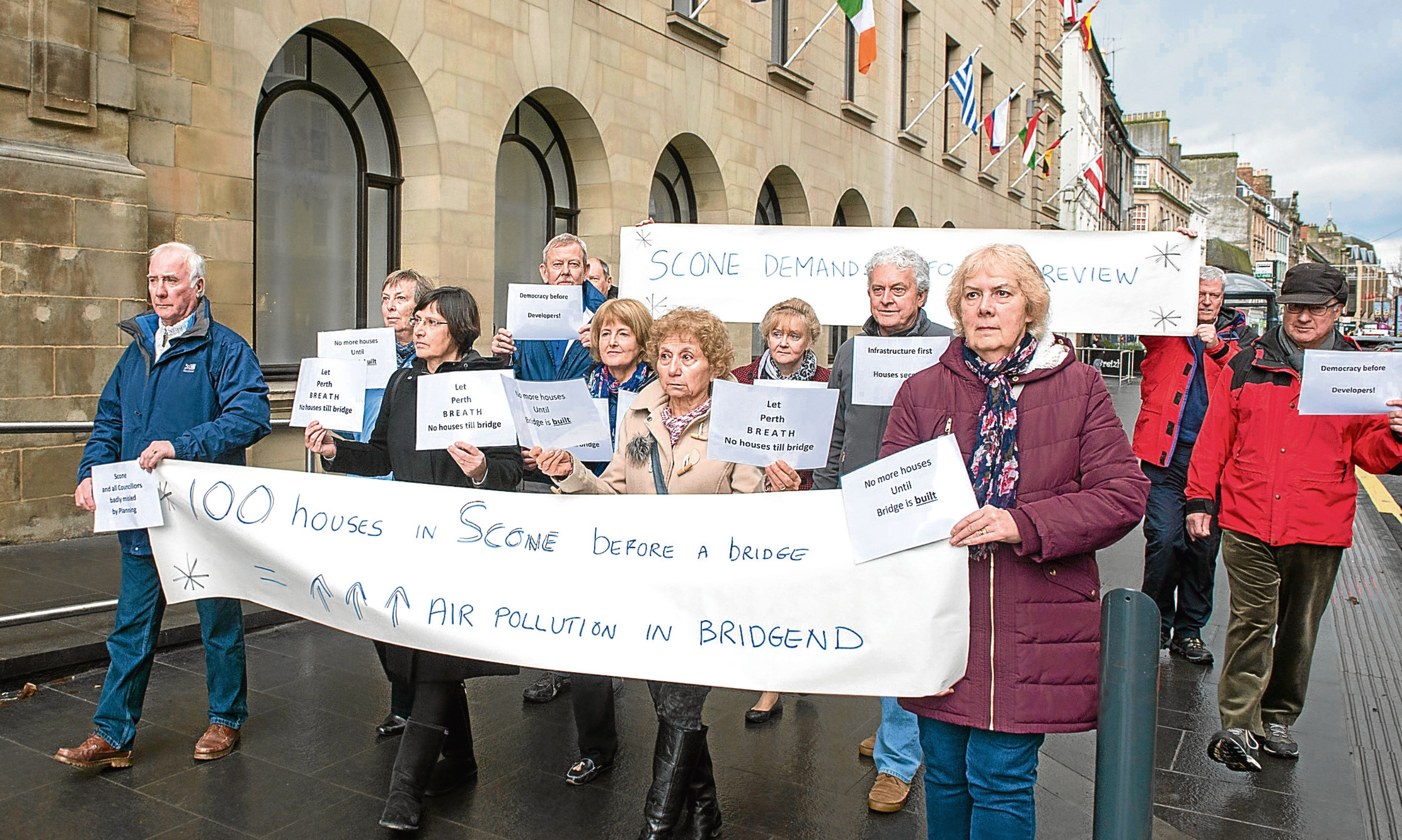 Sir, – Perth and Kinross planning department has been, at the very best interpretation, economical with the truth in the lead up to the planning application for housing in Scone.
From the typing errors in the Local Development Plan which suddenly changed from "constructed" to "committed" (surely the lamest excuse ever devised) there has been no consistency in this matter at all.
It appears to depend on which day of the week that the question is asked.
Councillors are now being asked to wade though more than 1,300 pages of an application and we, the public, have until January 24 to respond, as Perth and Kinross Council has very generously extended the deadline by a whole seven days because of the festive period.
It was, of course, a wonderful community gesture by A&J Stephen to submit the application two weeks before Christmas, knowing that everyone would have a jolly time reading the 1,300 pages over their turkey.
This is planning at its very worst, flying in the face of the Scottish Government's proposals that infrastructure comes first, then housing.
But no, we have a local authority and especially, it would seem, its planning staff, who are determined to ignore local opinion and ride roughshod over the community of Scone.
Mike Moir.
1 Woollcombe Square,
Scone.
Look at entire burden of tax
Sir, – It is interesting to note claims by the Scottish Conservatives and various commentators that Scotland will become the "highest-taxed part of the UK" due to it not replicating the UK Treasury's tax cut for higher earners.
This means that those taxpayers in this bracket will pay an extra £314 more than those in the rest of the UK.
It should be remembered, however, that this relates only to income tax and when it comes to other taxes, Scotland fares considerably more favourably than the rest of the UK.
For example, average Band D council tax in England is £1,530, compared with £1,149 north of the border. While the average water and sewerage charge in England is £389, in Scotland it is £351.
In addition to this, what tends to be forgotten are Tory stealth-tax proposals, including prescription charges and university tuition fees.
Prescription charges, currently £8.40 in England, are highly regressive and a tax on the sick, and the imposition of university fees of £6,000 would see a graduate on an average full-time salary paying four pence more in tax on every pound.
In Scotland, Air Passenger Duty is also set to be cut by the end of this parliamentary term and business rates have also been cut.
The key issue here is not just to examine income tax alone, but to look at what impact the burden of all taxes has.
Alex Orr.
77 Leamington Terrace,
Edinburgh.
2016 will be warmest year
Sir, – One of your correspondents suggested that a study carried out by researchers at the University of Reading supports the view that sea levels are unlikely to rise.
The study looked at the extent of sea ice cover in the Antarctic at the time of Captain Scott's expedition in comparison with subsequent trends.
One of the authors of the report (Dr Jonathan Day) has stated in an online publication (Carbon Brief) that results of the study have been misinterpreted by some sections of the media.
He stated: " Our examination of one variable, in one season, in one particular region of the Earth adds to our understanding of the Antarctic climate variability and does not change the fundamentals of the role of greenhouse gases in the climate system."
In addition he stated that the sea ice surrounding the Antarctic is frozen seawater and does not have the potential to raise sea levels as the West Antarctic ice sheet which has the potential to raise sea levels by several metres.
It is of interest that the National Snow and Ice Data Centre (University of Colorado) has reported that in the last few months, Antarctic sea ice has decreased compared with the same period between 1981 and 2015.
In November this year, Antarctic air temperatures were 2-4C warmer than normal and sea ice extent was at a record low over the period of satellite observations (1978 to 2016).
Globally, 2016 is on track to be the warmest year on record. We should not be complacent.
Isla Browning.
23 Braehead Avenue,
Edinburgh.
Contradictory life statistics
Sir, – We in Scotland are told we have an ageing population compared to the other parts of the UK.
We are also told that we have a substantially lower life expectancy.
Surely somewhere in those contradictory statements there is more than a faint aroma of a large rodent?
Joseph G Miller.
44 Gardeners Street,
Dunfermline.
Learn lessons from Greece
Sir, – Although Nicola Sturgeon's obsession with the EU is puzzling for many Scots, we should, of course, expect nothing less from a nationalist ideologue whose only goal is separation from the United Kingdom to gain "independence in Europe".
But, as nations such as Greece have discovered, any fiscal or sovereign independence that they thought they had has turned out to be just fantasy.
The EU debate, Brexit and independence has proved a smokescreen for 10 years of failure in just about every area of SNP responsibility.
Iain G Richmond.
Guildy House,
Monikie.
Saddam was no terrorist
Sir, – A new book, The Interrogation of Saddam Hussein by the CIA analyst John Nixon shows just how misguided and misinformed was the gung-ho Anglo-American invasion in 2003.
Even in defeat and facing execution, Saddam comes across as a formidable figure, disarming and self-deprecatingly witty. Pouring scorn on the idea that he had any relationship Osama bin Laden, he denied Iraq had weapons of mass destruction or that it posed a threat to the West.
As for 9/11, he pointed out that virtually all the terrorists were Saudis while Muhammad Atta, the ringleader, was Egyptian.
He had hoped 9/11 would lead to a rapprochement with America and Europe which would need the secular governments of Gaddafi, Mubarak, Assad and his own to contain fundamentalist Islam.
But appalled by the West's naivety, he feared it would "set the Islamic crescent ablaze", a prophecy which has been amply fulfilled.
Rev Dr John Cameron.
10 Howard Place,
St Andrews.