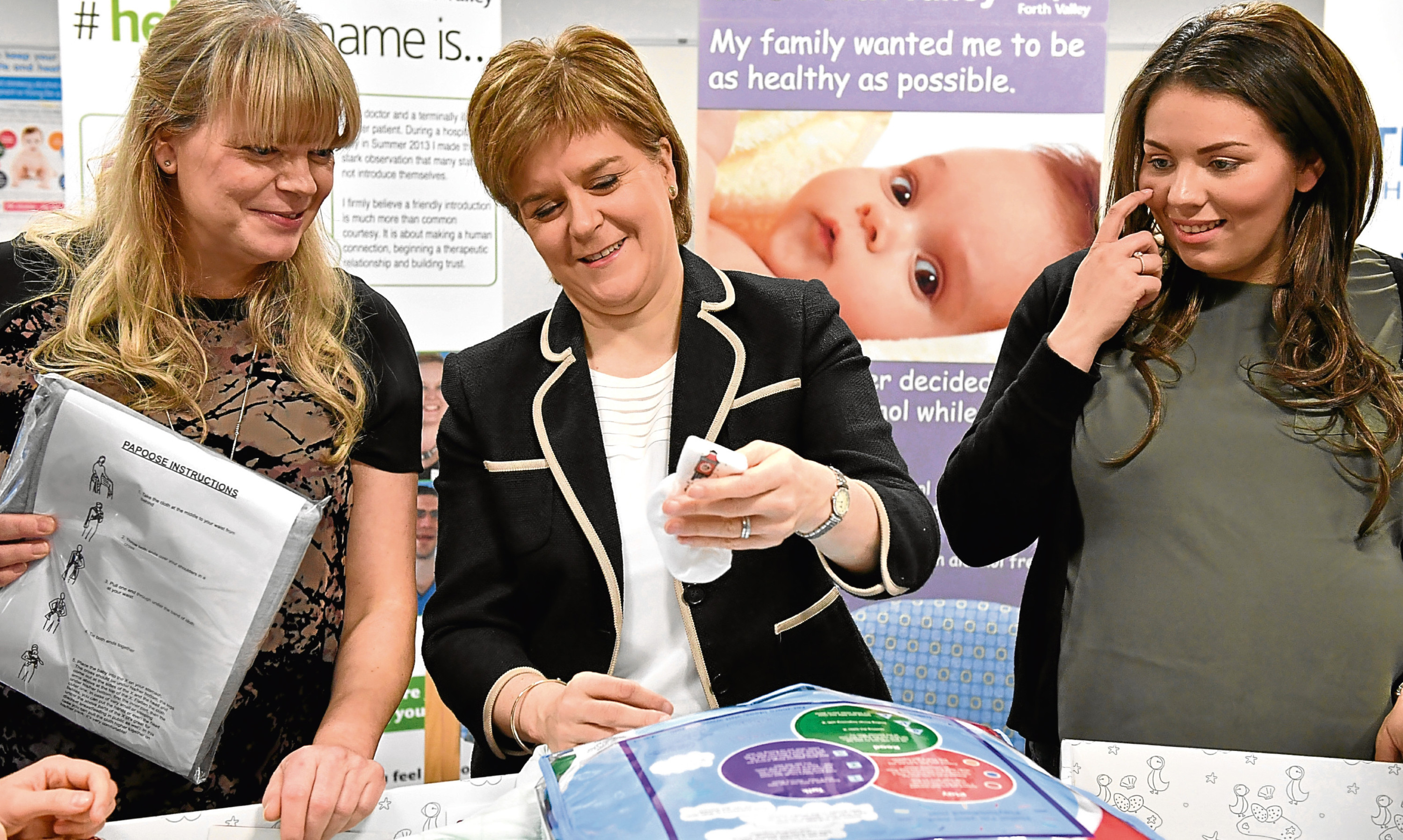 Sir, – On the face of it the baby box offer looks like a good idea.
There are, though, a couple of problems associated with it.
First, in Finland, where the scheme originated many decades ago, the box is merely one element in an integrated mother and child welfare package.
Attending antenatal classes is a condition of expectant mothers receiving the box, and there are 16 different health checks on the expectant mother.
There is also a cash alternative to the box.
The box itself is not a panacea that can eliminate infant mortality.
Second, in what the Scottish Government routinely refers to as 'Tory austerity', how can it be appropriate to give baby boxes to all expectant mothers, regardless of their income?
The answer is, of course, that this is another freebie, like "free" prescriptions and university tuition, which is designed to make better off Scots feel that there is something in it for them.
I wonder whether that is how they will respond, or whether, after an interval, we will find the contents of the boxes, and even the boxes themselves, clogging up eBay and charity shops.
Jill Stephenson
Glenlockhart Valley
Edinburgh.
Ignoring the nuclear menace
Sir, – The most striking of last year's issues that was allowed to slip off the BBC's radar, and indeed that of all the mainstream media, was the vote by the UN General Assembly's First Committee to negotiate a treaty to prohibit all nuclear weapons.
The resolution was adopted by a landslide of 123 votes in favour and a 38 against.
The UK, to its everlasting shame, was among those voting against, while Scotland of course doesn't have a vote.
As we all know only too well, the UK's nuclear deterrent is based a few miles from Scotland's most densely populated conurbation, under what seems to be totally inadequate security.
Is it not strange that it is not based in London, which seems to be a magnet for just about everything else?
Compared to this obscenity, which could wipe humanity off the planet, and under the trigger of people who appear to fancy themselves as Wyatt Earp and Annie Oakley, even Brexit fades into insignificance, and we can only hope that the Rip Van Winkles in the Scottish electorate will wake up in time.
Joseph G Miller.
44 Gardeners Street,
Dunfermline.
First Minister's devious plan
Sir, – Having spent a few days in England over New Year, it's been interesting to hear what people think of Nicola Sturgeon and, in particular, how increasingly effective is her SNP propaganda.
Recently she quipped her party is so popular down south she was considering standing candidates for English Westminster constituencies.
Based on my informal straw polling, she'd be wasting her deposits, but that doesn't mean she isn't succeeding – in fact, quite the opposite.
Nearly everyone I spoke to had, before September 2014, wanted Scotland to remain part of the UK.
Now, regrettably, a growing proportion want to be rid of us.
Why the change of heart?
They increasingly realise just how generous the Barnett Formula is to Scotland, and – rightly or wrongly – elsewhere in the UK, this isn't considered fair.
Plus, those I spoke to genuinely believe the SNP speaks for Scotland and that if not all, certainly most of us, desperately seek another independence referendum.
Ms Sturgeon's rhetoric reverberates louder in England than one opinion poll after another telling a very different story.
Many down south have had enough of Ms Sturgeon lecturing anyone who'll listen on the evils of Westminster and the UK.
This is exactly what the nationalist leader ultimately desires – that elsewhere in the UK should come to dislike Scotland as much as she and her party dislike the UK.
So, if indyref2 ever materialises, Ms Sturgeon will gleefully inform us that the rest of the UK feels contempt for us and wants Scotland to be independent.
Just as much as – so her separatist narrative will maintain – Scotland seeks to break away from the UK.
Martin Redfern.
Royal Circus,
Edinburgh.
UK's position is now weaker
Sir, – I suspect the resignation of our ambassador to the EU, Sir Ivan Rogers – widely considered the UK's most skilled diplomatic negotiator – may be Brexit's Stalingrad.
Rogers has been chief adviser to chancellor Ken Clarke, chief of staff to Leon Brittan in the European Commission and principal private secretary to Prime Minister Tony Blair.
He was European and global affairs counsel to David Cameron before his EU appointment and has a reputation for being a "punctiliously objective and rigorous" adviser.
In his resignation letter, he issued the forlorn hope that his staff continues "to challenge ill-founded arguments and muddled thinking" and "speak the truth to those in power".
It appears he has been hounded out of office by Mrs May's Europhobic backwoodsmen for warning it may take 10 years to complete negotiations between the UK and EU.
His loss makes successful negotiation unlikely and it will be interesting to see if the Prime Minster delays triggering article 50 or sticks to her ill-advised March deadline.
Rev Dr John Cameron.
10 Howard Place,
St Andrews.
Time to open up drunk tanks
Sir, – The problem of drunks clogging up hospital A&E departments is so acute that those in charge of the NHS say it now stands for National Hangover Service.
Drunks are responsible for a third of A&E attendances, rising to 40% at weekends.
More than two years ago the Royal College of Nursing (RCN) said drunks should not be treated in A&E departments, because getting intoxicated "is no accident".
Drunks are diverting A&E staff from more urgent patients.
More than two years ago the RCN suggested drunk tanks were needed, so why no action by NHS mandarins?
Drunk tanks must be set up and their "residents" charged at least £200 for their stay.
Clark Cross.
138 Springfield Road,
Linlithgow.
Reaping what we sow
Sir, – I am amazed at the sudden furore over the lack of sports facilities.
Everyone knows councils and schools have been selling off playing fields for development for decades.
As ye sow, so shall ye reap.
Donald Lewis.
Pine Cottage,
Gifford.