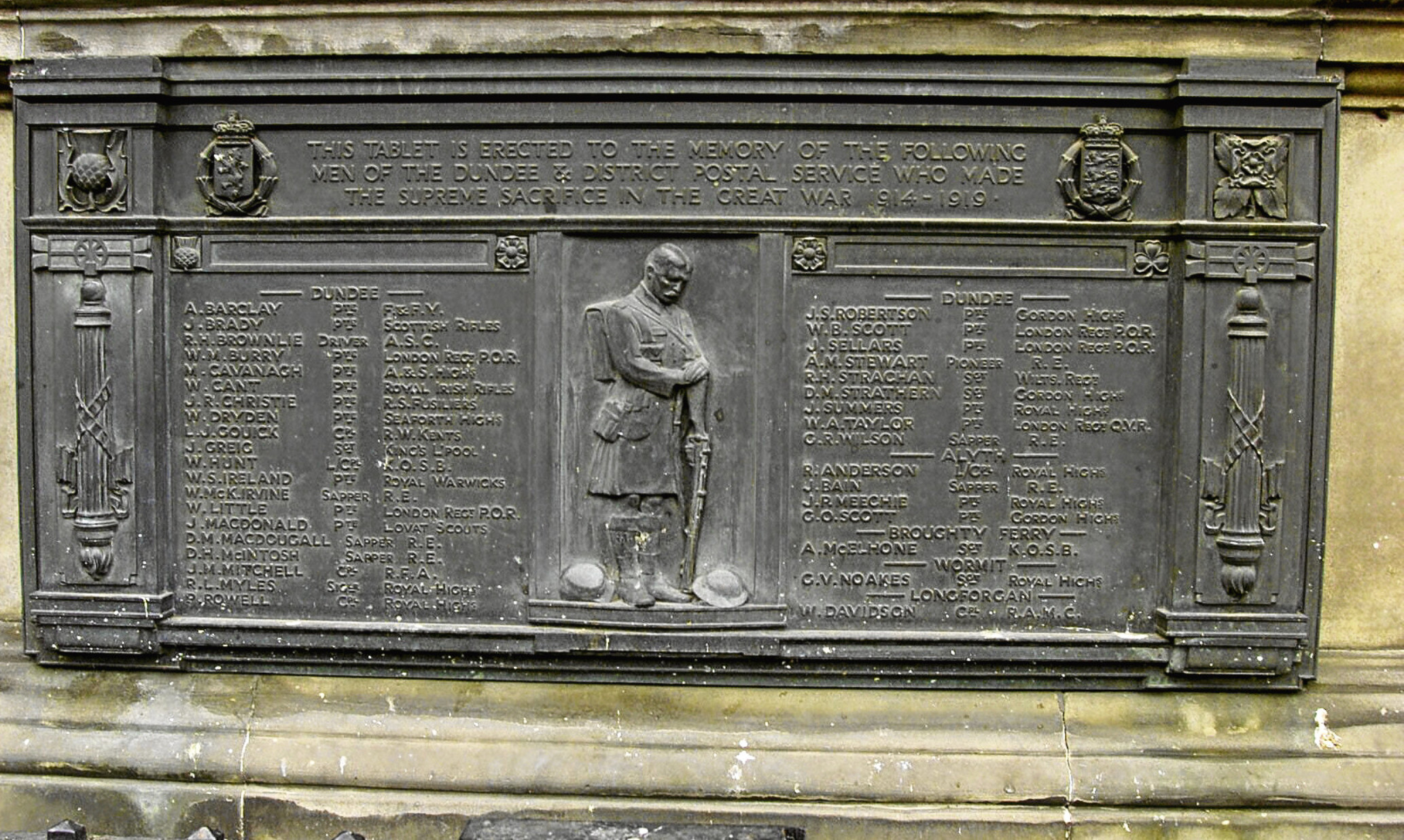 Sir, – If it is true that the Post Office will be closing or franchising the Dundee city centre branch on Meadowside, (January 11) then I can assure all citizens of Dundee that the High School of Dundee is firmly committed to preserving the heritage of the Post Office on that site, and in particular, the most impressive and important war memorial to the Post Office workers who died during the First World War.
The school acquired the former head Post Office building in 2013 and we are turning it into a centre for performing and visual arts.
We will, therefore, be as much honoured as delighted to display and, if necessary, look after the Post Office war memorial in a prominent place in our building, where it was originally displayed, and ensure it is accessible to all those who wish to see it.
It was removed from its original site when the current, much-reduced Post Office opened next door. We are conscious of our debt to those who suffered during the First World War and as a school we were thrilled that we could be in part instrumental in the recovery of the Post Office time capsule in time for the centenary of the outbreak of war in August 2014.
That recovery was one of the most poignant episodes in my tenure as rector; one I will never forget.
We would wish to help again on this occasion if we are needed.
Dr John D Halliday.
Rector,
High School of Dundee,
Euclid Crescent,
Dundee.
Religion not to blame for wars
Sir, – The sweeping and erroneous assertions by your correspondent Nick Cole (January 11) cannot be allowed to go unchallenged.
The major conflicts of the 20th Century: two world wars and the heinous genocides against their own people by Joseph Stalin and Pol Pot were not the result of religious differences. There are numerous other examples.
While I agree that many conflicts in the past had their roots in religious differences, it is important to understand that in most cases this was not the result of religion but of man's propensity for misinterpreting the fundamental principles and application of their beliefs.
Historically, this has certainly been true of Christianity, for example, the Crusades and the Spanish Inquisition.
I am not familiar with Islam and cannot comment other than to say that many Muslim commentators say that what ISIS is doing is a distortion of that faith; exactly my point.
Andy Lang.
Netherton of Kinloch,
Palace Road,
Blairgowrie.
Ms Sturgeon was impressive
Sir, – Am I alone in your readership in thinking that Nicola Sturgeon came across as very clear, composed and direct on television on Sunday?
We're the only part of government in the UK that has a plan, she stated.
She then quoted Theresa May about Scotland being an equal part of the UK and then questioned whether that was just rhetoric.
I'm not particularly for or against the SNP but it is surely foolish not to recognise an effective political leader in action.
Roderick J McMillan.
20 Camperdown Street.
Broughty Ferry.
Police had role to play
Sir, – Once again we see the absolute chaos and severe inconvenience to commuters and travellers by an incident on the Forth Road Bridge this week.
Why were Police Scotland not manning the approach to the bridge to turn away high-sided vehicles?
Gordon Kennedy.
117 Simpson Square,
Perth.
Poor kept on slave wages
Sir, – Tabloids owned by billionaires want you to hate the man down the street with the 42-inch television, a brand-new car and six bairns with new clothes.
I don't. I say good luck to the man and his family.
They're getting by in a system that is designed to keep people like them down.
The poor in this country are not meant to better themselves but to be mindful of their betters while getting by on wage slaves.
The tabloid newspapers scream "cheat" pointing the finger at them, directing your attention away from the real culprits.
These are the bankers and multinationals with their obscene bonuses and all-too-compliant Westminster politicians doing their bidding.
They have been using public money to bail out failed banks and sell off public assets to their corporate pals and pocket their dues.
They maintain the myth that a country's success is based on its earnings not on the well-being of its population.
Mark Harper.
22 Fitzroy Street,
Dysart.
Tories talked down to EU
Sir, – Among others, Clark Cross of Linlithgow doesn't seem to understand the full impact of the backlash from the European Union following the Brexit decision.
He claims to be incensed by the lack of courtesy towards Mrs May at a recent meeting of EU leaders.
Perhaps he has conveniently forgotten that the lady in question lost no time in endearing herself to the faithful, primarily in the interests of party unity, by announcing to the world that she would lead the UK out of Europe by triggering Article 50 as soon as possible.
The fact that she is deferring action in this respect until March indicates the absence of a viable negotiating plan for the exit of the UK.
I have personal sympathy for the fact that she was thrust into a situation which was not of her making, but when you have given the equivalent of a rude salute to 27 leaders of other nations, you cannot go to meet them with that unfortunate, pompous UK Conservative attitude of talking down to people.
Allan MacDougall.
37 Forth Park,
Bridge of Allan.
Let regions remain in UK
Sir, – Nicola Sturgeon makes a huge deal out of Scotland voting differently to some other parts of the United Kingdom in the UK-wide European Union referendum. It is natural and consistent with her separatist narrative.
On the assumption that, despite opinion polls being almost consistently against them, the nationalists one day push ahead with another Scotland-wide separation referendum, should parts of Scotland also be able to demand the right to make a choice? Leave or Remain?
On the basis of the September 2014 vote, Glasgow and a couple of surrounding areas along with Dundee would become Ms Sturgeon's new fiefdom.
The rest of us would happily stay in the UK.
Sounds a bit ridiculous? Yet, with Scotland, of course, being an integral part of the UK and not a sovereign nation, this isn't too far off what Ms Sturgeon is trying to use as a pretext for a second independence referendum.
Martin Redfern.
4 Royal Circus,
Edinburgh.