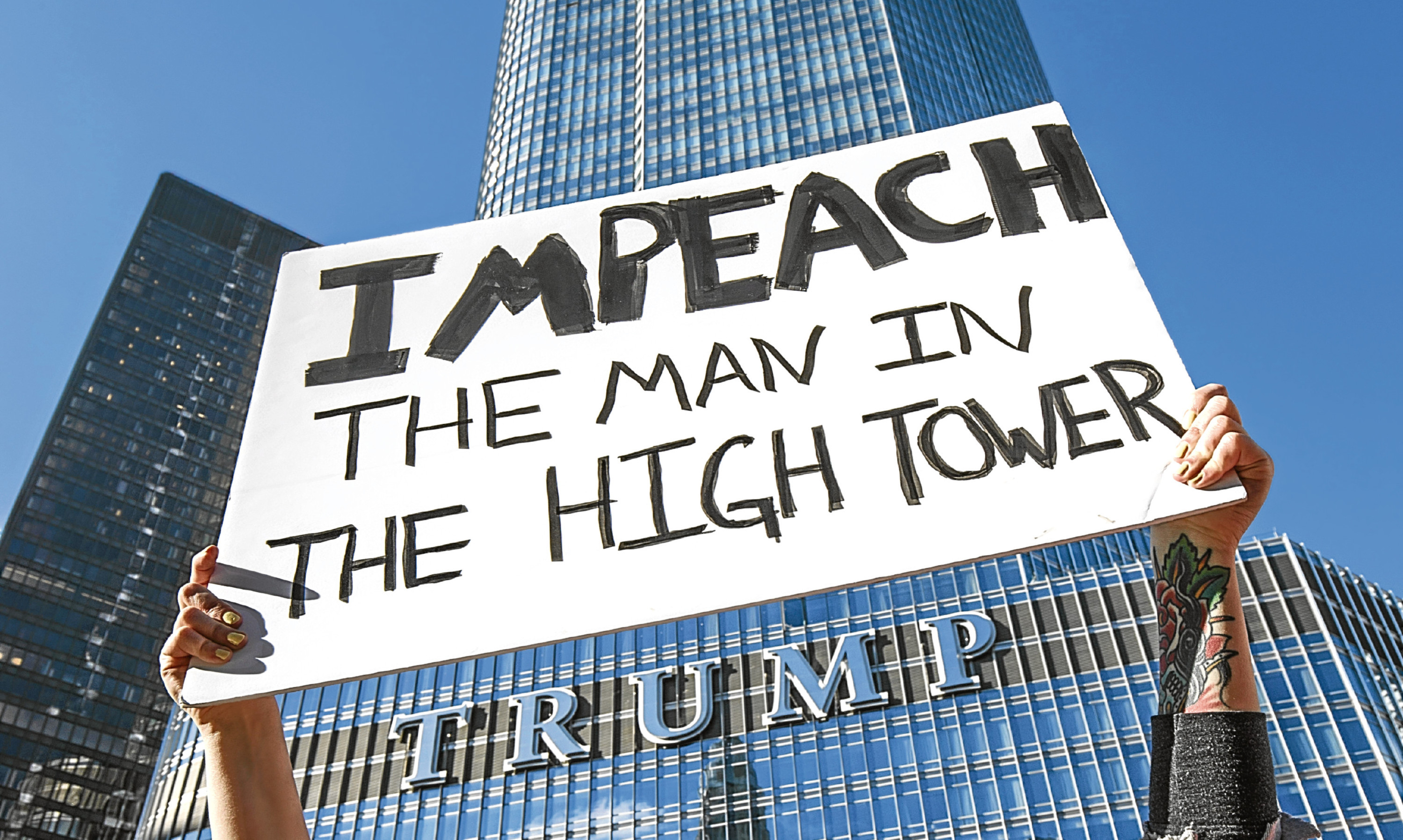 My mother was born in 1927 and therefore has a pretty clear recollection of the late 1930s and 40s and obviously, of the war years.
She is not a woman given to flamboyant overstatement but I was struck, rather forcibly, by something she said last week as she watched Donald Trump taking power in Washington and the style of his first days in office.
She did better than I did, as I found I could hardly bring myself to witness this vainglorious display of personal pomposity but that's just me, a bad loser who can't blindly accept "alternative facts" as gospel.
All this talk of giving power back to the people when the popular vote actually went in favour of his opponent grates with me, especially when he then complains about crowds protesting in the street on the grounds that "We've just had an election" and they should have gone out and voted.
Which most of them probably did – and not for him.
Three million more of "the people" to whom he is so generously going to return "power" voted for Hillary Clinton than for him.
But the "rigged" and "corrupt" system that loomed so large in Trump campaign rhetoric actually worked in his favour.
And that is the system the country has, so accepting its outcomes comes with the territory.
This side of the pond, Douglas Carswell of Ukip added his fourpence-worth along the same lines, too, which is about all it's worth.
In some ways, though, fair enough. Politicians the world over haven't exactly covered themselves in glory in recent years and certainly, very few of them on either side of the Atlantic have seriously tried to give the electorate more of a real say by allowing proportional representation of any meaningful kind.
This, sadly, has also led to the growing assumption that direct votes on single issues are not only indicative of current public thinking at any given moment but are and should be binding, in all aspects, for all time.
You can, I would suggest, accept the result of a vote but it doesn't mean you have to stop making the arguments you believe in if they are contrary to that. It's up to you to continue to try to persuade others over to your side.
The US electorate can, of course, should the notion come up its collective humph, elect to kick Trump out after four years – 2020 vision is looming large on the not-too-distant political horizon.
Whereas for some unknown reason, we in this country seem to be being landed with the result – and the resulting fallout – of one very close public vote, on leaving the European Union, for once and for all, time without end.
I don't actually think this week's Supreme Court decision to insist on a parliamentary vote on the necessary bill to kick things off in this inevitably tortuous process will make much material difference.
With the slender majority of the governing party and the decision of much of the opposition not to rock the boat, Brexit will go ahead and we will just have to come to terms with that as best we can.
But it doesn't mean we all have to like everything about it. And scrutiny, potential amendment, attention to what detail there is and someone, especially someone elected, keeping an eye on what the executive is doing will never, ever be a bad thing.
Plebiscites and referenda might have their place in the precarious world of democratic politics but they should never be the be-all and end-all.
As indicators of public mood and attitude, they can be valuable and as we all know from recent times, ignoring people or consigning them to the footnotes of the national political story is a grave, grave error.
But too often, across history, these votes have been used and manipulated by those who claim to speak for the underdog, the dispossessed and the unrepresented but who, in reality, are power-hungry populists who represent no one but themselves and their own interests.
Let's hope, as a parliamentary democracy, we can side-step that in Brexit Britain and follow the public will without kow-towing and allowing too much influence to be exerted by those who shout loudest.
Over in the States, the situation is different, of course but parallels can be seen by those with eyes to see.
Getting back to Ma Broon, she thinks Trump is a dangerous demagogue and like many of her generation, she saw at first hand where that can lead.
So it was salutary when she said the other day, very quietly: "I don't suppose he's as bad. I don't know if anybody could be. But a lot of people ought to remember that a lot of other people once thought it was a good idea to vote for Hitler."