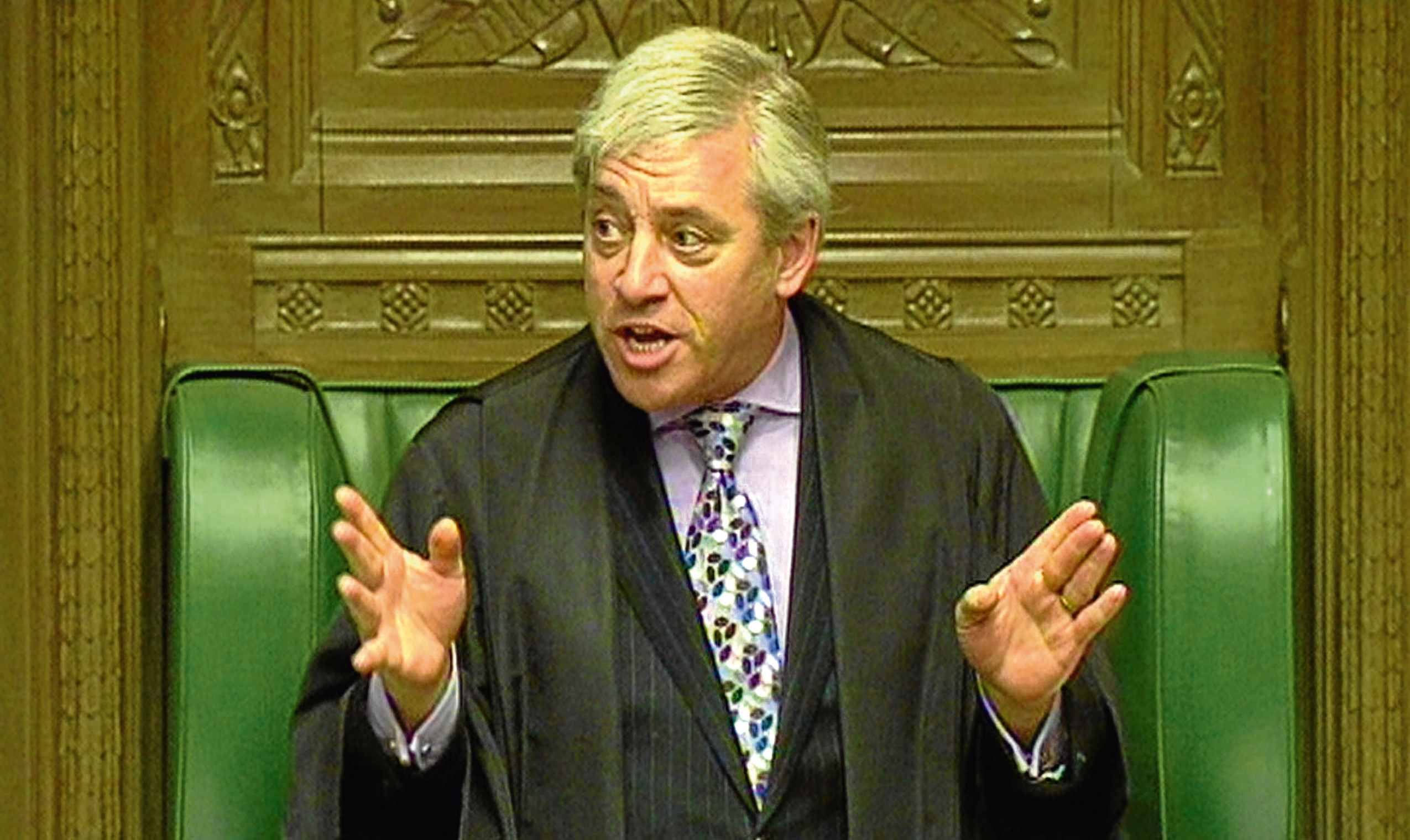 Sir, – Was House of Commons Speaker John Bercow right to say that President Donald Trump should not be allowed to address both Houses of Parliament?
By any standards this was an extraordinary outburst from someone in his position.
It is not really his role to pass judgment on whether Mr Trump is racist or sexist or whether he is a threat to an independent judiciary.
His role is to make sure debates in the chamber are carried out civilly, fairly and with as much impartiality as he can muster; that decisions made by the House are clear to everyone; and that he helps to present the House to visitors from abroad in the most favourable light.
On the latter he has been found wanting.
The terms racist and sexist are subject to a wide variety of interpretations.
They may even be used to describe some of the forthcoming legislation on immigration as Britain moves towards exit from the European Union.
It ill befits Mr Bercow's role to use them in the sort of cavalier way he did in relation to Donald Trump.
If he wants to restore some respect to his role he should keep his mouth shut on international affairs and leave that to the Commons members.
He should also give an apology by letter through the ambassador to the United States.
Bob Taylor.
24 Shiel Court,
Glenrothes.
Unfair rises in council tax
Sir, – We need to have a council tax increase to allow the services we expect to continue.
I would suggest the 3% rise should be the minimum per year for a few years,
But a 12% to 20% increase to band E to H is unreasonable and unacceptable to those who have worked to put together a comfortable twilight years.
It is even less acceptable to the younger professionals who may look for a better life south of the border or elsewhere.
I read Councillors Paul Valentine's and Bill Duff's epistles on what they are doing and why. It made poor reading and, as a retired businessman, I am concern they do not have a clue on how to operate in a downmarket.
Given the Angus Council shortfall is around £15 million, the steps they promote will not work in the longer game.
We will now have a new chief executive in June (cost £127,000). We have consultants Ernst and Young, at a cost of £1 million, advising a committee of councillors to identify cost reductions.
The job of a chief executive or chairman in industry is to direct the overall business. We either need a CEO or a group of consultants not both, or do we have the wrong people on committees or in positions of power? Do we have too many councillors?
I worked for a USA corporation for 40 years and was asked to move on two or three occasions to California and Texas. I declined a on both occasions as I liked my homeland as did my family .
If I rolled the clock back 30 years I would now accept. I predict the young professionals in Scotland will look at what is on offer at home and accept the same offer I turned down.
George Sangster.
Woodlands,
Logie,
Montrose.
Jim Crumley has got it wrong
Sir, – After reading Jim Crumley's column last Tuesday I think he needs to watch a bit more television, especially First Minister's Questions.
If he thinks Holyrood has the most accomplished politicians in Europe he is suffering from delusions.
If he has watched FMQ's he will have seen the most incompetent bunch of politicians I have seen and that applies to all parties.
If he is serious about returning to Ireland, he can give me a call and I will see if I can arrange his fare.
Bob Duncan.
110 Caesar Avenue,
Carnoustie.
Immigration challenge
Sir, – For all the virtue-signalling in the UK and the self-promoting politico-legal farrago in the United States, it is clear that most people in the West agree with President Donald Trump's entry-pause from failed states.
Germany's Chancellor Angela Merkel, in a fit of absence of mind, opened her borders to "refugees" who attacked women and shoppers but her country now has an exit programme which resembles "the bum's rush".
President Trump wants to demonstrate through resolute action that he will protect United States citizens while allowing in foreigners who will be an asset to America and not blow the place up.
It is a huge problem and not helped by former President Barack Obama and Hillary Clinton's off-stage antics but finding out exactly who is entering is a challenge all Western nations must face.
Rev Dr John Cameron.
10 Howard Place,
St Andrews.
Problems facing faith schools
Sir, – The argument that Catholic schools outperform non-denominational ones is a myth produced by those with vested interests in the current sectarian education system (February 2 and 8).
One evening I spent 10 minutes on Google searching for Catholic and Church of England schools in special measures in England and Wales, an exercise any of your readers can replicate.
There were numerous examples of poor management and leadership, poor governance, low literacy and numeracy achievement, homophobic bullying, racism, casual ethnic and cultural segregation, with disabled or special needs children left behind.
A full report on this exercise can be found on our website. There is no reason to believe that denominational schools in Scotland are somehow so different from their English counterparts that similar issues do not arise north of the border.
Alistair McBay.
National Secular Society,
5 Atholl Crescent,
Edinburgh.
Wait for Brexit deal outcome
Sir, – Opinion polls continue to show a divided Scotland on the issue of independence, but greater unanimity on not wanting another referendum on the subject until at least after the Brexit negotiations are completed.
Therein lies the great conundrum for Nicola Sturgeon and her party's strategists as they seek to balance the interests of Scotland and those of the SNP.
As much as the SNP likes to give the impression that the UK Government is seeking the hardest of hard Brexits, people can see this for the exaggeration it is, just as they can see through attempts to present the SNP intransigence in seeking their way or no way, as some kind of compromise.
Yet the First Minister is aware there is a real possibility that the ultimate deal done on Brexit between the UK and the EU could deliver reasonable access to the single market off the back of a series of compromises including on matters like immigration that the Scottish electorate might be happy to live with.
Is the SNP's tactic of aiming for a 2018 independence referendum largely about trying to stave off that possibility?
Keith Howell.
White Moss,
West Linton.