During the pandemic there was a period when facemask littering became a real menace on our streets.
For a while, they were everywhere: a sad reminder both of the plague that had us in its grip and also just how little respect some people have for the public spaces we all share.
There's now a new littering epidemic in our midst, as highlighted by climate activist Laura Young.
The student took a short walk around the streets of Dundee recently and over the course of an hour managed to collect 55 disposable vapes that had been discarded on the ground – the equivalent of around one per minute.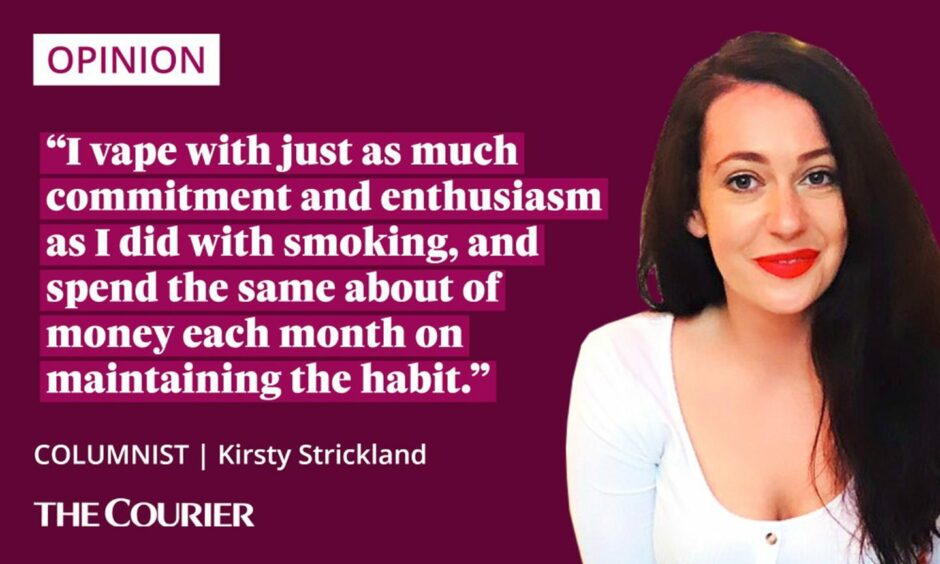 It goes without saying that this kind of obnoxious littering is terrible for the environment.
Disposable vapes are made of plastic and contain lithium batteries.
They are about as far from biodegradable as it is possible to be.
Laura Young says she is considering an open letter to the Scottish Government and UK Government about the problem.
As a short-term solution, she suggests disposable vape collection points outside littering hot-spots such as takeaways and nightclubs.
In the long-term, she hopes single-use vapes will be banned.
I am a vaper (the blueberry flavour is my poison of choice).
And I wouldn't dream of dropping my rubbish on the ground for other people to pick up.
But litter isn't the only issue that's got me reconsidering my habit.
Indeed, when you consider the strict legislation that we rightly have around the packaging and sale of cigarettes, vaping does seem to be the Wild West of nicotine consumption.
Will vaping manufacturers be forced to stop appealing to teens
Vaping has hugely increased in popularity over the last 10 years.
Across the UK there are an estimated 4.3 million regular vapers.
And it's not just adults who choose to surround themselves with those sweet-smelling clouds.
In 2022, 18-24 year olds were the biggest consumers of e-cigarettes.
When I was a teen, the rebellious smokers would gather at the goth corner of the playground and light up together.
Now we see teens on TikTok proudly showing off their hauls of florescent vapes.
The attractive, brightly-coloured packaging is perfect for marketing the product to younger vapers.
But surely that too will soon be a thing of the past and tighter regulations will require the neon pinks and blues be replaced with something altogether less enticing.
Financial costs are mounting, and what about my health?
We are entering a new era of vaping.
Of the 4.3 million regular vapers, nearly 350,000 have never smoked a cigarette.
And when compared to cigarettes, vapes might be the lesser of two evils, but they still contain nicotine. They are just as addictive.
As I write this, I am puffing away on what I am determined will be my last vape of 2023.
Just over a year ago, I managed to quit my 20-a-day smoking habit.
I took up vaping as a way to get me through those tough first few weeks.
The problem is, I never stopped.
People who have at some point quit both smoking and vaping, how would you compare the two processes?

— Kirsty Strickland (@KirstyStricklan) January 8, 2023
My lungs might be in slightly better shape than they were when I was on the fags. But my bank balance isn't.
I vape with just as much commitment and enthusiasm as I did with smoking, and spend the same about of money each month on maintaining the habit.
For that reason (and the fact that I recently discovered the frankly terrifying term 'popcorn lung') the vape and I are parting ways.
Like so many other ex-smokers, I simply replaced one addictive thing with another.
But now I'm ready to stop vaping for good.
The only time you'll catch me with one in my hand is when I'm doing my civic duty and picking up after the litter louts in my area.