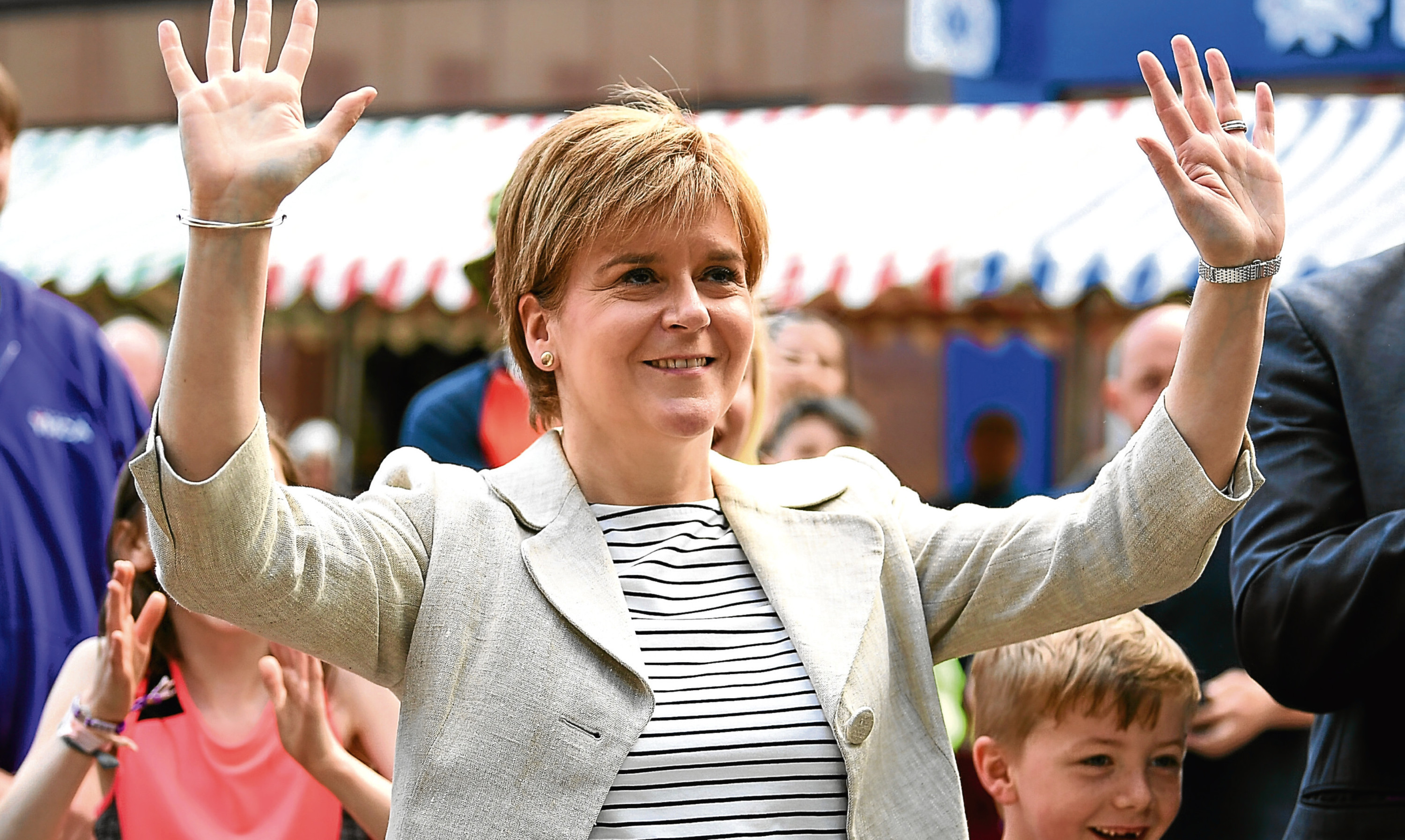 Sir, – Now that the dust has settled on the general election, lessons have been learned and the electorate has been listened to, what conclusions can be drawn?
It appears the SNP have accepted that a second referendum was a vote loser for them, however, there were also other issues in voters' minds.
During the campaign, Ms Sturgeon visited a foodbank in an attempt to attack the Conservative government over poverty in Scotland.
She has a point as the welfare cuts imposed by the British government are a major driver in the increased rates of child poverty in Scotland.
The argument Mrs Sturgeon was making is that poverty in Scotland is nothing to do with her or her government: it is all Westminster's fault.
How does this tie in with what Ms Sturgeon claims is her number one priority, closing the attainment gap in Scotland's schools?
The main driver of the ever-increasing gap is poverty, however, there is nothing she or her government can do about this. Nicola Sturgeon asked to be judged on her record on education. On June 8, thousands did.
Steven Lyall.
17 Rossie Avenue,
Dundee.
Limits of tolerance
Sir, – So Alistair McBay of the National Secular Society thinks (June 19) that our society is so "supremely tolerant" that it supports Tim Farron's "right not to be gay, not to have a same sex-marriage, and not to seek abortion services". Wow.
Tim's cup runneth over (23rd Psalm – Bible quotes still permitted?)
He can also count his blessings, if they are terminologically compatible with a secular society.
Robin AG Bennett.
Sandakan,
Ceres.
Scots have right to choose future
Sir, – The unionist cabal talk loftily of respect and democracy.
Hijacking the general election in order to make it a purely constitutional question, they found common cause in attacking the SNP, with the mistaken and dishonest proposition that they, and they alone, are the engine behind Scottish independence.
Ruth Davidson in particular, leader of the "Ruth Davidson party" put forward Ruth Davidson's candidates with a single-issue manifesto of stopping a second referendum.
This highly dishonest campaign resulted in 13 to 35 against, a defeat of huge proportions for her personal crusade.
If, as a correspondent has stated, unionist voters set their party preferences aside and chose candidates in order to defeat the SNP, their combined effort resulted in a 35/24 win for their opponents which would, in times past, have delivered Scottish independence.
All this is moot, however, as the mandate for a Scottish independence referendum was garnered by the 2016 Holyrood election, as they well know.
Scots have every right to decide their future once Brexit negotiations end.
To deny this would be undemocratic and disrespectful.
Ken Clark.
335 King Street,
Broughty Ferry.
Choice between Europe and UK
Sir, – The mixed signals emanating from senior figures in the SNP suggest on balance that a second referendum will be left on the table but under a pile of papers in the hope that no one spots it there.
When it is dusted off, it appears that it will have a makeover, reimagined as a choice between the version of Brexit that eventually emerges from the negotiations with the EU, and an idealised SNP vision of how an independent Scotland in Europe might potentially look.
That should give plenty of scope for the authors of the previous Scotland's Future White Paper to develop an equally utopian vision of what the future could bring.
Without any definition of what a future new membership of the EU would entail, they would have the widest possible licence to make the numbers work.
Yet no matter how it is dressed up, such a proposition will ultimately boil down to a choice between the UK and the EU.
Keith Howell.
White Moss,
West Linton.
Conservative cronyism
Sir, – When most people fail, they retire into silence to ponder where things went wrong but not in the Conservative Party.
Ian Duncan fails to attract enough votes to beat the sitting MP Pete Wishart but is suddenly parachuted into the Lords where, of course, he is guaranteed a lifetime job.
Meanwhile, the 12 recently elected Scottish Tory MPs are only guaranteed jobs until the next election when they can succeed again or fail.
This stinks of nepotism by the Scottish leader Ruth Davidson. How many of the winners may now be wishing they had not been so successful?
Ian Allan.
5 Marchside Court,
Sauchie.
Bad behaviour at the cinema
Sir, – Why are people so untidy with their rubbish at the cinema?
On a recent afternoon visit to my local Odeon, my partner and I couldn't believe the mess left strewn across the aisles.
Considering there was probably no more than 20 of us at the screening it was an absolute disgrace the state the place was left in.
Across from us the party of five left half-eaten hotdogs, their sleeves, ice-cream tubs and juice cartons all over the floor where they were sitting, while in front of us, a couple had turned up with an array of goodies: cakes, biscuits and crisps, all brought in a carrier bag. They also had containers of coffee with them. At the end of the film they left all their rubbish on the floor including the carrier bag which I am sure they could have put all their rubbish in and deposited it in one of the many bins available within the foyer of the cinema complex.
Eric Travers.
38 Gellatly Road,
Dunfermline.
Don't rule out staying in EU
Sir, – The European Movement in Scotland campaigned during the general election for Scotland and the UK to remain in the EU.
The outcome gives us hope that pressure can be brought to bear to mitigate the worst Brexit. Influential and dormant voices within the Conservative and Labour parties are talking about a softer, open and jobs-led Brexit.
Membership of the EU, however, is by far the best possible future for us economically and socially.
Any other deal comes with real costs. A Norway solution brings the burden of customs duties and a hard border in Ireland. A Canada-style solution does not give full free trade, particularly in services, and a no deal, resorting to WTO arrangements, is economic suicide.
There has been no evidence-based analysis provided to the British public of how Brexit is going to improve our prosperity or well-being.
Opinion is changing rapidly and we must not let the case for reversing Brexit go by default. We should look at a referendum on the terms of the final Brexit deal, a position which is supported by the public, and not rule out of hand our continued membership of the EU.
Vanessa Glynn.
The European Movement in Scotland,
c/o 91 George Street
Edinburgh.