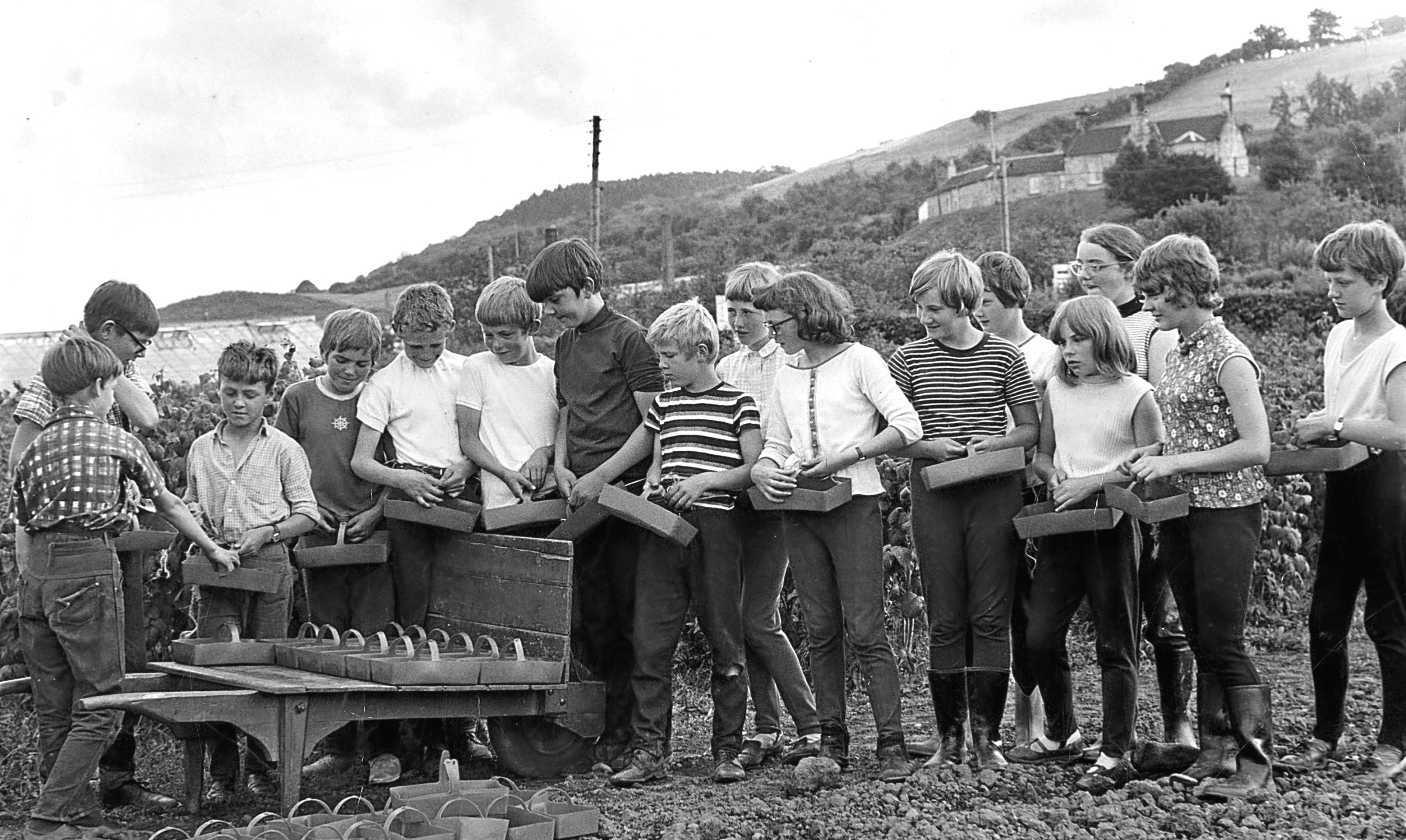 Sir, – The Courier archives last week showed that 100 years ago the Perthshire berry harvest was manned by 2,000 boys and girls from local industrial schools, Boy Scouts contingents from all over Scotland, plus 300 lady teachers.
Locally, whole families earned extra cash to lift the tatties or gather in the berries.
How times have changed.
Now, no local labour is recruitable by our farming community who are totally reliant on pickers from EU and other nations to ensure essential supplies are available for our needs.
To drastically limit or deny entry to the UK of these young people and students after Brexit would be a disaster for Scotland.
We need them and must welcome their help.
It is not just in agriculture, but across the whole range of EU negotiations on industry, food production and education that a softer assessment of our Brexit strategy must now be demonstrated and not the hard exit approach currently shown by the UK Government.
Angus Brown.
The Orchard,
Longforgan.
Are EVs geared for UK winters?
Sir, – I believe that automatic cars are poor performers in snow and ice because of the lack of the driver's control over the gears.
I wonder, in my ignorance, whether electric cars also suffer the same problem with the driver being unable to change up to a higher gear as quickly as possible in order to avoid wheel spin.
If this is the case, then driving in areas of the United Kingdom prone to heavy snow and wintry conditions will be both difficult and dangerous when petrol and diesel cars are banned.
Because of my age, I will not be around to see it but if it is the case, then perhaps some bright spark (sorry) ought to be considering the problem sooner rather than later to avoid the pitfalls of knee-jerk legislation.
John D. Ridley.
Spoutwells Drive,
Scone.
Boats should travel both ways
Sir, – We were thrilled to read on Monday this week about boat trips between Broughty Ferry and Perth.
I eagerly went to the website only to find it is a one-way trip.
What use is that?
Yes there are links to service buses and taxi firms, but if you are travelling 60 miles to take the boat trip, you would expect to be returned to where you had left your car.
I think this is a great idea but needs a lot more thought.
Even a hired bus waiting to return the passengers to their starting point would be a better idea.
Ron and Gill Martin.
28 School Road,
Stonehaven.
Be tolerant of our wildlife
Sir, – I totally agree with your reporter Stefan Morkis who said that humans are at fault and not seagulls.
These are intelligent and resourceful birds and they have always interacted with humans through fishing and farming.
Now that fishing is in decline, they see our food waste – often scattered in the street and in overflowing bins – as a way of feeding themselves and their young.
It is time some more gentle voices were heard in relation to these birds.
We share the planet with them. Let's be a bit more tolerant of them and remember that we have a lot more to fear from aggressive humans in our towns and cities and on our roads, than we have from seagulls.
Valerie Wylie.
1 Guthrie Street,
Carnoustie.
A repulsive suggestion
Sir, – I had to write and say how angry and appalled I am by Antony Black's correspondence of August 12.
I agree gulls have been a problem but in my opinion it is humans that are at fault.
It is only the birds' instinct that makes them go for food to feed their offspring. They are very good parents.
In some cases, nature should take its course but to suggest that foxes killing gulls would make a good film is cruel, repulsive, uncompassionate and obscene.
This gentleman should be utterly ashamed of himself and I feel certain he is the type to condone fox hunting and would probably enjoy taking part.
Sam Graves.
10 Strathisla Road,
West Ferry.
Closet sexism on display?
Sir, – While serious commentators worry about the independence of the judiciary in Scotland and the differing ranges of school subjects available to pupils in affluent areas (more of them) and deprived areas (fewer of them) the First Minister tweets that it is unacceptable for a shoe company to call its new range of girls' shoes Dolly Babe.
Would this be the same Ms Sturgeon whose large wardrobe of clothes is supplied by a firm called Totty Rocks?
Jill Stephenson.
Glenlockhart Valley,
Edinburgh.
Electric vehicle research needed
Sir, – When Renault brought out the first Scenic I bought one so I could take my bike in the boot.
I found that when wearing my heart-rate monitor in the car – which I used normally on the bike, it stopped working.
The manufacturer, Sigma, confirmed by letter that this was caused by electromagnetic radiation from the car's starter battery which in that model was under the floor, just where contemporary EVs have their lithium-ion battery pack.
They further stated that this interference was common from car batteries.
Given that electrical signals in the body control heartbeat, and problems with the body's electrical system cause arrhythmias and so on, what will the effect be of EMR on cardiovascular and other systems being adjacent to very large battery packs over long periods of time?
Surely research into this aspect of EVs is required before scrapping our reliable and safe diesel and petrol fleet?
William Loneskie.
Amulree,
9 Justice Park,
Oxton.
Westminster won't be fooled
Sir, – Stephen Gethins, the SNP's Europe spokesman, should not be surprised when MPs of other parties do not rush to join his call to join forces on the issue of the UK's membership of the EU single market.
After the EU referendum, Nicola Sturgeon called for a similar alliance at Holyrood. But the other party leaders found to their cost that she went back on her assurances that she would not make it about independence.
MPs at Westminster are unlikely to make the same mistake again.
For the SNP, the drive for retaining single market membership is about manoeuvring for advantage in trying to break up the UK.
Keith Howell.
White Moss,
West Linton.