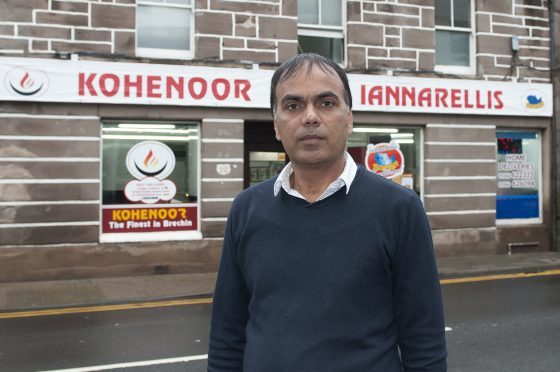 Sir, – I found the Courier report (November 10) of the abominable treatment of Mr Bashir Hussain to be quite alarming.
His failure to apply for planning consent before erecting a sign and painting the pointing of the stonework at his takeaway was treated by Angus Council planners as a criminal offence, causing him to be reported to the procurator fiscal for prosecution.
Mr Hussain has been put through months of needless worry.
Members of the development standards committee thought the council officials were "using a sledge hammer to crack a nut" – an understatement if ever there was one.
In an effort to appease criticism the planning officials are to meet with the Crown Office and Procurator Fiscal Service to identify any weakness in the council's report and lessons to be learned.
This meeting is not required.
The reason the criminal charges were dropped was stated clearly by the Crown Office in the report in The Courier.
They advised there was insufficient evidence to link the accused with the offence and also a lack of corroboration as regards the offence.
So why was Mr Hussain prosecuted at all?
If I didn't have personal experience of Angus planning I would, like many others, have suggested a racial motive in Mr Bashir's prosecution by Angus planners and Forfar procurator fiscal, but I know it's just the usual incompetence.
Robert Alexander.
39 Barry Road,
Carnoustie.
Take the blame for Fife schools
Sir, – What a bizarre response from the convener of Fife Council's education committee to the growing recruitment crisis in Fife's schools!
The Courier (November 16) reports her calling on her "colleagues of all political parties to stop the relentless negative narrative which is putting people off entering the teaching profession".
It is the duty of Ms Sinclair's political colleagues to hold the education convener to account for what is going on in Fife's schools.
Labour councillors passed on the job when they went into coalition with the SNP at Fife Council. Shifting the blame for the lack of teachers to the "negative narrative" of the opposition is not only shockingly insulting to would-be teachers. It also flies in the face of the evidence from the number of teachers who are dropping out of the profession, with one quarter of new teachers leaving after completing their probationary year.
Responsibility for the parlous state of Scottish education lies firmly at the door of the SNP. The 10 years in which they have been in charge of schools have produced an entirely unnecessary decline in standards.
Cllr Sinclair should be making sure, first, that Fife is doing its absolute utmost to address the teacher shortage, and second that she leaves her political masters at Holyrood in no doubt about the urgency of addressing the problem.
Getting Nicola Sturgeon and John Swinney to restore the cuts they have made to local government funding for schools, and to put some of the extra £1,437 Scotland receives for every man, woman and child via the Barnett Formula into better pay and conditions for our long-suffering teachers would be a start.
If the only solution Cllr Sinclair can come up with is to ask her critics to keep quiet, perhaps it's time she admitted defeat and let someone less hamstrung by SNP party politics look after Fife's schools.
Linda Holt.
Councillor, East Neuk & Landward,
Dreel House,
Pittenweem.
Referendum on House of Lords
Sir, – If there is any need for a referendum it should surely be in connection with the necessity or otherwise of continuing to have a House of Lords.
Several correspondents have criticised its existence – it may have a purpose but there is, in my opinion, absolutely no justifiable reason for 850 members, whether they are affordable or not.
Allan Bullions.
6 Glencairn Crescent,
Leven.
Morality and tax evasion
Sir, – Tory MSP Bill Bowman comments on the issue of written-off council tax debt (The Courier November 15) and describes the situation as "alarming" and suggests vital services may be threatened.
I can assure Mr Bowman that Dundee City Council takes every step possible to collect outstanding taxes.
If only the Conservative Party – which Mr Bowman represents – could say the same thing.
With the Panama and Paradise Papers revealing the trillions of pounds the super-rich have squirreled away in morally questionable off-shore havens, it begs the question, why does Her Majesty's Revenues and Customs only employ 522 staff to investigate tax evasion but the Department of Work and Pensions employs over 4,000 people to look at benefit fraud?
Thanks to the Tories' relentless austerity programme and so-called welfare reforms, Dundee will see £94 million removed from its economy every year by 2021.
Real people; real lives.
Mr Bowman refers to those who pay their council tax in full feeling "short changed".
I can assure him that those taxpayers in the UK who have faced seven years of callous, ideologically driven austerity and seen the UK Government remove the safety net from those who need it most will look to the inaction of the Conservative Party on tax evasion and make their judgments accordingly.
Cllr Kevin Cordell.
The Ferry Ward,
c/o The City Chambers,
Dundee.
Time to ban demon drink?
Sir, – Well done the Scottish Government in winning their case for increasing the price of alcohol, thereby incidentally swelling their coffers via increased tax as well as saving the health of the nation. Nifty, eh?
Why not ban alcohol altogether along with tobacco, or would the consequent loss of tax revenue be too hard to swallow?
We look forward to seeing a realistic price hike in the bars at Holyrood, and if they think increasing the price of booze results in a reduction in consumption they are living in cloud-cuckoo land.
The Government should now address another killer – the motor car, which is responsible for hundreds of Scots deaths every year. A doubling, trebling or even quadrupling of petrol tax is called for here to drive motorists off the road.
There's no end to what a government, with no opposition, can do if it has a mind.
George Dobbie,
51 Airlie Street,
Alyth.
What next? A food price hike?
Sir – Now that the price of alcoholic drinks is to be increased, to reduce problems associated with binge-drinking and alcoholism, can we look forward to a less burdened and more effective NHS ?
Should this prove successful, it would surely follow that a food price hike be implemented to reduce rampant obesity.
Kenneth Miln.
6 Swallow Apartments,
Union Street,
Monifieth.
Why is anyone surprised?
Sir, – Why is anyone surprised about Alex Salmond's show on Russia Today?
The former First Minister's raison d'être is separating Scotland from the rest of the UK.
Russia also supports Scottish independence – because it believes the break-up of the UK would assist in weakening the West.
Plus Mr Salmond, whose 15 minutes of fame during the 2014 referendum is long past, still craves the oxygen of publicity.
A stint on Russia Today will fit him like a glove.
Martin Redfern.
Woodcroft Road,
Edinburgh.