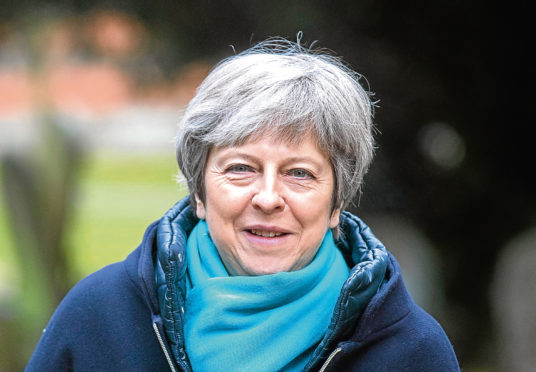 Sir, – Not for the first time, a correspondent in these pages proposes that Scotland has no place at the Brexit negotiations table.
AA Bullions (March 3) states that the SNP, "Do… not understand that the current arrangements are that a contract exists between the UK and the EU", which, "does not require, or indeed permit, any involvement of the Scottish Parliament".
But it is he who misunderstands. Scotland is the UK, or at least one half of the partnership from which it derives its title.
The cognitive dissonance at the heart of unionist narrative regarding Scotland's true place takes many forms. We are told that Theresa May and her bizarrely-named "war" cabinet are working towards a deal which will benefit the "UK and Scotland", once again denying Scots their rightful place.
It is also repeatedly stated that the "country" voted for Brexit. Which country would that be? Certainly, the country of England voted leave, as did Wales. The country of Scotland voted remain, as did Northern Ireland.
Theresa May has surrounded herself with a group comprised wholly of English MPs, with no Scottish mandate. If, as we were told in 2014, our position as partners would be respected after a no vote, it is only right that our own, democratically elected, representatives be fully involved.
Mr Bullions' request that a constructive policy be agreed with a group so far removed from the democratic wishes of the Scottish electorate is questionable. That the establishment he supports regularly shows its contempt for Scottish aspirations merely underlines how futile such a request is.
Ken Clark.
335 King Street,
Broughty Ferry.
Closure decision hard to justify
Sir, – Against a background of falling attainment levels in our schools, Carrie Lindsay, Fife Council's executive director of education and children's services, has kept Fife schools off for a fourth day.
Every sector other than education is, of course, back to business as usual.
Pupil safety is given as the reason. Is this the safety of kids who have been out playing in the snow for the best part of a week? Or is the executive director perhaps worried about the potential for drowning, given the extent of the thaw over the last couple of days?
We need someone in charge of education who either puts such decisions in the hands of head teachers, who can determine conditions locally, or who adopts a more resilient, less lily-livered approach to getting our kids into schools.
This is particularly pertinent given that many pupils will be sitting National 5 and Higher exams within a couple of months.
There are surely a great many of Fife's teachers who were themselves frustrated at the decision by their director to close all schools on Monday.
Brian Anderson.
54 Cloanden Place,
Kirkcaldy.
Public funds are not limitless
Sir, – Humza Yousaf, on behalf of the Scottish Government, stated at the weekend that he would pursue employers who do not pay staff who failed to report for work due to the adverse weather.
Needless to say, when asked exactly what steps he would take, the hapless Mr Humza replied that he would have to 'check' the legal position first.
In other words, more prevarication from the Scottish Government designed simply to avoid admitting that the only real advice they offered was for us all to sit at home and wait for spring.
To expect small businesses to pay for work not carried out, for whatever reason, is totally unrealistic.
But every soundbite Mr Humza and his colleagues can manufacture helps the Scottish Government avoid admitting what everybody knows – namely that it, and our local authorities, are actually incapable of keeping Scotland moving in circumstances which, although challenging, are ably coped with in other parts of the world, eg Scandinavia.
Politicians like Humza Yousaf get paid no matter what, but, of course, when applied to him, taxpayers' funds are seemingly unlimited. Hard-pressed small businesses are a different kettle of fish altogether.
The only potential benefit of the Scottish Government's hot air on this, and numerous other subjects, will be to hasten the thaw.
Jim Shaw.
Hill Street,
Dundee.
Concentrate on public transport
Sir, – There is a reason why Alesund in Norway probably copes with the amount of snow we have just had better than its twin town of Peterhead.
It is probably the same type of reason that Norway was top of the Winter Olympics medal table, in that they have to deal with this amount of snow, and more, every winter or life would grind to a halt if they did not.
We would have the Scottish Conservatives up in arms if the middle classes had to pay extra tax for equipment that would probably be needed once a decade or so.
We therefore have to deal with it as best we can and understand what is and is not essential.
We have not yet developed gritters that can go through miles of stationary traffic, and having unnecessary traffic on the road does not help.
Thankfully, someone like my daughter, Bethany, born in Alesund rather than Peterhead, will also benefit from a Sovereign Oil Wealth Fund.
There will be people who think that not having a UK Sovereign Oil Wealth Fund is a price worth paying to stop Scottish independence. I am not one of them.
It would be good if we could concentrate on improving our public transport system north of the central belt of Scotland, rather than having a referendum on EU membership or Scottish independence any time soon.
Peter Ovenstone.
6 Orchard Grove,
Peterhead.
Gold star for our NHS services
Sir, – Having been admitted to Ward 36 in Ninewells for an operation on Wednesday February 28, after very heavy snow in Fife and Dundee, I feel I must pay tribute to all the hospital staff I encountered.
Travel to the hospital was difficult for everyone but staff members made tremendous efforts to be there that day and the next – digging out cars, waiting for buses, taking taxis, walking considerable distances or staying overnight on the premises.
My operation went forward (apparently successfully) and after-care in the ward was wonderful.
Surgeons, registrars, anaesthetists, nurses and student nurses – even the porter who took me down to theatre – were all unfailingly attentive, cheerful and kindly.
Everyone took time to speak to patients, to explain or reassure.
In what must have been a difficult situation for everyone involved in our already-stretched NHS, no one would have known that there were any particular pressures on the staff.
We are justly proud of our local health service.
Helen Lawrenson.
51 Bay Road,
Wormit.
Fracking may be best option
Sir, – Britain's recent cold weather has pushed up the price of gas by nearly 400% and the energy companies are certain to pass this on to their customers.
Britain does not have enough storage capacity and is heavily reliant on imports of gas from abroad.
The Russian pipeline to Europe and onward to Britain is a prime example.
Shale gas offers a way to reduce reliance on imports controlled by unfriendly nations but the Scottish executive has banned fracking.
Remember this when your gas bill escalates and your gas hob and central heating are cut off.
Clark Cross.
138 Springfield Road,
Linlithgow.
Spare a thought for wildlife
Sir, – After all the sad stories of human difficulties, I hope people are sparing a thought for wildlife.
As I hope everyone knows, birds in particular will have had little food and probably less water for several days.
They don't have an NHS to fall back on but natural selection operates with full force (but at least it's sustainable, as they say).
So what can people do to help? Put out bird food where seagulls can't get it (or see it) and put out containers of water –though remember these have to be defrosted daily.
Antony Black.
79 Blackness Avenue,
Dundee.