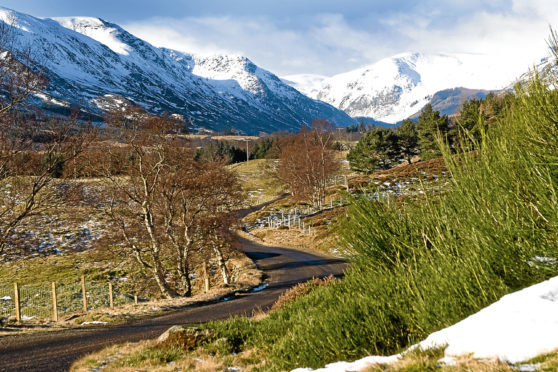 I was back in Glen Doll at the weekend, walking with a Scots Magazine group, and found it looking like winter but feeling like spring, that typical Highland brew that materialises whenever the frontiers of these two seasons rub up against each other. But, for me, the trouble with travelling to Glen Doll is having to drive through Glen Clova without stopping. It's a bit like having to drive through Skye simply to catch the ferry to Harris, except Glen Clova has a place in my heart of hearts claimed by no other landscape.
The Clova hills bring out the contemplative in me, because they are nothing less than the native heath of my mountain-ness. This is where it all started, once I had graduated from a teenage apprenticeship in the Sidlaws. And as a result, I have come to think of it as a set-aside place, or rather it is a place where I set myself aside. I think of Clova as somewhere to restore, in my own mind, who I am and what I stand for.
So in my mind as I drove through Clova on Saturday (conscious of the fact the journey was taking longer than I had planned for and that I was running late, and I hate to be late for anything at all) was a resolve that, as soon as I had the time, I would make a space in my life and re-establish a better perspective between myself and these mountains. So this is it.
What comes to mind most vividly is a winter-into-spring day of somewhere between 25 and 30 years ago when I took the Capel track, stopping often to look over my shoulder at the Dreish, climbing until Craig Mellon locked itself into its old, familiar stance in the landscape, wearing a perfect down-curved rim of old snow as slender as a curlew bill, and I started turning to watch that instead.
Thus I hauled slowly up the track and so began the mounting anticipation that presages the moment when you crest the high moorland and find Lochnagar there. Nothing prepares you for it because you never know how you will find it. That day it was embattled with a rage of storms, but the wondrous Meikle Pap stood clear of the storm like a dark lighthouse, warning the unwary. I turned at Loch Muick, and all the way back, I got two lines of poetry stuck in my head, and couldn't get past the second line. They were the work of a friend of both my father and myself, the immortal Syd Scroggie: "I will attempt the Capel track; Old, stiff and retrograde…"
The lines got stuck in my head and fastened to each other at both ends so that they circulated like a conveyor belt. It's a fine start to a poem but there is a limit to how often you can admire two lines of anything without the absence of the third line driving you nuts.
So I zigged and zagged with the track and with every zig I heard "I will attempt the Capel track" and with every zag there was "Old, stiff and retrograde", and the phenomenon became so ingrained in my footfall that I began to wonder if the poet himself was mischievously stalking me from above or below, but the track was mine and mine alone.
Then a rainbow blazed across my path, a low-slung and startling arc, and in that very moment, the whole verse tumbled into place, and I spoke it aloud to no-one:
I will attempt the Capel track
Old, stiff and retrograde
And get some pal to shove me on
Should resolution fade,
For I must see black Meikle Pap
Against a starry sky
And watch the dawn from Lochnagar
Once more before I die.
I made a midsummer night of it once, sat on the summit of Black Hill to watch the sunrise, and while Lochnagar burned and Mount Keen smouldered, a perfect collar of cloud hung around the neck of Meikle Pap until the sun caught it and set it alight.
To bear witness to it quite alone, then turn for home through the lightening morning but unwilling to set the memory of it all free; and to harness it now with the rainbow that set free a poem, not to mention the admirable spirit of the poet himself… all that is central to the magical inheritance Dundee-born, mountain-inclined folk to refer to as "goin' up the Clovy".
That poem of Syd's, Ante Mortem, concludes:
And if I do not make the top
Then sit me on a stone,
Some lichen'd rock amongst the
screes
And leave me there alone,
Yes leave me there alone to hear
Where spout and buttress are,
The breeze that stirs the lonely loch
On silent Lochnagar.