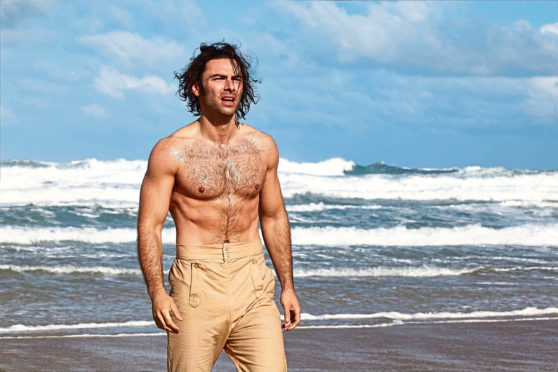 Sisters, it would appear, are doing it for themselves. Or at least, taking a leaf out of the men's somewhat naughty book and getting all lascivious (or las-vicious, as I once heard it described) about the physical attributes of attractive young men (ie ogling the shirt off Poldark's Aidan Turner who has once more got his pecs out for the ladies).
Of course, this has immediately led to a lot of people (men and women, the subject of Mr Turner's bare chest is enticingly gender-fluid) banging on about double standards and all the things that women are "allowed" to do that men aren't.
#MeToo, #Time'sUp and other such manifestations of things up with which the female of the species has decided not to put has led to the objectification of men and they're not happy about it. Mostly, it might be claimed, because they don't look like Aidan Turner but then, that was an argument turned against those who quite rightly objected to the prevalence of Page 3, so let's rise above that catty, tatty level.
Me, I blame The Full Monty. Ever since the gentlemen from Sheffield got it all out of their system and off their chests, men giving their all in the cause of entertaining the female of the species has become all the rage. Ursula Andress's star turn in a white bikini all those years ago in Dr No was supposedly matched when the tanned and toned Daniel Craig emerged from the waves in a form-fitting pair of blue trunks that apparently made the sea boil around his honed little hurdies.
Mind you, Sean Connery and Pierce Brosnan weren't backwards at coming forwards in getting their hirsute torsos out either; their combined chestal thread count makes Aidan Turner look like an "after" advert for Immac.
Objecting to any form of objectification is fair enough. But in my experience, admiring the male form tends to be simply about liking the look of a likely lad, rather than promoting a culture centred round the exertion of power and control.
Of course, then you realise that Mr Turner's Poldark co-star, Eleanor Tomlinson, who gets equal billing in the series and whose character Demelza, in both the books and the resulting TV series, is equally substantial, important and visible, is paid less than he is. It could be argued that at the start he was a bigger star with the title role. Hmmm. What, then, can possibly be the excuse in the case of Claire Foy, who played the titled, if not the title role, in The Crown and was reportedly paid six figures less than her co-star Matt Smith. Obviously Mr Smith (probably because he once played Doctor Who) was not expected by those in the pay grading department to have to walk a fiscal few steps behind his on-screen consort.
Never mind the odd phwo-arr and the admission amongst groups of ladies who've had a gin or two that Aidan Turner does have a very attractive chest, if you like that sort of thing.
Figures like the financial ones are what you really need to know about feminism, inequality and the results of centuries of objectification. Double standards still don't even come near equal pay.
Surprised to learn this? Me, too. Not.
Troubled French
Sometimes, Eh think Eh'm septic, Eh really do. There I was, only last week, fulminating about how the French were having trouble with how to describe the contents of non-meat "meat" products.
Step forward President Macron, no less, who has gone all Eric Cantona on us in his attempts to deal with the inner workings of what passes for the mind of Donald Trump, using the analogy of the contents of a sausage: "I'm not convinced the kitchen commentary helps with delivering the meal or eating it." And quoting Bismarck, forsooth, who apparently once opined, re the making of what I assume was unpopular legislation, that if people saw what went into sausages they'd never eat them.
This might hold more water if Bismarck had been running a democracy rather than concentrating power in the hands of an elite – sounding familiar, folks? – but it is still as neat a description of the end justifying the means as I've heard. Certainly, in my days as a singer of what might be termed the "Olde Tyme" repertoire, there was one Sigmund Romberg number that always got a giggle from those who remembered the war. Rationing obviously had a lot to answer for as, for them, it was dubbed "The Sausage Song". Its actual title was "Ah, Sweet Mystery Of Life At Last I've Found You."
Which probably comes as close to describing the interior of an ersatz sausage and the thought processes of President Trump as any political analysis I've yet read.