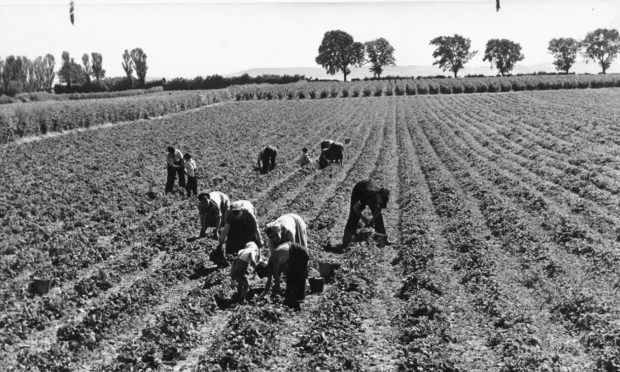 Sir, – In response to the comments made by David Taylor, Fred Bruce and the Courier Editorial "Local Workers Can Solve Berry Crisis" (July 27), that soft fruit farmers have abandoned local labour in favour of foreign workers, and should be making a greater effort to make the work appealing to local people to fill their demand for labour.
When my husband and I started growing soft fruit 24 years ago, we grew two acres of strawberries over a six week season and employed four full-time and approximately 20 local seasonal workers.
As demand for soft fruit and our production has grown, so has our demand for labour.
Mearns farm loses £350,000 as fruit left to rot due to picker shortage
Over a six month season, we now employ 164 full time staff and approximately 1,000 seasonal workers, and in our day-to-day operations use the services of many local Angus businesses.
Five neighbouring soft fruit farms also have a significant demand for labour. The majority, but certainly not all, of our seasonal staff are foreign.
Contrary to your Editorial, we employ many local students home from university – if there were a "battalion" of these to fill demand each summer as suggested, we would be delighted!
I agree with Mr Taylor about the sense of work and the freedom it afforded picking berries as a child – I earned my own pocket money working in a local shop from the age of 12.
Sadly, legislation dictates we cannot employ persons under the age of 16.
Foreign labour has not replaced local labour on our farm – it has filled the huge extra demand for labour which is not available locally.
We are grateful to our workforce, for the contribution they have made to our business and to the local and national economy.
Without our foreign seasonal employees however, our business is unviable. As a consequence there would be a loss of full, part time and seasonal jobs for the significant number of local people we also employ.
So enjoy Scottish berries whilst you can. Post Brexit, our foreign workforce will be abroad, picking the imported fruit which will then fill our supermarket shelves.
Debbie Porter.
East Seaton,
Arbroath.
Petrol station in public interest
Sir – I read with interest your article concerning the objections of the Stracathro Service Area owner to the proposed petrol station at Forfar ("Petrol wars ahead of vote on new Angus filling station", The Courier, July 30.)
Stracathro is the only petrol station on the main road between Dundee and Aberdeen, and as such holds a monopoly position on the supply of fuel for approximately 60 miles.
It may be a coincidence that for many years Stracathro has also been notorious for the prices charged for fuel at this site, which has historically been well above that which is charged by other local stations which are off the main road: my own experience has been that prices here compare badly with the most remote parts of mainland Scotland.
I can quite understand why the owner of Stracathro would wish to maintain the position which they now hold, but in the interests of the public, our elected representatives should throw out these objections and do all in their power to ensure this monopolistic situation is broken and fair fuel competition finally prevails.
John Craig.
Cotton of Guthrie,
Forfar.
Protecting a monopoly?
Sir, – As a result of previous experience as a customer, I had a good laugh at the basis of objection by Pat Melville-Evans of Stracathro Service Area, to the proposed development at Orchardbank, Forfar, by EG Group, as reported in The Courier on July 30.
Anyone who uses the A90 between Dundee and Stonehaven will know that from South of Stonehaven at Fiddes Bridge, apart from making a detour into Laurencekirk, and an even bigger detour into Forfar, the only fuel stop available before hitting Dundee is at Stracathro.
The last time I took any fuel at the Stracathro Service Area, it was only sufficient to get to Forfar and prevent me running dry, due to the high cost of diesel there.
I am sure that is why very few cars stop there, and I also think the only reason so many HGVs take fuel there is because of the transport cafe.
Are the objections due to the protection of a over-inflated monopoly?
Geoff Bray.
Heather Croft,
Letham,
Forfar.
Suspension is factionalism
Sir, – I am deeply concerned that an opinion related to the involvement of a foreign government's secret service is considered legitimate reason to suspend Mary Lockhart, (The Courier, July 30) one of Fife's most locally respected and thoughtful councillors from the Labour Party.
Those involved in such accusations are clearly following factional agendas that use the anti-semitism issue as a way of marginalising those in the party who actively express support for the rights of Palestinians.
As a certificated "Ambassador for the State of Israel" I have to remind these people that allegations against its government's actions or their involvement in the media in Britain, whether Jewish or secular, bear NO relation to anti-semitism.
If you wish to experience this horrible phenomenon simply read Mein Kamph.
Karen Maconald.
Linburn Grove,
Dunfermline.
Anti-Semitism just an excuse
Sir, – Regarding The Courier report "Ex-MP accuses Fife councillor of anti-Semitism", July 30.
What is the ex-MP Thomas Docherty trying to prove?
Has he ever read the International Holocaust Remembrance Alliance (IHLA) definition of anti-Semitism?
No self-respecting person can sign up to this.
The actions of the Government of Israel open them up to criticism which is not allowed under that definition.
How can anyone say it is all right to jail Palestinian children, when all they are trying to do is defend themselves against the illegal forces that are occupying their country?
The anti-Semitic stories are just a cover for another attack on the democratically-elected leader of the Labour Party.
Alex Paton.
Uist Road,
Glenrothes.
Short-term letting ban
Sir, – I refer to your article of July 30 concerning the issue of "second homes" in Fife, and the comments by Bill Porteous.
There have long been efforts by Fife Council to force the full-time occupancy of residential properties on the pain of being automatically charged 200% of the council tax band rate.
Mr Porteous seems to want to go a stage further, and invoke constitutional changes to provide powers to local government to determine the use of private residential properties by banning short-term letting, that we already know to be a major attraction for foreign tourists, and therefore a boost to local economies.
If people choose to invest their taxed income in a property to let on a short-term basis, then what right does local government have to prevent such an arrangement? Many elderly people invest in second homes to augment their income in this era of low pensions and increasing taxes.
It is scandalous that considerations are now underway that will abrogate the basic human right to use an owned asset as the owner may wish, and to be blackmailed by local government into compliance with a scheme that simply covers up a failure to provide sufficient housing stock for residents of Fife.
The SNP also wishes to see more residents who will require housing, due to its insistence on uncontrolled immigration to Scotland, "because the Scottish economy needs them," or so we are led to believe.
Derek Farmer.
Knightsward Farm,
Anstruther.