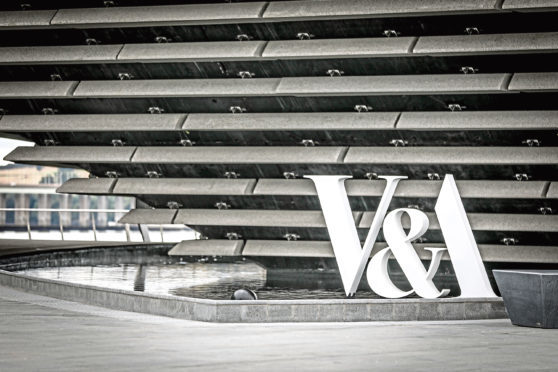 Sir, – Craig Millar's article on the V&A ("Museum truly open to all", Courier, September 8) makes the valid point that there remains financial hardship in Dundee despite the redevelopment of the waterfront.
Councillor Malone earlier said that some people living in his ward could not afford the bus fare to the V&A.
We have had a lot of optimistic hot air from councillors and officials who take the credit when other people's money is spent.
I doubt the waterfront redevelopment will alleviate poverty in Dundee.
The university has been expanding for decades and there is still much deprivation in Dundee.
Is the wider world hearing about the V&A?
I have asked many visitors to St Andrews if they have heard of the V&A in Dundee – and receive many puzzled looks and mentions of the V&A in London but nothing about Dundee.
I hope the publicity generated at the opening will spread the news.
Few buses stop at the impressive station entrance and, even after a £1 billion waterfront redevelopment, it is still surrounded by dual carriageways.
There is no bicycle storage at the station – only racks outside.
Who would leave their bike there when a piano inside was vandalised?
Environmental issues have not been prioritised in the redevelopment.
Despite my reservations, I hope the V&A and the wider redevelopment are a success and help Dundee prosper.
David Dick.
3 Priory Gardens,
St Andrews.
Opportunity to help exists
Sir, – I could not have agreed more with Stefan Morkis' fantastic comment piece in Monday's Courier ("West end furore over 'fridge' cannot mask truth about poverty").
The tone of the comments Mr Morkis was responding to not only revealed prejudice, but also implied thoughtlessness concerning the location of the community fridge by the Gate Church and decried the fantastic climate change work they have been doing for years.
Surely, they are simply being faithful to the words of their Biblical prophet Isaiah who challenges us to "spend ourselves on behalf of the hungry"?
But Mr Morkis nails it when he states that poverty permeates every postcode. This is true throughout Scotland.
Having worked with people experiencing poverty my entire working life, I have helped pioneer food banks in all 10 of the least deprived local authorities in Scotland including Shetland, which is the least deprived.
There, we assisted people living on the same streets as multi-millionaire pelagic fisherman.
Dundee, like many, is a city that bears the scars of decades of rabid de-industrialisation and manufacturing malaise but I do believe we are at a potential tipping point with the developments in our city.
Austerity and prosperity often co-exist in closer proximity than we may perceive but we can all do something to minimise the extent of that, if we are willing to "spend ourselves on behalf of the hungry."
Ewan Gurr.
73 Dykehead Place,
Dundee.
Candidate's lucky escape
Sir, – Neale Hanvey, who finished second in Thursday's by-election in the Inverkeithing and Dalgety Bay ward, says in The Courier that he "still finds it bewildering that people in Fife are prepared to vote for" the Scottish Conservatives (Courier, September 8).
As Mr Hanvey finds "bewildering" the actions of a significant percentage of the folk he hoped to represent – more than voted for any other party – it is perhaps just as well that he won't be representing them.
Dave Dempsey.
7 Carlingnose Park,
North Queensferry.
Opinion polls wide of the mark
Sir, – Last weekend the SNP were delighted with an "emotion based" opinion poll giving them a slight lead on independence.
People seem more hard headed in the privacy of the polling booth because they only got 28% of the vote in last week's Inverkeithing and Dalgety Bay council by-election.
The Tories won with 37% and Labour got 12%.
Worrying times for Ms Sturgeon and Mr Leonard.
Allan Sutherland.
1 Willow Row,
Stonehaven.
Old wise words are applicable
Sir, – Jamie Buchan's interesting letter (September 7) urging more senior Catholic teachers to choose Catholic schools in educating their children, brought to my mind two musings from Augustine of Hippo (AD 400), a saint of the early Christian church.
He stated: "A verse often emerges appropriate to the decision under discussion."
Young people in their formative years assume the mantle of the parents.
In later years their own parental life experience impacts on their formation as they move independently away from, or occasionally towards, their early life upbringing.
In his letter Mr Buchan observes that "every parent has a right to choose what they consider to be the best education for their offspring".
Some non-Catholic parents respond to this self-evident truth by preferring to advance their child's wellbeing through attendance at a Catholic school.
Conversely it is to be expected that some Catholic parents will prefer to choose attendance at an inter or non-denominational school as being in the best interests of their offspring's development.
And the verse from the learned St. Augustine: "I will plant my feet on the step where my parents put me as a child, until self-evident truth comes to light".
Andrew Lothian.
69 Dundee Road.
Broughty Ferry.
Decisions must be made here
Sir, – Your letter writer Maaike Cook (September 6 ) poses a very pertinent question about respecting the results of referendums.
In 1975 Scotland voted to remain in the EEC (as the EU was in those days).
In 2014 Scotland voted no in the independence referendum, with the explicit guarantee from Better Together that such a vote would ensure Scotland's continued membership of the EU.
We then get to 2016 and every Scottish local authority area voted in the majority to remain in the European Union.
It all rather begs the question: "How many times must Scotland vote for something before her views are adhered to?"
As it is clear that Westminster cares not a jot for Scotland's wishes and the "Union of Partners" is no more than a bed-time story to appease lazy Unionists, then the only way to have a government that stands up for Scotland every day of the week, is to secure independence.
Only then will major decisions be taken by us and for us.
Henry Malcolm.
331 Clepington Road,
Dundee.
Philosophy is questionable
Sir, – There is nothing whatsoever cruel or unusual about giving Primary 1 children a short online test or two.
The tests employed present questions according to previous answers, so no child is faced with a string of baffling questions.
But why is the SNP keen to employ them?
It is all part of their obsession with closing the so called "poverty related attainment gap".
If they can demonstrate differences in attainment at the start of Primary 1, that allows them to shift the blame from schools to parents.
This has two key advantages: it protects their education policy from criticism and can be used to justify ever more state intervention in family life – after all, look what happens when we leave child rearing to parents.
Despite conclusive evidence to the contrary, the egalitarian SNP insist that academic ability is evenly distributed across socio-economic groups, so the differences that the tests uncover will be regarded as evidence of an injustice in need of correction.
Do the other parties critique this faulty philosophy?
Not at all.
They just go along with the silly attempt to make these tests sound like a form of child abuse, some even suggesting that children be withdrawn from them by parents.
Meanwhile, the preaching of dangerous transgender ideology to impressionable young kids goes on unchallenged.
Richard Lucas.
Leader of the Scottish Family Party,
272 Bath Street,
Glasgow.