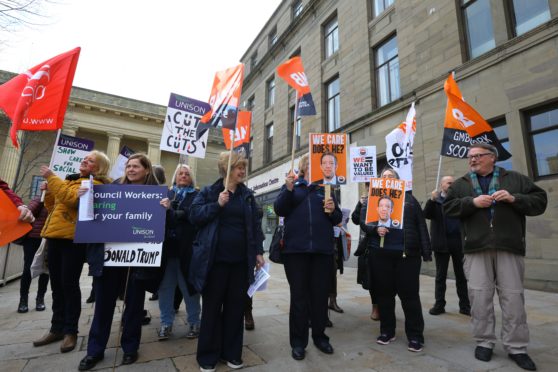 If there is such a thing as the direct opposite of "barnstorming", then you'll probably find it during speeches in local government meetings.
In our fantasies we'd like politics to be like The West Wing, where virtuous people stride around being tremendously urbane and benevolent.
The reality, we suspect, is liable to be far closer to The Thick of It, where profanity and incompetence dictate direction more than policy or high ideals.
Either option is far more exciting than local government which, with its endless committees and agenda papers, doesn't really occupy a place in the public imagination, unless you, like me, are old enough remember Stoneybridge Town Council from the sketch show Absolutely.
When we think of councils, if we think of them at all that is, it's as slightly intrusive but generally well-meaning middle managers, the sort of politicians you only pay attention to when your council tax goes up or your bin isn't collected.
Sure, sometimes councillors will make effective speeches but they usually fall into the category of worthy but dull.
The House of Commons and the Scottish Parliament are where, as far as TV goes anyway, where real politics takes place and where real decisions are made.
But while the debates may be more dramatic and the stakes often higher, what goes on in our council chambers probably has a greater impact on our daily lives.
From schools to home care, from planning decisions to food inspections, the work our councils do is tremendously important.
Councils are responsible for delivering hundreds of millions of pounds worth of vital services each year, they employ thousands of people and are entrusted with the education of our children.
But each year it seems they are the ones being asked to do more with less, to cut services and take the flak for decisions made at Westminster and Holyrood.
Councils across Scotland, and across the UK, are at breaking point.
Chronically underfunded, it doesn't matter where you go, each local authority is facing the same challenges and being forced into the same unpopular decisions: raising taxes and cutting services.
And there's not much they can do to stop the rot.
North of the border, most of their budget is set by the Scottish Government and the powers they do have to increase revenue are limited.
Whether it's Fife, Dundee, Angus or Perth and Kinross, each council is doing the same thing: trying to make the least bad choices available to them with what has been handed to them.
In Dundee, schools budgets are being cut due to the need to make nearly £10 million of savings next year.
Nobody has the energy to even pretend this is in any way a good thing yet the cuts were voted through anyway, which is about as sad an indictment as you can get in a country that prides itself on being progressive.
There are no doubt similar stories across Scotland.
Local government may not be as attention grabbing as the goings on in either "big" parliament, but it is just as important, if not more so, to the general population.
Until councils are given the funding they need they'll continue to be forced to make decisions where there are no good options available.
And that is bad news for us all.
---
BBC's new channel launching into an already crowded market
Tomorrow sees the launch of a brand new television channel devoted solely to all things Scottish.
I haven't been this excited since the Spice Girls were rolled out to launch Channel 5 some 22 years ago.
Everyone said that wouldn't work and look where Channel 5 is now: far and away the 12th most popular channel in the country, according to YouGov.
Admittedly, some of the new BBC Scotland shows sound like they could have been pitched by Alan Partridge such as Test Drive, a game show presented by "wrestling comedian" Grado where contestants are directed to a mystery destination by a satnav system.
Elsewhere the schedules are filled out with daytime quiz shows, a new nine o'clock news show with and repeats of, admittedly classic, programmes like John Byrne's Tutti Frutti.
While it might be easy to dismiss much of the new channel's offerings, it would be unfair to judge it on its early output. I suspect that in a year's time its programming will be far more robust.
The difficulty for BBC Scotland will be carving out a niche for itself.
When Channel 5 launched, a relatively small number of people had satellite television, cable was something that had in the US and Freeview hadn't been invented yet, never mind streaming services like Netflix.
Now BBC Scotland is being launched into a marketplace where viewers are spoiled for choice. It success will, ultimately, be determined by whether it gets the time it needs to find its identity and establish itself in the schedules.