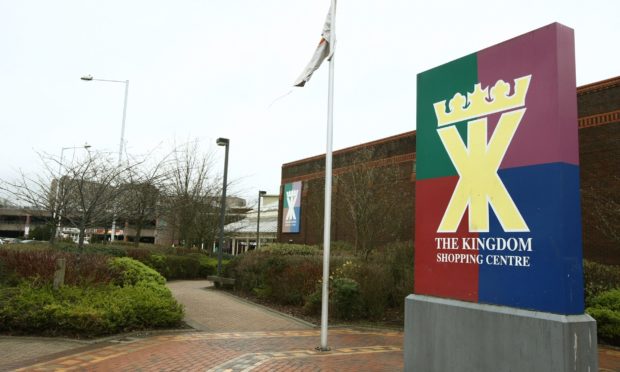 Madam, – Who determines which town centres will actually benefit from the Town Centre Fund (£8 million cash injection to revitalise high street, Courier, March 2).
I notice there is no mention of Glenrothes as an area whose centre could well do with some capital investment, even if that only takes the form of the long awaited demolition of the old Co-op building at the east end of the Kingdom Centre.
The response will no doubt be that the centre is in the main privately owned.
There is still an obligation on the local authority to work very closely with the owner, or those who manage the complex on its behalf.
This is the meaning of partnership working.
The town was hardly noticed at all during the last spate of town centre funding almost a decade ago. A chance exists here for that omission to be redressed.
People in the area will rightly wonder whether Fife Council has any sense of urgency about its regeneration.
Although £1.5 billion has been promised over three years to modernise the Glenwood Centre, it seems that the project is already bogged down with difficulties over compulsory purchase of flats there.
The upgrade of the more than half a century old high schools in the west of the town is not promised until the middle of the next decade, and even then dependent on help from Holyrood.
A boost to morale could begin by some sign that both the council and government were serious about ending the near dilapidation in part of the Kingdom Centre.
Local shoppers should not suffer simply because their centre has been privately owned since the new towns were founded.
Bob Taylor.
24 Shiel Court,
Glenrothes.
Punish animal cruelty properly
Madam, – Over the last few weeks I have read about some shocking and deeply disturbing examples of animal cruelty.
But even more disturbing are the paltry sentences handed out to offenders.
A man who beats a dog to death in a drunken rage is given community service – that in my opinion is disproportionately lenient.
The aims of the court should be to punish offenders but also act as a deterrent to would-be offenders. How on earth is community service a deterrent?
Courts in Scotland have at their disposal a sentence of up to 12 months in custody, but I have never seen it used.
There needs to be a change in the law where people who cause the deliberate death of an animal are automatically sent to prison.
As an animal lover and owner I find the idea of animal cruelty repugnant and so do most people in society. Sentences should also reflect the public revulsion of the case.
Gordon Kennedy,
117 Simpson Square ,
Perth.
EU blocking BiFab jobs
Madam, – Scotland's First Minister Nicola Sturgeon bemoans the fact that BiFab is not benefitting from the construction of Scotland's offshore wind turbines with the vast majority of the work going to other European countries (Sturgeon speaks out on BiFab contracts unfair competition concerns, Courier, March 1).
The construction of these turbines was given the full and enthusiastic support of Scottish Executive ministers who cited job creation as one of the main attractions.
Obviously this did not mean jobs in Scotland.
Has the first minister noticed that this farrago is a consequence of the competitive tendering rules set by the same EU that she and her government so enthusiastically supports?
George Lindsay,
Whinfield Gardens,
Kinross.
New industrial revolution
Madam, – It is good to hear the first minister, politicians and union officials speak out against the unfair overseas competition said to be depriving BiFab of life-saving contracts.
Sadly, yet again, no mention of the other first-class Scottish facilities which are losing out.
Like BiFab, Global Energy in Easter Ross finds itself unable to compete against the same "spaghetti bowl of vested interests".
Many Highland regions suffered badly from the oil and gas downturn and we have many deprived areas crying out for the highly skilled jobs and economic growth these fabrication contracts would offer.
Yet there are no howls of political or union outrage.
It has been reported that wealthy energy companies could create and sustain a 'centre of excellence' in Scotland based on planning consents from the Scottish Government and the vast subsidies they receive from UK consumers.
The previously government-supported Global Energy Nigg Yard could arguably be deemed the best UK facility to establish that centre.
We were told Scotland would become the 'Saudi Arabia of Renewables' on the back of which many dared dream of Scotland's second industrial revolution.
Yet we find ourselves fighting for the scraps! There is surely a wider debate to be had here?
Sandra Skinner,
7 Back Street,
Hilton, Tain.
Scrap HS2 immediately
Madam, – HS2 chief executive Mark Thurston on a visit to Glasgow thinks HS2 will benefit Scotland and rebalance our economy away from London.
Actually this non-freight railway, if ever built, will stop at Leeds and suck resources south to London.
Mr Thurston is chief propagandist for a gravy train which former HS2 chairman Sir Terry Morgan has said would cost over £100bn, not the £56bn costed at present.
Already £4bn has been spent and not a sleeper laid.
A quarter of HS2's staff earn over £100,000 a year; 15 are paid more than £250,000.
This ludicrous project should be halted forthwith and the savings made used for practical measures to benefit mainline rail, but also road transport which, after all, carries the overwhelming majority of freight and non-freight traffic across Britain.
William Loneskie,
9 Justice Park,
Oxton, Lauder.
A different direction
Madam, – Having read yet another rant by Mr Redfern about why Scotland is such a dreadful place, he has now turned his attention to Gaelic (Languages plan is Gaelic to me, Courier, March 2).
All political parties signed up to the promotion of the Gaelic language and rightly so.
Many of us who read the letters page wonder why Mr Redfern continues to live in this dreadful country of ours.
Could it be he is just bitter that Scots have rejected his kind of politics since 1950s and are heading in a different direction.
Bryan Auchterlonie,
Bluebell Cottage,
Perth.
Air pollution concerns
Madam, – During a recent walk through the Seagate, Dundee, my attention was drawn to the air quality monitoring unit which, if operational, appeared to be in a somewhat neglected condition.
The unit should be connected to an overhead digital display to warn people whenever air-quality reaches dangerous proportions, alternatively the area should be closed down to all traffic – or the volume of road traffic reduced accordingly.
Kenneth Miln,
6 Swallow Apts,
Union St,
Monifieth.