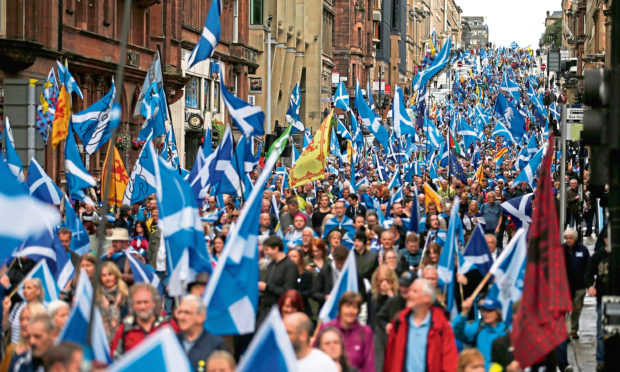 Madam, – Robert I.G. Scott, ("Is SNP ready for independence?" Letters, May 16) correctly highlighted the raison d'etre of the SNP is to achieve independence, which was the one thing he got right.
His description of the Scottish Parliament in session as uninspiring is a bit rich, as the example set by the so-called mother of parliaments has been nothing short of disgraceful for several months now.
His use of the word intransigence would be more appropriately applied to the latest attempts at debating by the various factions at Westminster.
Mr Scott does not appear to grasp that running a successful economy requires total control of full fiscal powers, which Scotland has not had since controlled devolution was reluctantly granted to us in the Donald Dewar era.
This often-repeated point is nicely put again by Murray Duncan from Perth in the Letters of the same issue.
Mr Scott goes on to attack the competency of the SNP for a failure to grasp the use of recent new powers relating to VAT. He forgets to explain that keeping some of the money from any revenue raised would lead to the deduction of an equivalent sum from the block grant, aka Scotland's pocket money budget, based on the Barnett formula.
Appear to give with one hand only to take it back with the other.
As to the attempted scaremongering about a lack of competence to handle issues to which solutions have already been found in anticipation of independence, I would invite Mr Scott's attention to the ministerial blunders by Conservative MP and member of the Cabinet, Chris Grayling.
He awarded a lucrative ferry contract to a shell company with no ships and has most recently had his failed privatised probation service scheme taken back into public ownership.
Independence would surely be better than continual mismanagement which directly impacts upon us in Scotland, but over which we have no control.
Allan A. MacDougall.
37 Forth Park,
Bridge of Allan.
Scotland runs own economy
Madam, – I read with some incredulity the contributions from Murray Duncan (Letters, May 16) and Ken Clark (Letters, May 17) suggesting that management of Scotland's economy is run from Westminster.
Can I ask these gentlemen, why then do we need a Cabinet minister at Holyrood responsible for economy, finance and fair work, one Derek Mackay?
What exactly is Mr Mackay doing all day if, as claimed, all decisions and all strategic planning is the responsibility of Westminster ?
Seems to me a bit of "fake news" from your correspondents.
It is a nonsense to claim that Scotland's economic management is not devolved.
The biggest contribution to Scotland's fiscal budget is taxation, which is a devolved power.
Economic planning needs to take account of taxation strategy and many other elements of strategic initiative that we never see from Mr Mackay.
Beyond that, we have the ongoing contradiction in SNP policy that promotes green energy but at the same time shows economic dependence on "Scotland's Oil".
This is the crazy logic of the SNP "back of a fag-packet" planning and shows up the incompetence of the SNP in government, and why they cannot be trusted to run any semblance of an independent sovereign nation.
Derek Farmer.
Knightsward Farm,
Anstruther.
And we're incompetent?
Madam, – I read with amazement Mr Robert I.G. Scott's letter of May 16, doubting an independent Scotland's ability to govern itself.
We have a Tory government that has very recently squandered £500 million on stupid, failed privatisation of the English Probation Service.
They have wasted a mere £46 million on the astonishing decision to hand a post-Brexit ferry contract to a company without any boats.
They have lost us another £2 billion in botched railway contracts by bailing out failed privatisation of trains.
They spent another £5 millionhelping Saudi Arabia lock up political prisoners.
The 2018 Tory budget lavished £2.8 billion into the pockets of the rich through tax cuts, meanwhile food banks have had to find record food stocks to avoid children going hungry.
This nasty, toxic Tory style of government has been rightly opposed by Scotland in every election for half a century.
And Mr Scott doubts the competence of Scotland to govern herself.
Amazing.
Karen Heath.
Cortachy,
Kirriemuir.
Make puppy farms illegal
Madam, – Currently going through the UK parliament is a bill to ban the sale of puppies and kittens via third parties, known as Lucy's Law.
This is considered the most effective way to ban mass importation of badly bred puppies and stop mass breeding by puppy farms in the UK.
Unfortunately, this legislation will only apply to England, not Scotland or Wales. While the Welsh assembly is bringing in compatible legislation, there appears to be no movement by the Scottish Government to bring in Lucy's Law.
So in effect puppy farming and the exploitation of puppies will continue in Scotland. Why?
Martin Dibley.
Pets Pantry, 56 High St,
Anstruther.
In praise of Dr John MacInnes
Madam, – It was a great consolation, following the death of Dr John MacInnes on May 10, to read Alex Bell's superb tribute ("Last of great Scots scholars, The Courier, May 16).
Alex's personal recollection of the scholar, his descriptions of the impact made by Dr MacInnes' vast knowledge, and his accurate placing of Dr MacInnes' work in the context of the intellectual and literary renaissance in 20th Century Scotland was, for me, both unexpected and a complete delight.
The accompanying portrait, also, could not have been more appropriate.
I have heard Dr MacInnes speak occasionally on Gaelic radio and share Alex Bell's sense of wonder at his knowledge, particularly of Gaelic use within mainland Scotland, and in Perthshire, Grampian and Angus in particular.
It is disappointing that, despite Dr MacInnes' efforts, the extent of this until comparatively recently is not only little known but, in some quarters, actively scorned.
Place names, particularly in their original Gaelic forms, provide enduring proof of how widespread the language was.
The initial efforts of the Scottish Government to increase awareness of this are welcome. Nevertheless, the work should surely continue if John MacInnes' lifework is to prove beneficial for generations to come.
Malcolm McNeil.
38 Ryan Road,
Glenrothes.