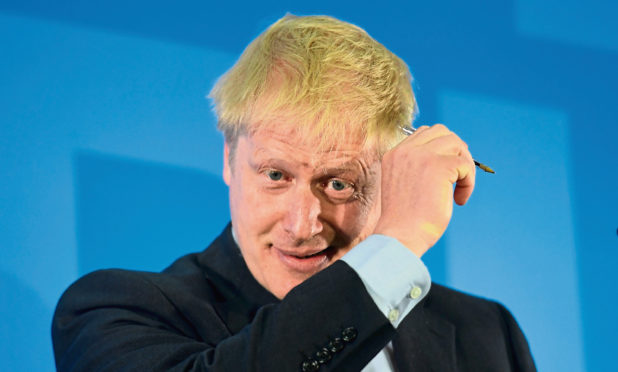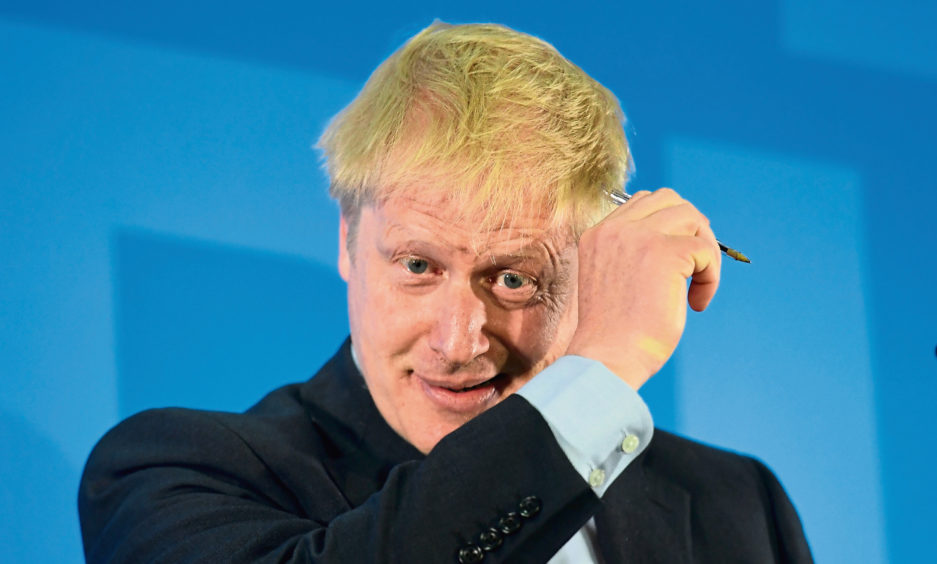 Madam, – I found the recent opinion polls showing an increased level of support for Scottish independence in the event of Boris Johnson becoming the next PM rather surprising.
Any voter going to the polls in indy ref 2,3 or 4 should not be concerned about the character of the current political leadership. Whether you like Mr Johnson's public schoolboy, elitist, sense of entitlement view on the world has no bearing on Scotland's future.
Likewise if you find Mrs Sturgeon's chip on both shoulders aggressive, mocking oratory style a turn off should not be a consideration in the independence debate.
In time the role of Boris and Nicola will be forgotten just as was Queen Anne's and the Duke of Hamilton.
The voters need to focus on the real issues.
Do you want to live in a country with a permanent customs barrier with its biggest trading partner?
Do you want to live in a country with a weaker currency than its neighbour?
Do you want to pay higher income tax than its nearest competitor?
Or, do you want to take back control of the economic levers and then hand them over to Europe?
Do you want to live in a country with more Gaelic signs?
Let's focus on the real issues.
Steven Lyall.
17 Rossie Avenue,
Broughty Ferry.
Hoping for a Boris victory?
Madam, – Nicola Sturgeon has been attacking Boris a lot lately, saying rather unsavoury things about him.
Yet a poll shows how some Tory members, who back Boris, would rather have Brexit than the union, showing they are really English nationalists.
These people are, in fact, a threat to the union and as they are Boris supporters, Nicola must rather hope for a Boris victory, despite what she says.
This episode also shows how nationalists, English and Scottish, are a threat to the UK.
William Ballantine,
47 The Quarryknowes,
Dean Road,
Bo'ness.
System doesn't work for people
Madam, – Our political system is geared so we get the same result – the Establishment wins.
Choosing a prime minister is in the hands of the middle class no matter what the result of a general election is.
No one represents the working class.
I have asked a succession of MPs to do something about testing welders and other for Manganism and getting rid of the time barred clause for claims for industrial injury. Not many MPs will have any form of industrial injury.
Has it come to this?
A tiff reported world wide could effect how older people in the Conservative party vote.
Why should only party members have a vote in choosing the next PM?
Does he or she not represent all of us?
We need a new system where every British person in the UK has a say and a vote on choosing a new leader – a political head of state – to form a government that represents us all.
John G Phimister,
63 St Clair St,
Kirkcaldy,
Fife.
Dragged against our political will
Madam, – I have listened to the two candidates left in the race and neither of them seem to have a clue what to do about Brexit.
They insist on leaving even without a deal in order to placate the English Tories.
Scotland never voted to leave yet we are being dragged out with them,
They are ignoring the warnings from important people who say that leaving will damage our economy. This should be their priority.
They were recently toying with the idea of putting our NHS. up for grabs for Donald Trump.
It is high time we separated from the English, who are getting more and more right wing.
Scotland has a socialist minded people We are being dragged against our political will.
Alister Rankin,
93, Whyterose Terrace,
Methil,
Leven.
Carpe Diem misinterpreted
Madam, – There appears to be more than one version of the recent event at London's Mansion House.
It's quite possible that Mark Field MP was just trying to be helpful to a woman who had inadvertently strayed into the wrong venue.
As she approached, he gallantly leapt to his feet and shaking her warmly by the throat escorted her to the appropriate exit.
Or it may be that, fearing a terrorist attack from a woman in a red dress, possibly concealing a machete or milk carton in her undergarments, Mr Field resolved to put his foot down with a firm hand and bravely attempt a citizen's arrest.
This shows that Conservative MPs are more than mere money-grabbers.
They are at least ready to seize control where the situation demands.
Mr Field has simply misconstrued Carpe Diem (Seize the Day) as Seize the Dame.
James Stevenson,
Drummond Avenue,
Auchterarder.
Heading south to buy alcohol
Madam, – SNP Health Secretary Jeane Freeman is kidding herself if she thinks we Scots are drinking less as a result of the introduction of minimum pricing of alcohol (Alcohol sales down to lowest Scots level, Courier, June 19).
Anyone with half a brain, like me, drives from East Central Scotland down to Berwick and "tanks up" big-time. With a two-litre flagon of cider, for example, costing £2 rather than the £5 imposed by the puritans in Holyrood, the cost of the journey through beautiful East Lothian and Berwickshire is soon covered.
The other half of my brain is of course, if one believes the medical illuminati, long gone due to alcohol abuse.
George Morton,
29 Hudson Road,
Rosyth, 
Fife.
A cheaper alternative
Madam, – I read in the Courier yesterday that a taskforce is recommending the demolition of Strathmartine hospital (Demolition plea to avoid child death, Courier, June 26).
As a cheaper alternative I recommend that parents teach their children that trespassing is illegal – as is arson – and maybe guide them towards more positive recreational activities.
Graham Ellis,
Morden,
The Brae,
Auchterhouse.