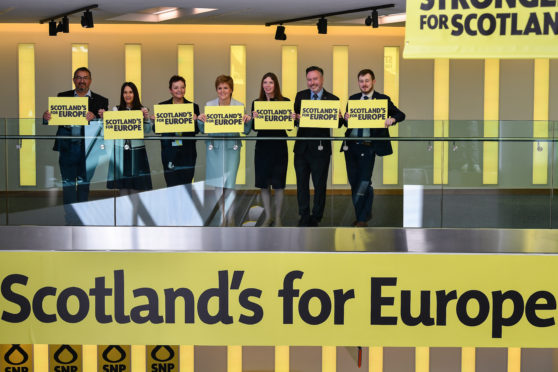 Madam, – Steven Lyall's letter (Boris and Nicola won't matter in the long run, Courier, June 28) asks "Do you want to live in a country with a permanent customs barrier with its biggest trading partner?"
I would reframe that.
Does Scotland want to be part of a no deal Brexit UK, which will have to negotiate new trade deals, on unfavourable terms, with almost every country when it could be trading freely within the EU, the biggest trading bloc in the world, which already has these deals in place? He also asks: "Do you want to live in a country with a weaker currency than its neighbour?"
I would suggest the currency of a Brexit England, isolated in the world, with tariffs on imports and exports, would be much weaker than that of an oil rich independent Scotland which is capable of, trading freely and which is on good terms with Europe and the world.
He asks if we would want to pay higher income tax.
My answer is I am more than happy to pay reasonable taxes if it protects our NHS, saves our public services, and helps people less fortunate to have a decent life.
He also asks: "Do you want to take control of the economic levers and then hand them over to Europe?".
Westminster controls these now, and treats Scotland's different needs and wishes with contempt.
So I would settle for the EU, which includes many small nations, each of whom has an equal vote, with generally higher standards of living, less poverty, and better lives than we do as part of UK.
Mr Lyall adds: "Let's focus on the real issues".
The real issue for Scotland is do we accept inevitable decline in all aspects of our lives in an increasingly impoverished, isolated, right wing UK, or do we have the confidence to take control of our own country and forge a better future for ourselves?
Les Mackay.
5 Carmichael Gardens,
Dundee.
Will assemblies be re-run?
Madam, – With its Citizen Assembly proposal, the Scottish Government has managed to take a good idea and ruin it by blatantly seeking to engineer it to deliver the answer the SNP wants.
If the 100 citizens eventually cajoled into this exercise fail to select independence as the solution to all our problems, the SNP will presumably rerun assemblies until they do give the "correct" answer.
Keith Howell.
West Linton,
Edinburgh.
Pig-headedness at UK's heart
Madam, – Recently the letter column has seen argument for and against nationalists, British and Scottish. Is there a more obtuse form of politics than nationalism?
Based on politically misguided self-determination, nationalism has done much for statist-type fascist parties.
Brexit exists because of David Cameron's stupidity and is virtually unsolvable because of the selfish pig-headedness of the British, English, Scottish, Irish and Welsh nationalists.
Andrew Lawson.
9 MacLaren Gardens,
Dundee.
No love lost for Heart 200 trail
Madam, – The people of Perthshire have had Heart 200 foisted upon them without any consultation and based on bad information.
They claim that tourism is down 17% but the Office of National Statistics says that visitor numbers to Scotland were up by 17% and overseas visitors increased by 27%.
VisitScotland figures say 2017 saw the highest numbers of visitors to Perthshire since 2014.
Also the number of domestic holiday visitors in Perthshire has increased by 20% on the previous year's figures thus indicating a recovery in the domestic market for the area.
Heart 200 appears to be only a money-driven exercise for the owners as their claim about it replacing missing tourists is false.
F R Ballantyne.
Allt an Fhionn Lodge,
St Fillans.
Weak response to Mossmorran
Madam, – The residents affected by the Mossmorran flaring issues can surely take little comfort from the response of Roseanna Cunningham to calls for an independent inquiry (Fife's fury over Mossmorran, Courier July 1).
At first glance it is not clear why an inquiry based on "finding of fact" as opposed to allocation of blame would interfere with any other proceedings.
However, after almost 35 years in service, Mossmorran may be nearing the end of its design life and is likely to require substantial investment if the current recurring problems are to be addressed.
If the history of many other North Sea-related assets is any guide, and as an alternative to further investment, Mossmorran could be put up for sale if-and-when it fails to meet financial targets set by the current operator.
Against this background, it is entirely possible that the denizens of Holyrood are not at all keen to be associated with any inquiry that may portray Mossmorran in a negative light.
And in the meantime, the local residents continue to suffer.
Ian Davidson.
St Jerome's,
Brae Street, Dunkeld.
Not so cash strapped BBC
Madam, – There is rightly upheaval about the fact the BBC will scrap the free licence for OAPs, because they cannot afford it.
So, how can the same BBC justify the outrageous salaries and rises from their presenters?
Gary Lineker, for instance, getting a pay rise and being paid £1.75 million per annum for talking about football? Another presenter being paid more than £1.3m?
Every day is a struggle for OAPs to survive.
It is high time that all these way over-the-top salaries are cut down to normal amounts.
I cannot understand how an evening talking about football, or a morning interviewing people is worth millions of pounds.
These presenters should be ashamed that they accept these ridiculous amounts of money in the knowledge that millions of elderly people are living on the edge of poverty.
I hope and pray the BBC will come to their senses.
Mrs Maaike Cook.
Cash Feus,
Strathmiglo.
Life-enhancing service to stay
Madam, – Most pensioners have now received a letter from the BBC telling us that from next year we'll be paying a licence fee to them once more.
Amazingly, I notice the letter passes the blame onto the "UK Government" for the financial excesses of our national broadcaster.
The very first line of the letter typifies those excesses for it starts with a personal coding number of no fewer than 44 figures.
Alison Roberts is the signatory to the letter and it is she who is acting on behalf of the BBC Board of Directors by notifying the old and the lonely that they are doomed to be even lonelier and more dispirited than they currently are.
As this is all such an obvious injustice, why is no political party taking up cudgels on behalf of pensioners? If our own Scottish Parliament can think up ludicrous ideas like charging for parking at work and getting money back on returned bottles, why can't it think of a scheme that allows pensioners to keep a precious life-enhancing service free?
Archibald A. Lawrie.
5 Church Wynd,
Kingskettle, Fife.