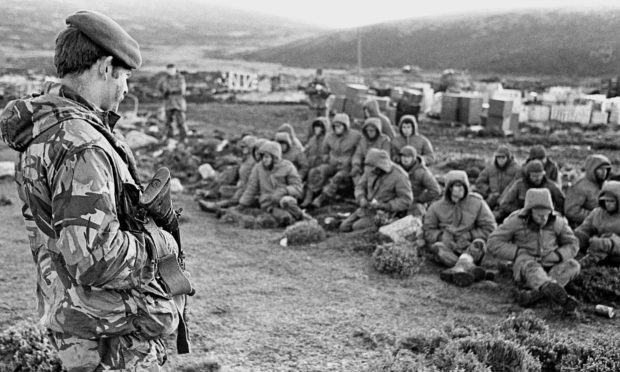 Madam, – War may be hell but I disagree with Rev. Dr John Cameron (We need genuine patriots to show the way, Courier, July 8) that the Falklands conflict in 1982 was "wholly unnecessary".
Negotiations with the Argentinians having failed, our people in these islands were directly threatened by oppressors, ruthless men who had tortured and murdered many people in their own country.
The First World War was indeed unnecessary, having been based on vain imperial rivalries and jealousies, but the Second World War had to be fought so as to defend our islands and people from an atrociously evil, ruthless aggressor.
Similarities there with the Falklands War are obvious. Imperial vanities were surely the least of our Government's motivation.
Ultimately, as Winston Churchill reminded us, we depend for our freedom and democracy on "rough men" (and also women) prepared to risk their lives in such valiant, noble defence. Much is made of the ultimate deterrence by nuclear weapons, exemplifying the vital priority of preserving peace and freedom from tyranny, which was rightly judged the risk facing the Falkland Islanders.
If war is hell, peace may not be heaven.
However, it does give us the opportunity of approaching "the broad sunlit uplands" we are so often favoured in enjoying but which tyrants would prevent, using inhuman aggression.
That is why, regrettably, defence by armed force is sometimes vitally necessary.
Dr Charles Wardrop.
111, Viewlands Rd West,
Perth.
Contempt is all too evident
Madam, – Derek Farmer asks what evidence there is of Westminster's contempt of Scotland (SNP should show respect, Courier, July 8).
Space precludes listing it all, but Theresa May telling us we will have no voice during Brexit negotiations will certainly suffice.
He demands our government, and by extension all Scots, know our place.
Mr Farmer's disgraceful comparison of the peaceful pursuit of Scottish independence as a potentially violent exercise, as has been the case in Ireland, ignores the history of both countries and conveniently forgets the baleful influence the London establishment has exerted on its Celtic neighbours for centuries.
Every promise made in 2014 has been broken by Westminster, with any contract now lying in tatters.
Devolution in particular is under threat, with our only democratically mandated parliament soon to be circumvented by parties with no such authority.
Boris Johnson considers Westminster to be England's parliament. A historical reality dawning on more and more Scots. Jeremy Hunt on the other hand believes the problem with Scotland is it is full of Scots… voters that is, electing governments he disapproves of.
The rise of post-Brexit English nationalism will brook no such challenge to its hegemony.
Mr Farmer talks of respect, demanding his fellow Scots, in his own words, "meekly roll over and accept all the demands of" the Westminster establishment he supports. All the while blithely ignoring the total lack of reciprocity.
Look to your own side sir and your approval of actions driving the final nails in the coffin of this historically-dysfunctional union.
Ken Clark.
c/o 15 Thorter Way,
Dundee.
We can't turn back the clock
Madam, – The ambition of being carbon neutral by 2050, as intended by the SNP and Green Party, would have us back to the 18th Century, when everything was pretty well renewable, as the bulk of the population worked on the land, industry was undeveloped and motor and air travel had, of course, not yet been invented.
That is the reality of it.
The present move to electric cars is indicative of that intent, as is the proposed change from fossil fuel to electricity for the home.
The existing grid capacity and distribution network would be inadequate for an all-electric country.
So we are actually being asked to make a totally unachievable technical, economic, and social reversal.
Not as simple as the green advocates would suggest.
Malcolm Parkin.
Gamekeepers Road,
Kinnesswood,
Kinross.
Policies must support change
Madam, – Barely a day goes by without someone from the Scottish or UK Government boasting about carbon emission reduction targets.
This all sounds great but, unfortunately, many of the policies being implemented at national and local level do nothing to reduce carbon emissions.
Transport is an area where more could be done. For example, new homes are being built at the Western Gateway near Liff with no access to a bus service, and there are similar new schemes to the east of Dundee.
At the same time the road network continues to expand with proposals for a new Tay crossing north of Perth and the dualling of the A9.
If governments are serious about tackling climate change then they need to take a look at their policies rather than just making pronouncements.
Doing more to promote public transport and challenging the myth that building new roads solves congestion would be a good start.
Robert Potter.
Menzieshill Road,
Dundee.
Solheim help for Auchterarder
Madam, – The Solheim Cup is coming to Gleneagles Hotel in September and Auchterarder will be in the forefront.
I do not begrudge Pitlochry in Bloom, Strathmore Golf Club and Perth Ladies Golf Club receiving funds from the Solheim Community funds but what about Auchterarder?
We have to contend with many core paths and road closures, disruption to bus travel and a rather quiet High Street – as the golf enthusiasts are held captive in the tented village.
In Auchterarder we have a dedicated band of volunteers called Auchterarder in Bloom who provide wonderful floral displays throughout the town.
At present they are creating a fantastic new garden in the centre of the town and I'm sure they really deserve some recognition from the Solheim Cup organisation.
Mrs Sandra Murray.
31 Grampian Avenue,
Auchterarder.
Removing the shackles
Madam, – When I think of the great work by Gordon Brown, Alastair Darling and Jim Murphy during the referendum I'm horrified at the betrayal by Messrs Leonard, Finlay and Rowley, who announced they won't participate in a Better Together 2 campaign, thereby denying colleagues and supporters the chance to join with other parties if there is an IndyRef2.
The union-supporting parties should be coming together to propose a coalition in 2021 to defeat the SNP/Green ball and chain shackling Scotland.
The only bright spot is the defection of thousands of Scottish Labour supporters to other union-supporting parties means there is less chance of splitting the vote.
Allan Sutherland.
1 Willow Row,
Stonehaven.