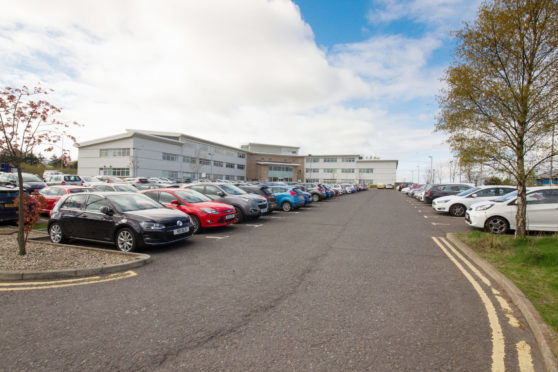 Madam, – I was out driving between Forfar and Arbroath and Forfar and Montrose at the weekend and found myself thinking that Angus Council seem more interested in trying to save face regarding the huge mistake they made by introducing parking charges than looking after the assets they have.
I made a point of driving through the pay car parks in Forfar to see if the huge influx of paying holidaymakers were using them as the council had predicted.
Alas no, just as the previous users of the car parks predicted, there were hardly any cars using them.
Common sense said that would be the case and perhaps councillors should admit they were wrong and revert to free parking, which brought a lot of customers from out of town to shops and restaurants.
Cancelling the spending of yet more money on converting machines to cash payment would be a positive step for residents and businesses.
Another issue I saw was that verges on the roads to Montrose and Arbroath from Forfar had kerbs and drains laid a few years ago and a great number of these are now overgrown with grass and weeds, and so are not visible and are no help in draining water in heavy rain.
Indeed they may be a danger to drivers as they are not visible. Last week there was an accident on the road from Friockheim to Arbroath, on Legaston Brae at the turn off to Carmyllie.
I noted the verge was very overgrown at the junction, restricting visibility, and wonder if this could contribute to accidents.
There are many similar overgrown verges in the area.
I concluded the council would be better spending our money maintaining these assets, kerbs and drainage, and maintaining a verge cutting programme, rather than continuing with their failed vanity programme of introducing car parking fees.
They should stop throwing good money after bad and instead spend on these and other assets such as the existing libraries, recycling centres, community centres, and the numerous other assets which the council owns and which are actually of benefit to the community which they represent.
N Craig.
West Cottage,
Guthrie
by Forfar.
New UK Gov hub is a disgrace
Madam, – The opening of the new flagship UK government hub at New Waverley in Edinburgh is a national disgrace.
This involves closing several regional centres across Scotland employing civil servants to concentrate jobs and their spending power in overheated Edinburgh, fuelling traffic congestion and further housing inflation while at the same time denying the economic boost that decentralising services would have achieved.
The premises are on a 25-year lease so represent a continuing deep annual drain on the public purse benefitting property developers.
The hub is intended to enable closer inter-department collaboration, smarter working, and use of the latest technology, all of which are now better and much more cost effectively achieved online.
With no train connection and thus located beyond commuting distance, how are the people of Levenmouth supposed to access these many and higher paid positions only 35 miles away?
It takes nearly two hours by bus.
Scotland is fast becoming like the UK, with Edinburgh following London's sorry example by sucking the life out of the rest of the country and demanding ever more resources and talent, leaving the left-behind areas struggling.
Even when public funds are involved, decision makers cannot look beyond their own cosy bubble.
The naming of this new centre Queen Elizabeth House demonstrates the utter lack of imagination and subservience.
The UK is moribund and Scotland risks becoming so.
Stuart McIntosh.
Kirkland Walk,
Methil.
Own house is not in order
Madam, – Jill Stephenson (Political agenda behind Citizens Assembly? Courier, July 12) asks: What are we to make of the Citizens Assembly?
The intention, I believe, is it be a non-party political forum made up of randomly selected citizens putting forward suggestions for how Scotland might plan its future.
It has been seen to work successfully in Ireland. But Ms Stephenson assumes, as always, an SNP plot.
Maybe she prefers the unionist approach to planning our future: hold an unnecessary referendum to resolve difficulties in the Tory party; fail to provide leadership leading to a vote to leave our European friends and neighbours; call an election to strengthen the Government position then lose it.
Then send an unprepared team to negotiate our departure, allow party politics to avoid a united front, allow factions such as the ERG and the DUP to have disproportionate influence and treat the UK Parliament, Ireland, Scotland and Europe with contempt.
Looking ahead, at this most precarious time in the last 80 years, appointing the most unsuitable prime minister they could find.
Is Ms Stephenson happy with this?
Les Mackay.
5 Carmichael Gardens,
Dundee.
An unwelcome intervention
Madam, – The intervention in Northern Ireland by Westminster raises several important questions.
Firstly, if they had to intervene, why not do it on something important like education, or health? What is so vital about gay marriage and abortion (showing how out of touch London MPs are)?
Secondly, if the Ulster Assembly does reconvene, will it be able to reverse these changes?
Thirdly, what was the SNP doing by its intervention; they complain bitterly if someone does this at Holyrood, so why are they doing it – free vote or not?
William Ballantine.
47 The Quarryknowes,
Dean Road,
Bo'ness.
City docks need improvement
Madam, – My wife and I recently enjoyed a short cruise on the Magellan out of Dundee, returning by coach from Liverpool.
It was a great feeling to arrive aboard the ship just half an hour after leaving the house.
However, I was dismayed by the neglect, weeds and potholes that make up East Camperdown Street – a dreadful advertisement for visitors going to and from the cruise ships.
In order to attract cruise ship business this area ought to be brought up to scratch without delay with a road resurfacing project, the provision of an off-street car park, a designated taxi rank and also a proper dropping off area for coaches.
I cannot understand the complacency of the various interested parties in doing nothing to improve the area.
Michael Beattie.
9 Bayfield Gardens,
Broughty Ferry
Dundee.
Praise for Good Samaritans
Madam, – I would like to thank the people who assisted me after a fall in the Cowgate on Tuesday.
I really appreciated their concern and calling the ambulance on my behalf.
I am somewhat bruised, otherwise ok. I really appreciated their help and I was unable to thank them at the time.
Georgena Barr.
2 Hamilton Street,
Broughty Ferry
Dundee.