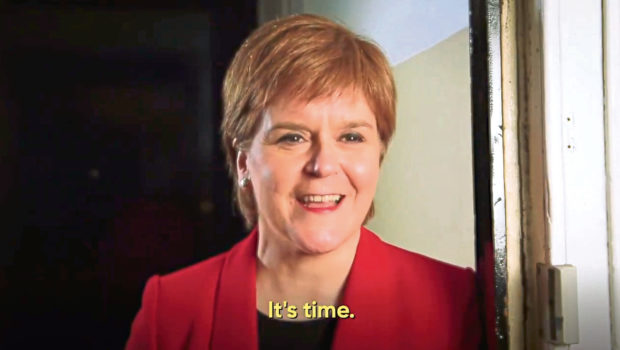 Madam, – Nicola Sturgeon goes on about Westminster not giving Scottish people what they voted for by imposing Brexit on Scotland and is adamant she wants a second referendum to determine whether or not Scotland should split from the UK.
Ms Sturgeon and her SNP colleagues obviously haven't thought this through.
The SNP and DUP have no right to thwart what most English voters voted for and most, by far, voted for Brexit.
May I suggest to Ms Sturgeon and co, that if Scotland were to become an independent nation then it should not make any difference whatsoever to the SNP whether or not England and the rest of the UK remain in the EU or leave.
It would be none of Scotland's business.
That being the case the SNP should do the decent thing and offer to do a deal with the incoming UK prime minister.
The SNP should now offer to give unanimous SNP MP support for Brexit on condition that immediately after Brexit happens the SNP then get another Scottish Indy Referendum.
Many people in Northern Ireland are also protesting that they don't want Brexit.
However, I would argue they also do not have the right to thwart the wishes of millions of English voters.
I would suggest that all MPs representing Northern Irish voters at Westminster also offer to do a deal with the new UK prime minister.
They should unanimously vote for Brexit on condition that immediately after it happens there is a referendum in Northern Ireland offering voters three choices:
1. Northern Ireland to stay part of the UK.
2. Northern Ireland to become independent.
3. Or Northern Ireland to merge with the Republic and become a united Ireland.
Kenneth Brannan.
42 Greenlee Drive,
Dundee.
Cutting the UK's aid budget
Madam, – I have to wonder why Britain is spending £98 million in foreign aid to India, when India can afford £116 million to send the Chandrayaan-2 probe to the moon.
India is already the world's third-largest economy in terms of purchasing power parities and is currently growing faster than China.
It gives more than £1 billion in foreign aid each year. It is also a significant military power with armed forces of 1.4 million, an aircraft carrier and an estimated 100 to 130 atomic weapons.
The British government deficit in the year to March was £25 billion or 1.2% of GDP.
We are legally obliged under the International Development Act 2015 to spend 0.7% of GDP on foreign aid.
Currently this amounts to £14bn per year.
Our new prime minister should introduce legislation to end the legal obligation to spend 0.7% of GDP on foreign aid and then task the appropriate minister to make stringent cuts in the aid budget.
Otto Inglis.
6 Inveralmond Grove,
Edinburgh.
SNP should think again
Madam, – In Saturday's Courier an article suggested the Brexit Party would not be welcome in Dundee (Bafflement at Farage's decision to visit Dundee, Courier, July 20).
Why do the SNP seem to think they speak for Scotland?
As for the comment to send them home to think again, and the offensive poster displayed in Perth when Boris and Hunt were there, it makes me ashamed to be Scottish.
Bob Duncan.
110 Caesar Avenue,
Carnoustie.
Reinvigorating rail in Scotland
Madam, – Having described the numerous problems with our rail service in previous correspondence, perhaps I can put forward a plan to improve it.
It seems to me that Abellio has failed to provide a service of the standard that is required. They should be stripped of the franchise forthwith.
The Scottish Government could act with alacrity, to take such action.
Other issues where they hold sway exist.
For instance the Leven link to Thornton. The issues have been aired seemingly endlessly.
The SNP make lukewarm murmurs of agreement, but do nothing.
The problems at Leuchars have existed for years. It requires complete modernisation befitting of Scotland's fourth busiest station.
A lift entry system would be a good start.
Then there Is the old chestnut of a rail link from Leuchars to St Andrews. A total farce.
Never has an issue been kicked around quite so blatantly.
Some obviously hope it will get lost forever in the very long grass.
Not if we can help it!
What is needed is a rural tram service like that which is so successful in Germany.
Think of the pressure that would ease on the 99 bus route. The traffic reduction would be significant.
A high official of Transport Scotland has assured me the government could introduce these three schemes, if they so wished. So why don't they?
As ASLEF says, when in opposition, the SNP said they would re-nationalise rail services. In government, they haven't. Why?
Bill Ledger.
43 Dreelside,
Ansthruther.
'Green' vision for the Conshy
Madam, – Regarding suggestions for the use of the abandoned college buildings on the Conshy (It's time that unloved city buildings like the Conshy got some TLC, Courier, July 15).
What about bringing together Dundee University architects and James Hutton Institute staff and setting up a solar powered hydroponic food plant growing centre?
The result would be eco friendly – no polluting demolition, re-use of glazing still intact, use of a south facing building to collect sunlight/daylight.
You could start growing on the top floor and extend to lower floors. For the icing on the cake, plant trees on the remainder of the site.
Leslie Martin.
22 Glenmarkie Terrace,
Dundee.
Crem gardens need attention
Madam, – Regards the article "Daughter is unhappy over Perth memorial garden 'wilderness'" (Courier, July 16), I cannot but support her grievance at the state of the crematorium gardens.
I think the solution is to have a permanent position – even if it is part-time – at the crematorium to tend to the gardens in spring, summer and autumn.
Thomas A Brown.
18 Garry Place,
Bankfoot.
Dogs do die in hot cars
Madam, – Soaring temperatures can cause animals heat stress and permanent physical harm – which can even be fatal.
Just brief periods of direct sun exposure can have life-threatening consequences, but if animals must be left outdoors, they should be given ample water and shade. Never leave an animal in a parked car in warm weather, even for short periods with the windows slightly open.
On a 26C day, the temperature inside a shaded car is 32C, and the inside of a vehicle can reach 70C.
A dog trapped inside a parked car can succumb to heatstroke within minutes – even when the car isn't parked in direct sunlight – because unlike humans, dogs can cool themselves only by panting and by sweating through their paw pads.
Jennifer White.
Senior media officer,
PETA.