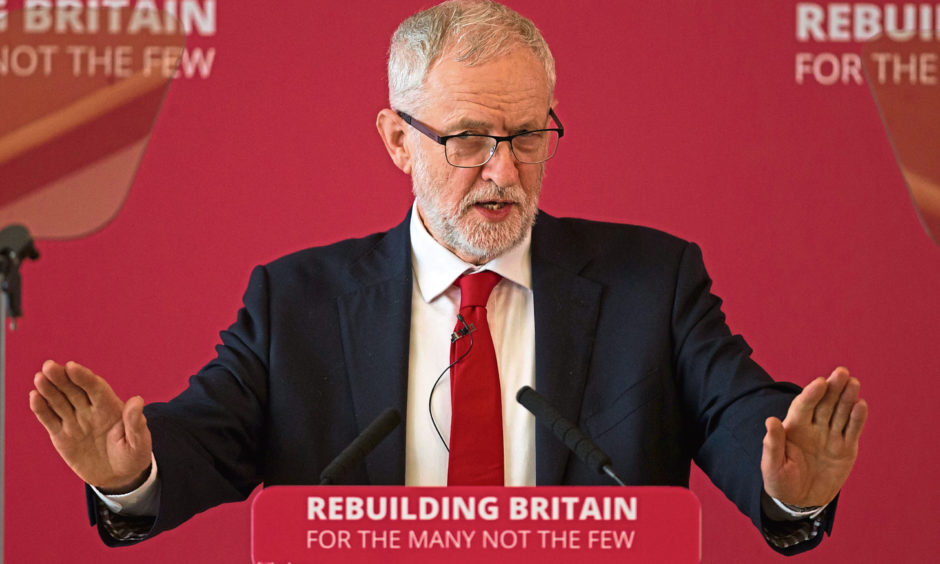 Someone wake up Richard Leonard, it's results time.
Tell Jackson Carlaw he can come home for his gin and tonic. Jo Swinson can go back to arranging her sock drawer, according to colour, size and sensibleness. Jeremy Corbyn can retire, and Bojo can wash – the long hard scrub of a man who gets rid of his "damn spots".
In this, the voters of Scotland are vital.
Dismiss the SNP in Skye and Lochaber, if you will, end the beginner's luck of Stephen Gethins in North East Fife – in either case, it'll be the Liberal Democrats who benefit.
But caw canny in Gordon. The sport of unseating Alex Salmond two years ago has passed.
In Perth and Perthsire North, the temptation to do the same to Pete Wishart is there, but be careful what you wish for.
In Moray and Banff and Buchan, vote, please vote, as you too may hold the balance of power.
It is tempting to claim exhaustion, and wish the whole thing over, but that is a quitter's route, and we must not quit when the stakes are so high.
The election nobody wanted about a thing not even the PM seems to understand, is over.
Less a matter of blue and red and more a question of agent orange across our political landscape.
The election that ripped through the guts of British politics and journalism.
Candidates were patsies in wider debates where nobody seemed shamed by the lack of answers.
The big issue of Brexit is no clearer today than a month ago.
The other issues were mocked with promises of jackpot spending.
The expert was reduced to muttering "no good will come from this" as lies piled upon lies.
But then we are no longer a nation for academic experts, as nasty social media made us all expert enough.
The news reporter became useless, because an "event" would be dismissed once it had got its headline.
Stories were vomited up – Corbyn part of an international Marxist conspiracy, scrapping BBC licences – then ignored.
Like winter roads, seasoned commentators ran out of salt.
A pinch, a truckload – not enough.
Strangely, in terms of reason, the right seems to agree with all this, but think a Johnson victory will end it.
The opposite will happen. Just as Trump became the worm in the American apple, attacking institutions of state and the reputation of the diplomatic and military services, so Johnson will become the enemy within.
To the British sense of fair play, he is the doped-up Russian athlete.
To the Conservative instinct for a steady ship, he is the captain of the Costa Concordia.
For those who value the ties that bind, he is the moth in the wardrobe.
As for the great institutions, the Foreign Office, the NHS, our military, the BBC, the integrity of the Commons and the legitimacy of the law, he is the sixth-form anarchist, not a care for a thing but his own ego.
A majority will not bring stability.
It will bring a new circle of hell.
A liar and a cheat, a racist and a sexist, a thug and a bully – he can only take us down. This campaign has seen "attacks" on private schooling in suggestions they pay more tax or are closed.
Surely the greatest attack on Britain's educational elite is Boris Johnson.
Here is Eton and Oxford in all its slovenly entitlement.
A second-rate brain convinced of some divine right to govern.
Choosing private school after Johnson is to signal the most base desires, like declaring for Mosley or defending Saville.
He is a billboard for spivs, a catalogue model for dishonour.
What prospectus would have him?
The alternative is not a Corbyn government, a lurch to the Marxist hell the Sun and Telegraph warn us of at every election if we vote Labour.
Corbyn can never win outright, and the idea that he'll get into Downing Street on the back of an SNP deal makes no sense.
It's no surprise that Labour and the SNP have flip-flopped on any deal, because once it is clear indyref2 is real, loyalty to Corbyn is over.
The Labour MPs of the north of England aren't going to see the Brexit referendum overturned but indyref2 guaranteed.
It would be idiocy to cancel one popular vote in return for restaging another. Explain that to the poor of Middlesbrough or Sunderland. So the real outcomes are a Boris majority or a hung parliament.
Of the two, sanity and decency choose the latter.
Johnson will have to go – he can't repeat May's 2017 mess and expect to survive. Corbyn will be gone – he has said as much, tired of an office he only dreamed about.
Our politics will start again, with new leaders, and a new humility about what can be achieved.