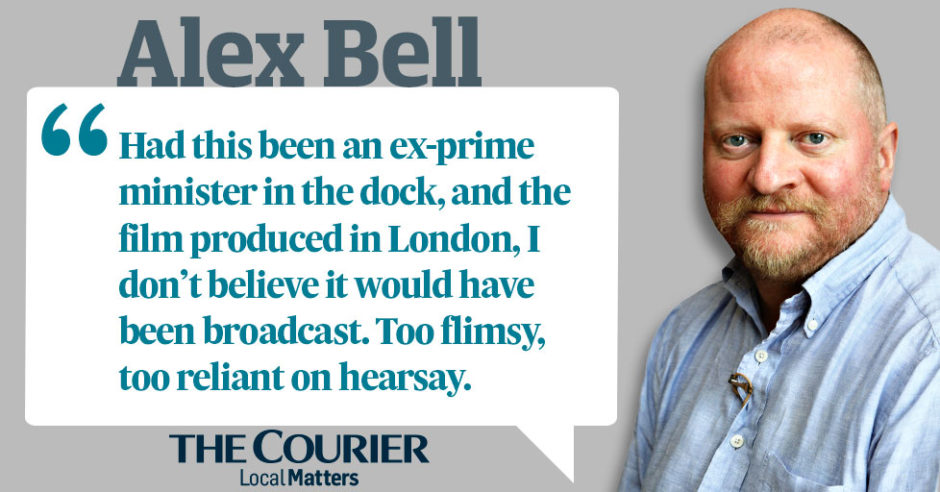 The single richest news organisation in Scotland is BBC TV.
In an age of 'fake news' and misinformation, it holds a unique position defending the principles of good journalism, namely to be rigorous, fearless and to tell us something we don't already know. For a nation teetering on the brink of major change, it doesn't lack for stories to tell.
Yet it has failed again at its duty to scrutinise Scotland.
This week the BBC broadcast a documentary about the Salmond trial. It chose to tell the story of the trial day-by-day drama, and to examine the themes of Britain's first Me Too trial, and the claims of political conspiracy alleged by Salmond and his followers.
Leslie Evans 'can't comment' on reports female officials were advised against working alone with Alex Salmond – but what did we learn?
On the daily drama, it was fun but thin. Essentially a film about a BBC presenter making a film. Covering court cases is difficult and the programme tried to get round this by making it about Kirsty Wark's point of view. She told us she was fascinated by the event, but not so fascinated as to stay in Edinburgh for the summing up.
Viewers had to wonder why they were getting a rehash of a trial that had been covered exhaustively in the first place, a point rammed home by the film using clips of other reporters reporting.
This drifted into dangerous territory when the programme tried to examine the themes of female powerlessness and political conspiracy. By straying into the content of the legal arguments, the film began to retry the case.
Some of the accusers were interviewed, making plain their sense that justice had not been done.
Then the film moved on to the claims of political conspiracy. Two talking heads, Jim Sillars and Kenny MacAskill said dark forces were at work. No more than what was known during the trial, or since the story broke two years ago.
Not interested in adding anything new, the film fell back on a nod-and-a-wink inference that something was not quite right.
But this is exactly what the trial had already concluded months ago. In restating this, it felt like double jeopardy for the ex-FM, only this time without the law to protect him.
There is a lot of social media anger about the film. Much of it is the usual sexist, incel-angry abuse. My complaint is not from there. Instead, it's that the programme was lazy journalism.
We could have had a straightforward retelling of the trial. The film had been commissioned long before the trial began and the makers were obliged to produce something to fill the slot.
Alternately we could have had an investigation into how incredibly hard it is to prove sexual assault in Scots law.
What about an investigation into the claims of conspiracy – some fresh evidence about who and how this was constructed. The implication is that a woman invented claims of attempted rape to bring down a leading politician – that's a huge story if true.
If none of that, then what about the flaws in the evidence.
You watched for the moment of substance, which never came. Instead the story blurred, as if being retold in a bar for scurrilous fun. Issues were raised, then dropped, suspicions aired, but never proven.
Kirsty ended by suggesting the matter was far from over, and could affect all of Scotland. Surely this was a cue to report on Salmond's QC, Gordon Jackson, being secretly recorded on a train being rude about his client and naming witnesses. But nothing was said of the matter.
It is another example of the strange death of serious Scotland. We seem to have abandoned rigour and facts for tribal abuse. This documentary left you in no doubt that it thought the accusers had been wronged, but didn't bother to find any fresh evidence to prove this.
I suspect it has made some more sympathetic to Salmond's claims of stitch up.
Had this been an ex-prime minister in the dock, and the film produced in London, I don't believe it would have been broadcast. Too flimsy, too reliant on hearsay.
But then again, had this been about Westminster, it wouldn't have missed its best angle. Can you imagine a former Home Secretary saying on air that he thinks the government and the machinery of justice are at it?
Yet that's what Kenny MacAskill, former justice minister said, while admitting his sources are " tittle tattle". In London this alone would be major news. Yet nobody is demanding an inquiry – Aach, it's just Kenny.
We demand to be taken seriously, but don't expect seriousness of ourselves. Our politicians make ludicrous claims but aren't held up to scrutiny. Our best resourced journalists feel no obligation to properly investigate.
The pot is stirred one more time, and everyone's angry, but no one is serious. Except, I suspect, the female accusers, and Alex Salmond.