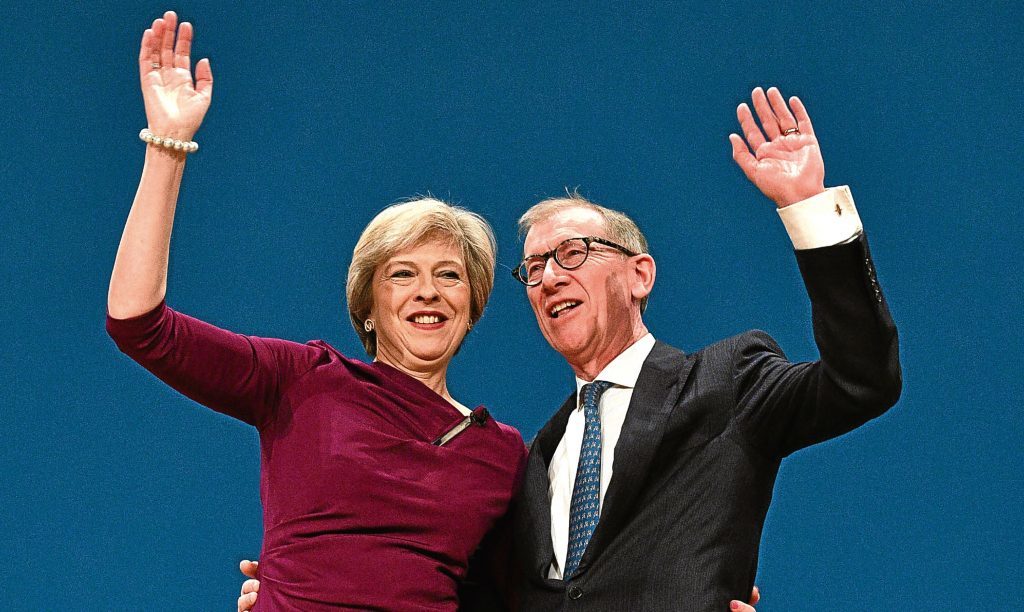 They do nationalism so much better, the English.
Theresa May's first speech as Prime Minister to the Conservative Party Conference was a model of Anglo-British nationalism.
At one point she even referenced sport, that metaphor of fair play so beloved of 19th Century British patriots.
From those old roots, she gave us a re-fashioning of Empire values.
Of free trade as the great pursuit.
Of decent working class people demanding a fair shot.
Of patriotism that was easy to mock but noble in purpose.
At times it sounded as if she had recently read Rudyard Kipling's If.
That poem brilliantly sums up the tension between the desire for good and human foibles – the anxious pursuit of the Englishman wanting to be his best.
So Theresa May has staked out her ground – the desire to do the best by the "ordinary working classes".
For some time it's been impossible to tell political speeches apart – read the words on the page and they all appear the same.
Substitute a Clinton speech (Bill or Hillary) with a Cameron one, a Blair address or one by Miliband and best of luck spotting the difference.
So much of May's address could have come from, well, anyone.
What distinguished it was plain faith in the merits of John – and Jill – Bull.
For a Tory leader to slam fat cats, to bemoan how the 1% have left the 99% behind, shows a courage to criticise her own.
Embracing the issue of immigration signals she won't be cowed by the rules of political correctness.
Kipling was all about courage but also he had a keen feel for the contradiction and silliness of the British Empire.
It's not clear that May has the same sceptical eye – her version of Anglo-Britishness at times seemed naive or simplistic.
It boils down to hard work – a phrase repeated throughout the policy-light speech.
It's not the vision that counts but the dogged effort in delivering the vision.
The naivety lies in her continued surprise at statistics that ethnic minorities are more likely to be arrested, or poor white children do the worst at school.
These numbers – undoubtedly shocking – have been with us for decades. She is using data that has motivated many others over a long time but as if it were news.
The speech was repetitive and light – she took the sentiment of her remarks on Downing Street the day she entered office and expanded it for an hour.
Half an hour would have done – and would also have better made her point about being a person of action, not empty words.
Change was her theme – indeed, she called the EU referendum result a "revolution" she would continue.
This is no longer the slick Tory party of west Londoners with privileged backgrounds.
Instead, it's a harking back to the Tory of the 1950s and 1960s, when decent middle class people used government to make life a bit better for everyone – public duty for the public's sake, not selfish careerism.
This may prove very effective.
She boasts of being non-ideological and that seems timely for an electorate bored with politics who just want things done.
Her absolute defence of the NHS and the BBC, her repeated mention of "British institutions", signals she plans to change very little of Britain's architecture (beware "divisive nationalists"!)
So the change will come by doing the right thing, chasing down tax dodgers and capitalist crooks while giving people the skills to get a job which pays a decent wage.
Less a revolution then, more a correction – a tidying up of the modern state so the working poor don't feel left out.
All of which is no bad political platform. Broadly, people want the fairness of which she speaks, the transparency she hints at. They want common decency.
She understands one thing – that a new nation will need a refreshed identity.
If Britain isn't part of the post-war order and is making its own path, then it needs a story to explain this.
According to May, the story is that the good judgement and common sense of the British citizens means self-government is almost a natural state of affairs.
The trouble with her Anglo-Britishness is that it just sounds a little odd from north of the border.
Scots have been through the wringer on what it means to be a nation and concluded it had very little to do with people like May.
She appears like someone too clever for the Women's Rural Institute but very keen on its values.
Little of which currently resonates in Scotland.
The test, then, is can her Anglo-nationalism evolve into a plausible version of Britishness?
She has two years in which to find out – the time it will take to negotiate a new deal with the EU and the world.
After that, the rows of paunchy middle-aged men looking on will come looking for her job.
As Kipling warned "if neither foes nor loving friends can hurt you" then she might be at the start of a long time in office.