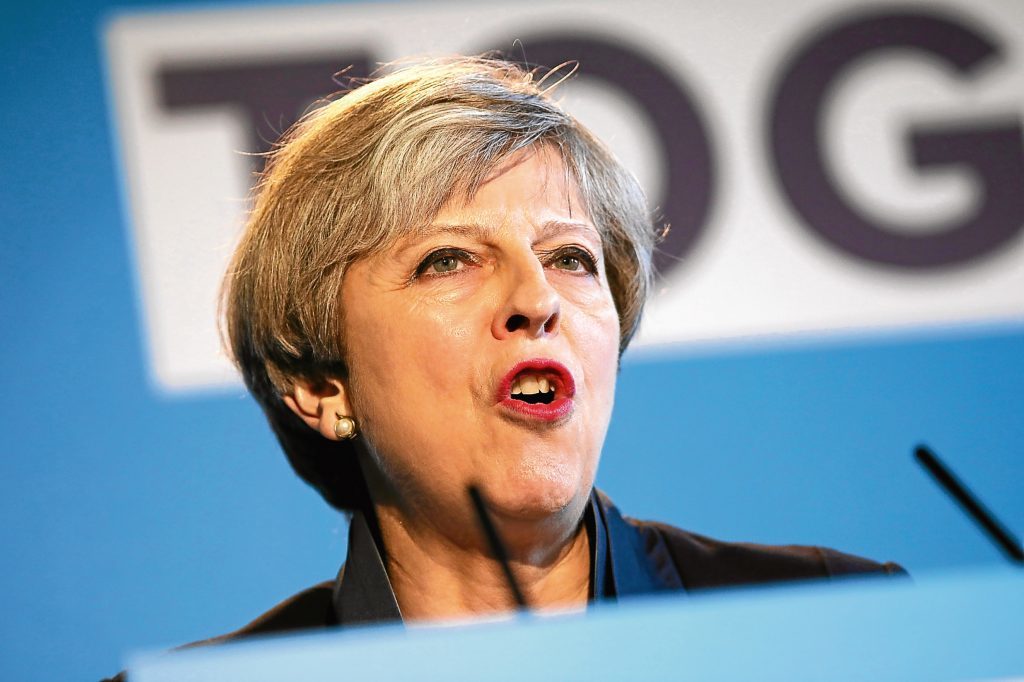 Let us choose to be normal. Not defiant or angry but as we were and as we choose to be – cool and passionate according to our moods, human and humane, sensible and contradictory as ever – while sending our love to Manchester.
Normally, I would write about the most astonishing U-turn in an election campaign.
The Tories built a campaign on the slogan "strong and stable" to the point this became mocked for its repetition.
They won't have minded.
With every repeat of the phrase, it sunk a little further into the public conscience.
The aim was that no matter what else, as many people as possible over the last month will have heard one thing – strong and stable.
The one risk in such a strategy is you do something which is neither strong nor stable and everyone gets to hear about it.
Unavoidable
Last week the Tories launched a brave manifesto which grappled with some unpopular but unavoidable ideas.
At the heart of Tory thinking was the idea that the cost and demand of services are rising and a debt-laden state can't afford them.
In part, the Conservative manifesto planned to tackle this through tax rises – gone was the pledge to freeze VAT and income tax.
This was a Tory government which was campaigning on taking more of your income – a bold move for a party which usually warns of tax bombshells.
Secondly the Tories wanted to cut generous benefits – universal winter fuel payments and a triple lock pension among them.
And lastly, Theresa May wanted to bring in a disguised tax in the form of a payment system for dementia care.
She revived an idea of Margaret Thatcher's which is that the value of a person's house should go towards the cost of the care – to be paid for after death.
At first this upset Andrew Dilnot, who had spent a lot of time thinking about the problem and suggested an insurance system to tackle the huge expense of looking after a population getting older and far more susceptible to dementia.
Experts and government is a combination destined to end in tears as very little of our politics is based on rational conclusions from evidence.
May rejected Dilnot's report and opted for something simpler which could start producing revenue as soon as it was enacted.
The thinking behind the policy was simple – a vast swathe of the UK's wealth is held in houses.
Taxing issue
Government urgently needs to access that wealth if it isn't to crash in a horrible pile of debt and rising costs.
You either get that wealth by a death duty – a tax on your estate – or by posthumously collecting for services enjoyed during life, as May proposed.
Boy was it brave and bold. She was attacking the property-owning democracy Mrs Thatcher had done so much to create.
Yet apparently none of the people in the room when this was being written or approved realised how significant it was.
Any policy or manifesto gets to the point where the leader and top advisers are sitting around discussing it.
The purpose of the communication or campaign person or the one trusted to have the feel of the people, or even the cleaner who happens to be passing through, is to shout: "Are you mad? That's going to irritate the bejaysus out of our core vote".
Apparently no one had the nerve or sense to say this. Not long after the policy was announced, nervous Tory candidates reported back that it was going down like a euthanasia pact on the doorsteps.
Over the weekend anger from within the party grew and by Monday May announced to a packed news conference it was being amended – along with deeply pathetic cry this was not a U-turn but a "detail we had intended all along".
The Lancet health journal reports our dementia care cost crisis is greater than anyone imagined – set to increase by 25% in 10 years.
Unfortunately, May's chance to fix this problem has died over three days of negative coverage.
That is bad, but not the whole story.
Scrutiny
It is the second time she has had a "big" revenue idea and the second time it has been pulled in the face of criticism (the first was in her budget).
It shows her advisory team do not understand the politics of their decisions. Which suggest they are cut off from the everyday concerns of citizens.
May has shown she doesn't have the temperament for a public bruising and lacks the instinct to avoid one.
The buck stops with her, and she has twice demonstrated she can't handle that.
The UK is about to negotiate its most important challenge since 1939.
What happens if the heat from Brussels gets too much or her own right-wingers kick up a storm?
The Tories wanted us to think strong and stable – alarmingly incompetent seems more credible.