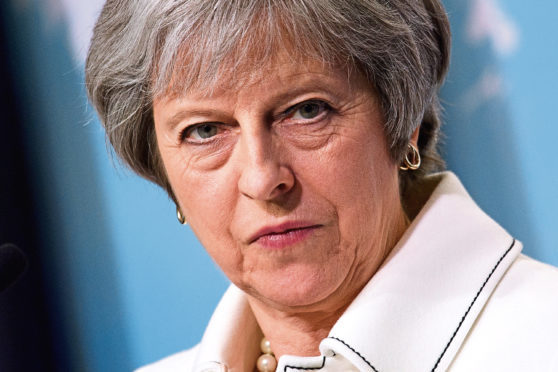 Britain is debating with itself over Brexit. So says Leo Varadkar, the Irish Taoiseach.
His point is that Britain should be debating with Europe. So far, the UK government promotes a deal that is unacceptable to the EU.
Matters such as the Irish border, our legal obligations, the final bill (the exit fee plus continuing payments) are undecided. Looking from Dublin this must seem grim – the view from Britain is worse. Two years after taking a decision we are no clearer as to what that decision means.
The last two days in the Commons have a been a slo-mo train crash – the long carriages of detail and complexity concertinaed into a solid block of confusion. The "meaningful" vote on Parliament's say on the deal has been fudged, with no detail given. The immediate response is that Theresa May caved to pressure from rebel Tories.
Given this is the standby analysis of everything she has done since her disastrous general election call of 2017, it's probably not helpful. She is, after all, still in office long after most commentators (myself included) imagined she'd be gone.
The PM gave a last-minute assurance to party rebels who were going to back the "meaningful" amendment – that Brexit be subject to parliamentary approval – along the lines they would have some say on the deal. People given this assurance, such as Dominic Grieve and Nicky Morgan, seem content they have something of substance, but can't define what it is.
They say that if the PM fails to honour this promise, they'll rebel the next time the Bill comes back to the Commons from the Lords. They might carry though with this threat – but may also feel that saving May and not prompting another election is more important.
As the government didn't fall this week, which is would have happened had the amendments been carried, then you have to say the PM has won. Quite what she is victorious over other than extending her stay in Number 10 is unclear.
There is some clarity over the Power Grab – that saga told with sound and fury by the Scottish Government. In the event of Brexit, Westminster will have a veto over some issues that Holyrood can debate – the power will be grabbed.
The matter was given short shrift in the Commons, a debate lasting 15 minutes and hearing from only one MP. When this point came to a vote, Labour abstained, which is odd given its previous anger. All this drama is great fun from an observer's point of view, but doesn't help a farmer, fisherman or you and me one iota.
Whatever it was we were for or against, two years has been lost in the guddle. The fishing community, who wanted to reverse the open access to Scottish territorial waters granted in 1973 when we first joined the EEC, voted No.
Yet the UK Government's current stance is that there will be no change to the status quo on fishing. Their democratic power – the vote – has been used to spike their one demand. It is a wonder they don't sail down the Thames with harpoon guns aimed at Tory ministers.
Farmers seem no better off – any hope they might have had that taking back control could have given them a fairer price for milk seems lost, traded off against the need to be "open for business".
If you voted No because you feared immigration, or wanted more money spent on your own community, as many did, then you've every reason to feel outraged at an exit bill running into tens of billions of pounds. As for wanting to stop immigrants – is this really true in the light of Windrush? The surprising outpouring of concern for Caribbean immigrants suggests Britain has a far more nuanced view on immigration than the yes/no of the referendum vote.
As the wards of NHS hospitals empty of staff, and the fruits in the fields go unpicked because there is not the labour, then it is clear immigration isn't a liberal conspiracy against the working class, but an essential part of the economy. The parliamentary drama obscures a greater truth – that we are engaged in an act of self-harm so huge it risks the integrity of our nation.
Not because it will tear apart the constituent nations – I doubt it will – but because it will soil our sense our dignity.
We will allow our water to be fished by anyone, but put border controls up to stop people helping our economy. We will ruin our farmers to get access to American food that nobody wants. We will shovel money towards Brussels, with not a penny guaranteed to come back to Dundee or Aberfeldy.
Brexit is becoming the greatest policy mistake in modern British history. Worse than the military mistakes of Suez and Iraq, or the low of borrowing money from the IMF, not because of how we voted, but how we handled the result. It will become embarrassing to be British – the people who didn't have a clue.