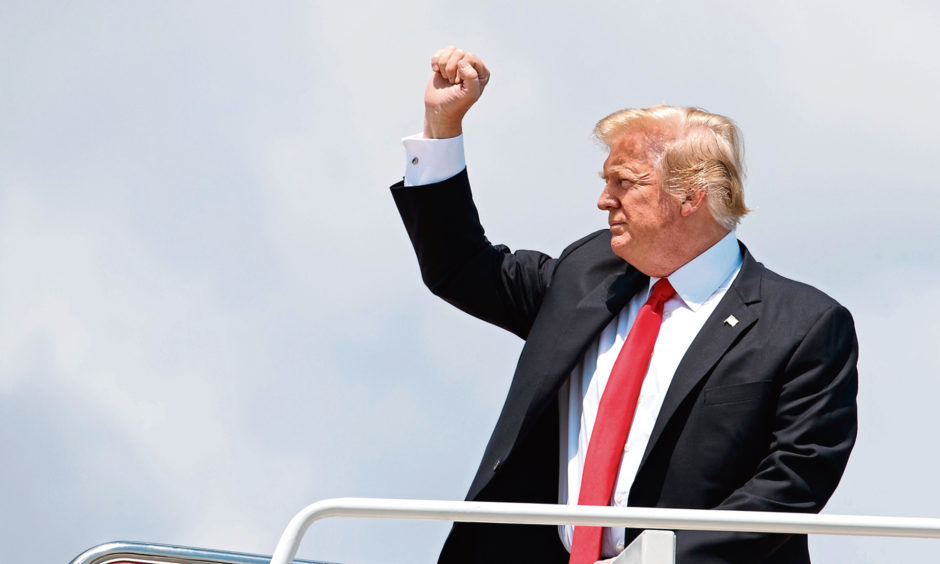 The President of the United States visits Scotland this weekend. Not so long ago that would have been a cause for celebration, yet Donald Trump's trip is likely to see protest marches and a snub from the government.
It was once a thing of great prestige to get a US President on to foreign soil. When Ronald Reagan visited Ireland in the 1980s, only the Pope could pull bigger crowds. A vague claim that Reagan's ancestors came from Ballyporeen went unquestioned and he visited the County Tipperary village to a fanfare.
Dundee protests planned as part of 'massive united show of opposition' against Donald Trump visit
At the time, genealogists were said to be looking frantically for any evidence Reagan might have Scottish links to justify a trip to Auchtermuchty or Portree – none was found. Scotland and Ireland used to take delight in the number of US Presidents with Celtic roots. Any link burnished the reputations of our small countries.
Trump's Scottish granny makes him one of ours. He is proud of his roots and has active investments in Scotland. This should be an ideal moment to influence the leader of the free world in Scotland's favour. Yet we protest.
The First Minister threatens not to meet the US President. There will be marches against his visit in Edinburgh and Glasgow this weekend. The crowds and the politicians are certain they are on the side of justice and Trump is in the wrong – but it's an assertion that should be questioned.
Ronald Reagan ensured that cruise missiles were placed on British soil. He supported the strategy that turned Britain into a static aircraft carrier, projecting American might into Europe, thus making us a top target in the event of nuclear war.
He also greatly contributed to American poverty and division with his "voodoo economics". In the next decade, Bill Clinton's time in office was also marked by a financial looseness that allowed the rich to prosper and the poor to suffer. Yet had either visited Scotland, it's reasonable to assume they would have been officially welcomed with open arms.
From 1999, Scotland had its own government of sorts, and when the then First Minister Henry McLeish visited the White House in 2001, it was judged a diplomatic coup. The prestige far outweighed any anxiety about shaking hands with President George Bush, who was thought to be unusually stupid and a danger to the world.
Yet here comes another US President who is actively divisive in domestic policy, also thought to be heavy handed on the international stage and suspected of being too dim for the world's demands. And we are horrified.
Trump has yet to deregulate the banks or start a war. That makes him a lot less dangerous than Lyndon Baines Johnson (Vietnam), or George W. Bush (Iraq). He has, yet, to be proven to have lied in office, like Richard Nixon or Clinton (the latter's sex cover-up meant he sneaked past impeachment).
Trump's sex pest status is abhorrent, but of a type with John F. Kennedy and Clinton.
We object to his "wall" to keep out Mexicans, only later learning that he was amplifying a policy begun under Bush and continued by Barack Obama. There is horror at his dismissal of climate change, yet we forget that the fracking boom occurred under previous administrations.
When we join the crowd in shouting at the monster in the Whitehouse, we become part of his drama. He invites our anger – he actively seeks extreme responses, goads us into outrage. When we react, we are playing his game.
Yet we yearn to reject his vandalism. He dismisses the value of his own government, cutting budgets, undermining figures of authority, mocking the very system of American democracy.
This anarchic tendency extends to society – he doesn't observe the discretion or tolerance we expect of a civilised leader. And he carries this destructive manner into global affairs – abandoning the climate change agreement, sucking up to Russian P1resident Vladimir Putin, while mocking Nato and tweeting abuse of other national leaders.
Protesting at Trump is about rejecting the corruption, criminality and compromise that has occurred under decades of US presidents, and in just about every other democratic developed country, which has resulted in a populist backlash against all government. Trump is the target, and provocateur, but he is only a product of a wider crisis. He embodies the decay of democracy, yet was elected fairly by Americans who themselves are angry.
If we want a world united by shared values and common experience, then we must meet our enemies and talk with our opponents. It is what we do with China, after all, and their human rights record is appalling. If our first minister refuses to meet Trump, that would be petty. Nicola Sturgeon should meet him, if asked, because that is what civilised heads of government do.
To volunteer as Trump's mob, even in opposition to him, is partly to endorse his view of the world as a chaotic place in need of strong leaders.
Scots should march for the principle of civil debate, rationalism and human rights. But don't hate Trump – that's what he wants.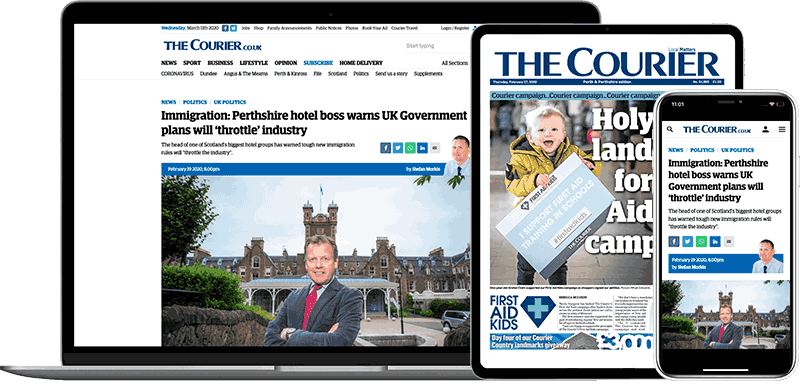 Help support quality local journalism … become a digital subscriber to The Courier
For as little as £5.99 a month you can access all of our content, including Premium articles.
Subscribe