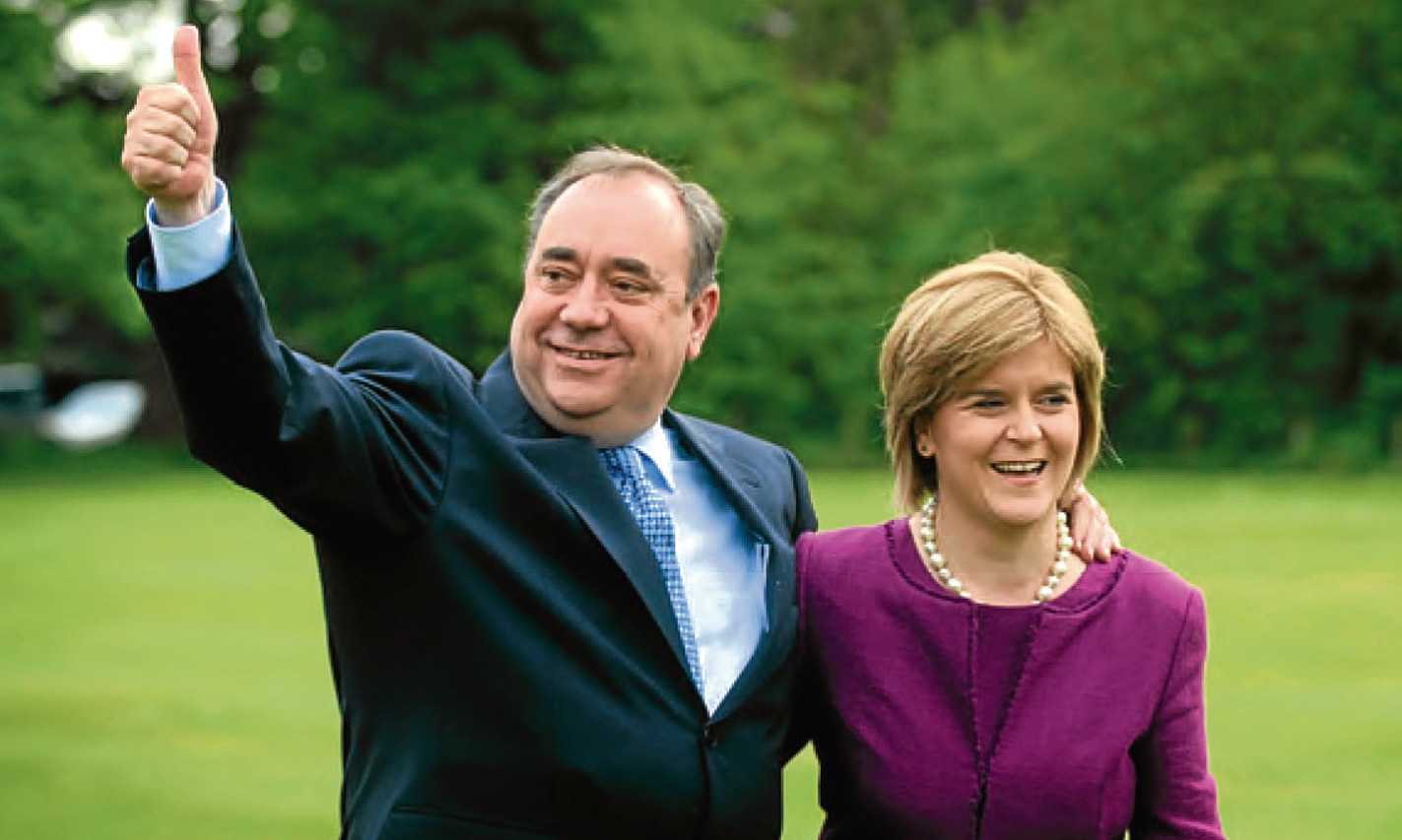 The accusations against Alex Salmond will not only damage him, but also his successor. As events turn in their favour, the Nats are at risk of imploding.
Salmond's reaction to a Scottish Government claim of sexual harassment against members of staff is typical. When presented with awkward information, he has sought to discredit the process. Given he's the only party talking at the moment, our knowledge of this scandal is slim. We should not judge on a sliver of the evidence in fairness to all involved.
However, such stories rarely peter out. Sex, booze, old friends at war, everyone whispering to journalists – it's got the makings of a saga. Some dirt is bound to stick, whether fairly or not, and scandals have a way of generating heat, like compost. Innocent or guilty, he's no longer the man he was.
This should not be a problem for the Nats. Salmond remains the greatest single figure in Nat party history. He was also a great figure for Scotland – he gave devolution a confidence it needed after an apologetic beginning. If he's laid low by these claims, it does not dilute his achievements. But his time has passed.
Alex Salmond quits the SNP following sexual harassment complaints
His utility to Nats and to Scotland is diminished. In part because of a number of bad career choices, but mainly because the argument he built is discredited. His claims over EU membership were proven wrong while he was in office, his alphabet options on currency look comical and his economic case was detonated by his protégé, Andrew Wilson.
The accusations put his protégé and successor in office in an awkward position. Sturgeon instigated the new harassment rules which have allowed two women, we understand, to make a claim against her old boss. She was then made aware that Salmond had been caught up in these new regulations, and had meetings with him where he raised concerns, and she apparently did nothing.
She has done the right thing, and secured her status amongst progressive voters. That is good for Scotland. However, in the eyes of the party faithful, she has stood by while their hero, Salmond, is under attack.
Scottish public life is full of people who could have been legally charged, or at least sacked without recompense, for wrongdoing but who get a soft touch. The civil service and the SNP administration prefer a low-scandal approach. They'd always rather sign a goodbye cheque and bury the news.
Alex Salmond hits crowdfunding target within hours of quitting SNP
Yet in this instance, Nicola has gone by the book. She's not in the wrong for that, but it's going to be a hard task asking the Nat faithful to support her. In their eyes she's hesitated on a referendum, destroyed the old economic case and now, arguably, hammered a nail into the old messiah's palm.
Does this matter? Hugely. The SNP haven't designed any new powers for Scotland. The one time they tried, with independence, they failed and then disowned their argument. All power that has come to Scotland has been initiated by Westminster parties. Naturally, they had the power to give away, but crucially it was a choice they made – we live in a constitution shaped by Unionists such as Blair, Dewar, Calman, Brown and Smith.
Alex Salmond launches legal action against Scottish Government over harassment investigation
What Unionists do has always mattered more in our recent constitutional history than what the SNP say. The triumph of the SNP has been to willingly accept whatever they were given, use it cautiously so as not to upset folk, and then demand more.
Right now, with a no-deal Brexit approaching, the Union looks very weak. Westminster appears feeble, its leaders self-serving. This matters more for Scottish constitutional change than Sturgeon naming a date for another referendum. Further, the champions of this chaos are antagonistic to Scots. The premiership of Boris Johnson alone would be enough to break the Union – throw in Jacob Rees-Mogg and Nigel Farage and watch Scotland run.
This week the former EU president Van Rumpoy said Brexit was an existential threat to the UK and would lead to its break-up. A signal that Brussels hostility to Indy Scotland has evaporated in the Brexit mess?
Scotland may now find its re-entry to the EU a swift and smooth process, allowing the budgets of Brussels to rescue our dysfunctional economy. What's a few billion euro to the Scots if it means a single finger up to England? Allowing Scotland back in to the EU would prove the EU project is greater than the Brexit promise.
Scotland gets change when Unionists panic. An almighty crisis of confidence is brewing in London. This could be the Nats' opportunity. And just as it ferments, the towering figure of modern nationalism is brought low, while his successor Nicola Sturgeon is cast as spectator, not helper.
We have to consider the possibility that the circumstances for independence will come about just as its two leading figures are cast in an ambiguous light.