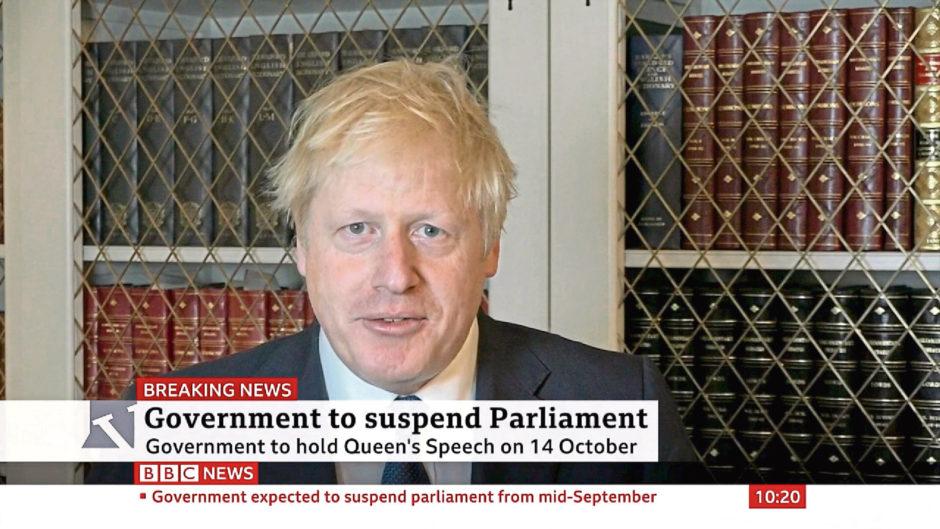 Much as weather forecasts are often about things getting hotter than ever, so political news seems to break records in heated lunacy.
Not crazy enough that Brexiteers didn't understand Brexit?
Crazier that the Tories divided Britain, that Theresa May was PM?
More lunatic than Boris is in number 10!!
The new mercury high in this bonfire of sanity is the proroguing of Parliament.
Phew, what a scorcher.
Get out while you still can – but where to go?
Boris Johnson asked the Queen to suspend parliament, only days after it was due to sit, in order that the government can prepare a Queen's speech.
How we'd like to hear the Queen's actual speech as she heard this request.
Then again, perhaps she is speechless at what government ministers are doing to the integrity of the UK.
The wheeze is that the government can ask for Parliament to be suspended while it conjures up a grand vision of what to do.
Tory ministers call this "bog standard" procedure. Etonians call this sophistry – the rest of us, "smart a***".
Johnson is playing the rules in a deliberately provocative fashion.
There is nothing "bog standard" about suspending Parliament when the nation faces its biggest challenge since 1939. By doing so, MPs are denied the time to legitimately challenge no-deal Brexit.
For the last few weeks, opposition parties and rebel Tories have been discussing ways to block no-deal.
On Tuesday they came to an agreement to act together in Parliament.
The notion of a unity government led by Jeremy Corbyn has gone, to no great surprise, but the SNP, Plaid Cymru, Greens and Liberal Democrats appear willing to co-operate with Labour on stopping the government.
Given that the Tories have been signalling proroguing Parliament all summer, it's a bit late in the day.
This clumsy union of the willing may amount to nothing if they are denied parliamentary time.
Boris will simply endure a few days of Commons noise before the suspension and some after, but then the Brexit deadline will come and the UK is out of the EU no matter what.
It is very hard to know how many benefit from this trick.
Boris and his Brexit boot boys get the "no surrender" they crave.
In so doing, they destroy any chance of a positive trade deal with the EU in the future.
If Britain doesn't pay its membership bill and ignores the border question in Ireland, it will look like a thug, not a partner.
It seems the definition of a Pyrrhic victory.
Those Tories now in the Brexit Party will be happy, and polls at the weekend suggested that might be around 14% of the electorate.
As for the rest of us – we can go hang.
It is Parliament as an elective dictatorship.
Of the people who voted for Brexit in 2016, how many wanted no-deal?
We have no way of telling, but we do know that polls show a clear majority want a second vote on the matter.
During the referendum, the models discussed by the likes of Boris were Norway and Switzerland.
No-deal is a concept that has only gained support since the vote.
Which suggests Boris is not honouring the referendum, but hijacking it for a result only wanted by a small minority of ideologues.
The only other people to rub their hands with glee were the Democratic Unionist Party (DUP).
The Northern Irish party propped up Theresa May after her disastrous election in 2017 in return for £2 billion.
Arlene Foster issued a statement yesterday in which she looked forward to ensuring the DUP's "priorities align with the government".
In other words, that'll be another £2bn, thank you, London.
Yet it is the definition of chaos that nobody knows the outcome.
Johnson's letter to MPs setting out his plan also describes his tactics with the EU.
"(EU) Member States are watching what Parliament does with great interest and it is only by showing unity and resolve that we stand a chance of securing a new deal that can be passed by Parliament."
It remains possible that a silenced parliament will reduce the conflicting noise coming out of the UK, and this will help Boris negotiate a deal.
And don't forget, he's much more interested in staying in office than getting any particular version of Brexit.
He may even accept a deal much different to the current one, but the Brexit boot boys won't be able to stop it on ideological grounds.
Should the opposition halt the government before parliament can be prorogued, then there will be a general election – in which "tough" Boris may do very well.
The truth then of these unprecedented political times, like the truth of the hottest days on record, is not that we should run around in shock, but should act calmly in forming a response.
Johnson thrives on the outrage of his opponents.
Outrage plays into his hands.
What the SNP and others need to do is stop talking of crisis.
In its place we need cool leadership.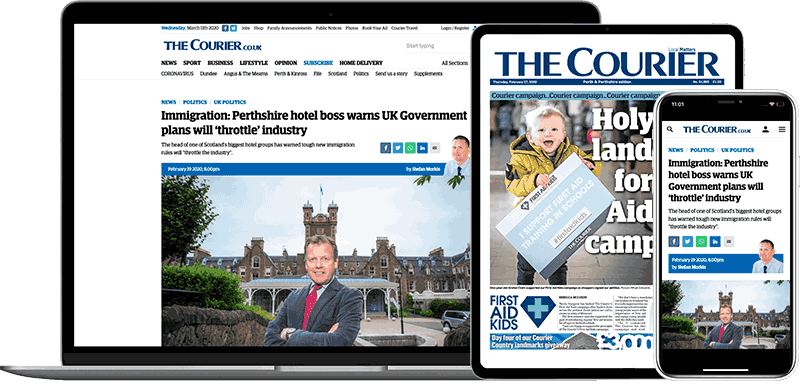 Help support quality local journalism … become a digital subscriber to The Courier
For as little as £5.99 a month you can access all of our content, including Premium articles.
Subscribe